12 Sep

Au Revoir to the Pistoletto Exhibition at the Louvre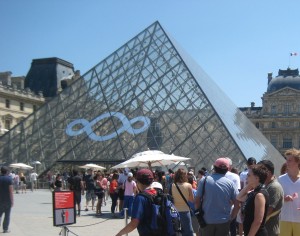 The Michelangelo Pistoletto Exhibition that just finished at the Louvre, symbolized by the sign of the "Third Paradise" infinity loop which is displayed front and center of the I.M. Pei's glass pyramid, was an incredible contemporary display that The Weekend In Paris Gal Pals were lucky enough to visit before it disappeared. The lines were long, but we used the Fat Tire Skip the Line Tour to avoid the initial long lines for tickets and entry into the museum.
The explanation of the symbol as put forth by The Louvre, "The sign's two outer circles represent the paradise of nature and the paradise created by man, and the central circle the fusion of both necessary to bring about changes in society. Pistoletto regards 2013 as a year of Renaissance, of our entry into a new era in which artists must play their role in ecological, economic and political change and confront us with our responsibilities in the disorder of the world today."
Various pieces from paintings to sculptures appear throughout The Louvre, each with their own unique quality and humor."
The medieval moat housed a series of neon signs spelling out "Love Difference" in foreign languages. Obelisco e Terzo Paradiso in Cour Marly, housed a lovely "quilt" looking sculpture that added a touch of progressiveness to the old world room. The best thing about the area where this is displayed is that no matter what size the crowds near the main attractions like the Mona Lisa and Venus de Milo, this area is an oasis, free from hoards of tourists.
I find Cour Marly in the Richelieu an extremely peaceful area that is light and bright even on the cloudiest of Parisian winter days. The glass ceilings reflect the light coming down onto the alabaster marble making this one of the most pleasant of rooms in all of Paris.
All photos are the property of The Weekend In Paris. Must obtain permission before use.