Salvador Dali Exhibition Centre Pompidou
We went on a Sunday afternoon in late January and waited in line outside in the rain for about 30 minutes and an additional 45 minutes inside in a queue before entering the exhibition space. I was NOT thinking clearly, because otherwise I would ordered tickets for Dali online (it is not covered by the Museum Pass) to help us avoid the initial line for tickets. I love The Pompidou Centre for its modern design, light bright spaces and awesome views of Paris from the "hamster-like habitat tubes" that visitors must escalate up to get to the top floors. I had not been here in some time so it was fantastic to be visiting the iconic museum once again, the one which the French claim as "the most important collection of modern and contemporary art in Europe."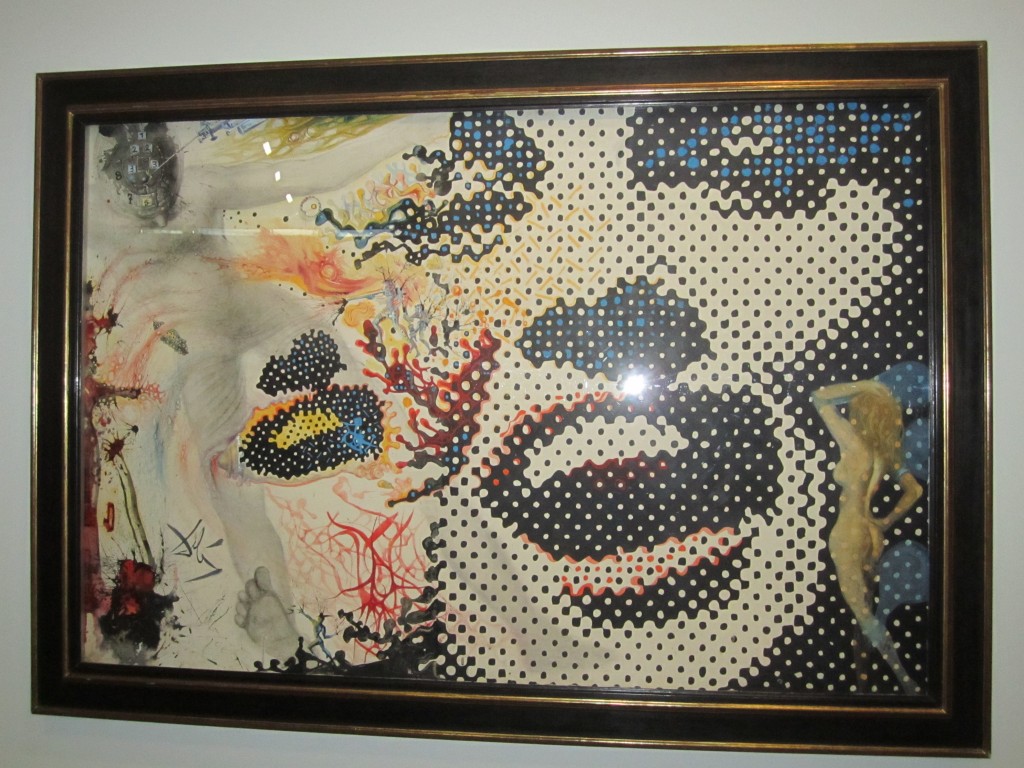 I can't spot a fake from a real Dali, but I know what I like
Travel critic – yes, art critic – no. I have no qualifications to speak to my fellow travelers about the quality of any artists' pieces except maybe my children who were once upon a time great finger painters! However, one of the largest exhibitions of Salvador Dali's works is currently going on at the George Pompidou Centre in Paris and I can say without equivocation that if you are a Dali fan, it's a definite must-see. Whether you love his work, hate it or are completely unsure, I would recommend you check it out for yourself. Salvador Dali was certainly a man of many emotions, beliefs and contrasts. He had a huge ego, but loved his wife tenderly. It was well documented that he had affairs, but that she was the one constant in his life and when she pre-deceased him, he fell apart. Some in the surreal movement thought Dali was a "sell-out" and produced work merely for the fame and steep paycheck. I have no clue, but I do hope that is true in some small way because at least it would give him an excuse for some of his personal antics and disturbing pieces.
Complicated relationships
He reportedly loved his mother and father, but his father disowned him for many years after Salvador painted the piece Sometimes I spit on my Mother (Sacred Heart) for fun. Did he mean it or was he being provocative? Many of his pieces, particularly the more surreal and disturbing ones, were created after he met Sigmund Freud. I frankly did not understand most of Dali's work, nor was it easy for me to look at some of the pieces. I don't like scary movies, violence and sexually explicit themes so I guess you won't be surprised what my favorite piece of his was – Fisherman in the Sea. Many people loved the Marilyn piece and some others were very popular, but only certain artwork was permitted to be photographed so I am unable to show you them here. You will just have to go see them for yourself.
---
The exhibition was comprised of a mixture of Dali's early works and last pieces as well as film clips and footage from his life. If you do go, make time for an interactive fun photo opportunity that is close to the end of the exhibition. You sit down on a giant pair of ruby red lips and in front of you is a green screen bordered by what appears to be yellow stringy hair. Behind you is a sculpture of a large nose just in front of a red wall with two paintings of one eye each hanging right and left of the nose.When you sit down on the lips with a friend and each of you holds one arm up straight, when you look forward onto the green wall you will see an image of you both putting a finger up the nose of a fair haired girl. It's surreal…get it?!
---
Location
Place Georges-Pompidou, 75004
Paris, France
---
All photos are property of Weekend in Paris. Must obtain permission before use.