I thought I knew myself pretty well, but when my husband the scientist suggested visiting a science museum I agreed only because I'd dragged him to any number of fine art museums in Paris.  But much to my amazement, the  Cité des Sciences & de l'Industrie complex in the 19th, the largest science museum in Europe, exceeded my low expectations by a lot.  We spent an entire day there, including taking a rest stop and having a perfectly acceptable lunch at one of the cafes located around the facility.  And I can't wait to go back.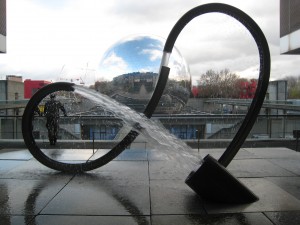 The museum, part planetarium, part giant screen/IMAX cinema in the Geode, part submarine, enthralled us with its interactive exhibits.  Transport and Mankind, Energy, and Techno Gallery (where you can play games that are fun and educational) are just a few of the permanent installations.  The current exhibit, "Housing for Tomorrow" (reinventing the places we live in) runs through November 10.  "All You Need to Know about Economics" ends January 5, 2014 and includes an abundance of games, videos and electromechanical hands-on exhibits.  This museum takes the most prosaic topics and makes them exciting.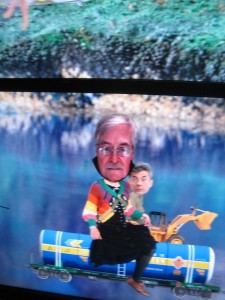 It's a terrific and welcoming place to bring kids.  Level 0 houses Cité des Enfants, for kids 2 through 12. We couldn't stop smiling as we watched little children discover new hands-on experiences.  Touching is definitely NOT off limits here.  As my husband and I launched water propelled rockets and competed to see whose would achieve the greatest heights, we felt like kids ourselves.
To get there take the metro line 7 to Porte de la Villette or Coretin Carioru Stations, or bus 139, 150 and 152 to the Porte de la Villette stop.  The address is 30, avenue Corentin-Cariou, in the Parc de la Villette in the 19th. The museum is open Tuesday through Saturday from 10-6, Sunday 10-7.  Closed Monday.  Check for different hours for special exhibits and the theater—www.cite-sciences.fr/.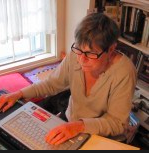 Margo is a popular guest blogger for Weekend In Paris. Besides being a knowledgable Francophile, she is an Independent Publishing Professional based out of Newport, Rhode Island. She is an avid traveler, foodie and lover of all things French.
---
This guest post today on The Cité des Sciences & de l'Industrie is by frequent Weekend In Paris writer Margo Waite.
All photos property of Margo Waite. Must obtain permission before use.