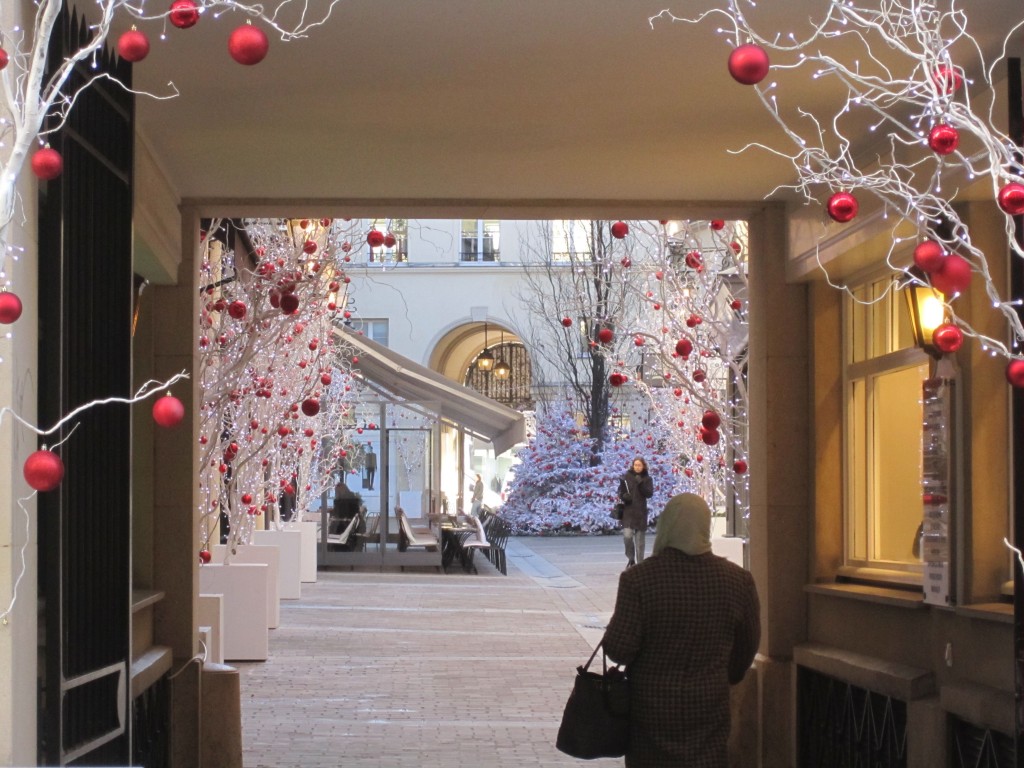 While I am usually a fan of shopping at independent boutiques in Paris, I do love to check out what's new and hot at the luxury fashion chains like Chanel and Dior. Luckily, shopping in Paris at Le Village Royal makes you feel as though each shop is an independent boutique. The petit village is accessed through an archway off rue Royal and leads you into the interior of a mansion block courtyard that connects to the opposite mansion block of rue Boissy-d'Anglas.
Christmas shopping is perfect here
Shopping in Paris at Le Village Royal at any time of year is quite a treat, but at Christmas time it is pure joy. The decorations are whimsical and cheery.
Specialty store for women's blouses Anne Fontaine, the Italian luggage maker Bric and jewelry magnate Agatha are also located in this charming enclave.
Guy Degrenne carries the best selection of china, table silver and kitchen linens around. They also have a nice selection of kitchen objets d'art that can make great souvenirs, luxury ones for sure!
However, the best part about the Village Royal is the small café that is open for breakfast and lunch called Le Village. It serves "snack-chic" items with a limited menu and the service is pleasant. The main dishes are served in smaller bites – perfect for ladies lunching. I think some shopping and afternoon tea make for a delightful afternoon in the City of Light.
---
Location
The entrance to Le Village Royal is at 25 rue Royal, but there is another entrance between Place de la Madeleine and Faubourg Saintt-Honoré. The store hours are Monday through Saturday from 10:00AM to 7:00PM.
All photos are the property of The Weekend In Paris. Must obtain permission before use.