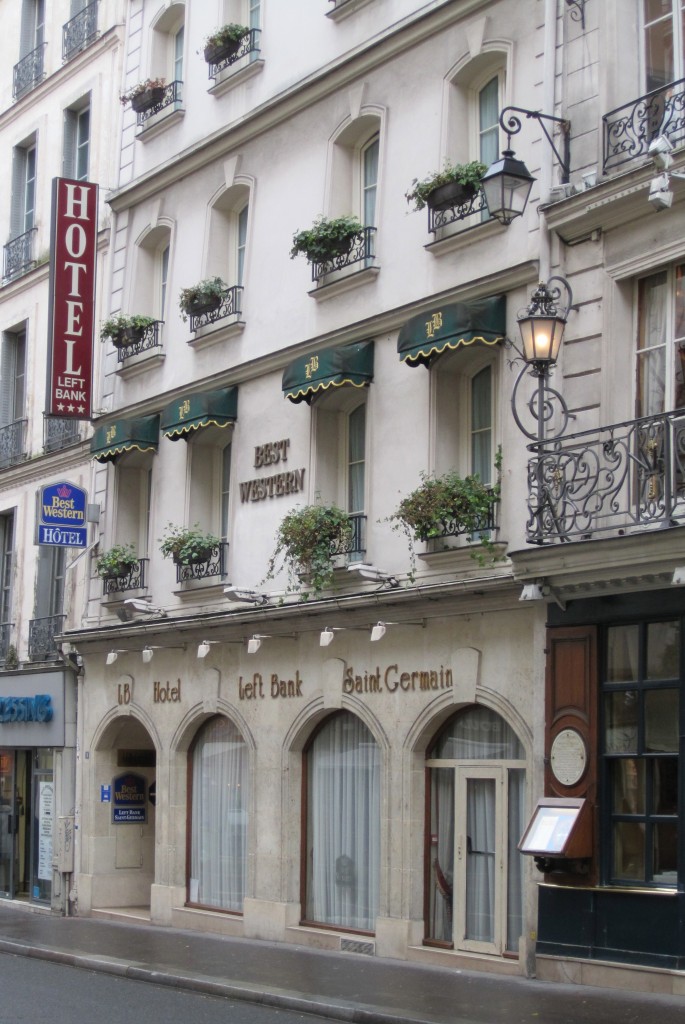 Sometimes I obsess about where I am going to stay when traveling, but I really get worked up about my annual Gal Pal Paris jaunt because it's the one trip where I am trying to meet the needs of several personalities and budgets.  I want the "Sure Thing" – the place where everyone agrees it has what they need at a price they are comfortable with but most importantly, it must  exude Paris ambiance that will last in their memories forever!  Sure Thing hotels for the Gal Pals must include:
Charm  I know the trend is for sleek, warm tones in decorating, but for lovers of French History, black, white and tan themed hotel rooms with modern edgy decor kill the buzz in our attempt to soak in as much ambiance as  possible.  What if it was my last trip ever? That's what I ask myself every time…would I want my last memory to be of a hotel that looked like I was in the middle of an Ikea showroom?
Free Wifi 
It's a sign of the times I am afraid.  Gal Pals who leave kids behind with husbands who don't know where the hidden stack of pony tail holders are or how to put dishwasher detergent in the dishwasher,  must have access to the ever popular Skype to touch base at least once while away.  Many hotels tout that they have Wifi, do not confuse this with free Wifi.  Some will say they have Wifi, but it's only in the lobby on the hotel computer which has a European keyboard (some letters are in different positions and the punctuation marks vary greatly) and won't allow you to use your own laptop.  In my research, I also discovered some say they have free Wifi, but really it's a nearby hotspot that has it so it may not reach your exact room and you will be on a public network.  It's best to send a confirming email directly to the hotel to clarify.
Location, location, location
We prefer the 6th arrondissement for its liveliness, proximity to small unique boutiques, late night fab dinner bistros and brasseries. It's home for our rendezvous spot Café de Paris.  If someone gets lost – we will eventually meet up with them there by cocktail hour.  Figure out what part of Paris fits your personality and choose your hotel where you would like your home base to be.
Rise and Shine – Breakfast
Gal Pals never miss our morning cup of French roasted coffee with buttery croissant and prefer to not pay a daily 10-15 Euro charge for it.  It makes things easier to stay in a spot where it's included so we can head down to breakfast in our comfy clothes and not "divvy" up a bill before leaving.  Many small French hotels do not have a breakfast room at all, so make sure you inquire before booking.  If they don't list it on their website, email them for clarification.
Modern Bathrooms, Mais Oui
Yes, these can be deal breakers or major plus' depending upon the size and modernity of them.  We have four women who need to be reasonably chic by 9:00am so having a shower available rather than a bath with a handheld spray is extremely important!
Real Verses Perceived Value
We value soft lavender smelling sheets, a window overlooking the vibrant streets, and a friendly front desk clerk over name dropping some terribly famous hotel with a steep price tag attached.  Remember we Gal Pals spend very little time in our rooms so why spend for over the top amenities or service that we will not take advantage of.  If there is a workout room available it's too much money – trust me.  Who works out in Paris?  The über skinny models do and they will pay big bucks for their place.  We prefer to save our money for nightly chocolate éclairs and a bottle of good Bordeaux.
I spent about five hours yesterday trying to meet or beat my Sure Thing hotels.  I looked at over 38 hotels in the 6th only to find that my original booking was the best.  C'est la vie…at least I know I truly do have The Sure Thing for my 2011 Paris Gal Pal adventure!
What are your SureThing hotels?  Please share!