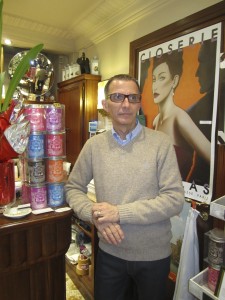 Of course I missed Mr. Weekend In Paris, but what I really mean by the title to this post is, I missed the dashing man who lives in Paris that I visit on each trip to – Bernard.  Bernard has been ever faithful in his duties at the Café Flore gift shop next door to its restaurant and is the best packer of souvenirs ever! He takes his time to wrap each souvenir china piece (logo plates, cups, saucers, coffee cups, Limoges) with bubble wrap, but concisely so the package won't become too bulky. He advises customers on what can be put into a checked suitcase and what items you had better hand carry.
Bernard can come across as abrupt, a stereotypical Parisian but please do not judge him at first glance because he is a warm and very helpful guy who may be a bit shy. It is in the nature of the artisan or professional shopkeepers in Paris to take time to get to know the customer's intentions and then if the customer proves their loyalty by coming in over and over, they will make you a friend for life. That is the MO (modus operandi) for seasoned shopkeepers in Paris. It is not a trait reserved for tourists, locals receive the same amount of skepticism. One of my tour guides told me it took years, yes years, before her local bread man would exchange anything other than a curt Bonjour. Now he asks what he can do for her, her family and does little pooch want a treat? He even skips other customers when she comes in to greet her first.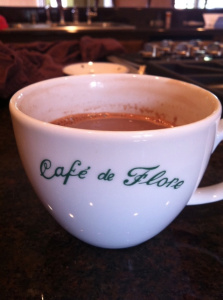 I knew Bernard recognized me after a couple of years of popping in for a visit and he wanted to show me that he appreciated it. This is how it came up, "Attention to your purse. Keep it zipped up as there are pickpockets." I smiled, nodded and thanked him in French. The next time I visited the shop he greeted me with a big smile and welcomed my guests and when I left he put some souvenir matches in my bag. "Wow!" I thought, he really does care about me. After several more years of this I finally worked up my nerve to ask him to pose for a photo for this blog. It is a very personal thing to ask a Parisian professional; to put themselves "out there" to be exposed in the public eye on a blog no less. But Bernard very proudly posed and I was thrilled!
Bernard, I missed you on this trip! You were away on holiday the woman covering for you told me, but I did write you a note in the shop book to tell you so and now I am, at long last, posting your photo on my blog. I apologize it took me so long, but hey we have many more years of visits together, non? See you in January if not before!