02 Feb

A Day in Champagne – Guest post by Virtual Gal Pal Margo Waite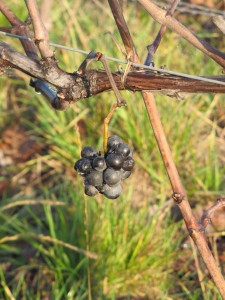 Although we never tire of Paris, this past November we (two American couples) ventured further afield, taking a day trip to Champagne. After reading copious reviews and websites of a number of companies, we selected parischampagnetours.com. They use small vehicles, 7 passengers maximum, and since they collect you at your hotel (or apartment) it eliminates an early morning cab or metro ride to a departure location. It was the right decision. Trong, our guide/driver, arrived at 7:10 AM, right on schedule. A short drive brought us to another hotel where a nice couple from California joined us. The van held six passengers comfortably.
It was an extremely foggy morning and we couldn't see much on the two hour drive to Champagne, but Trong gave a fascinating discourse on Paris and environs. And he proffered coffee, orange juice and pastries as well as English newspapers, making it a pleasant if viewless trip.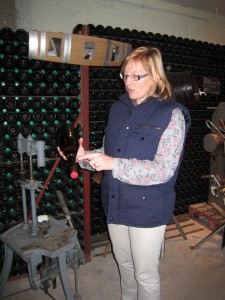 Once in Champagne, we toured the vineyards. Trong educated us on pruning, trellising, and the minutia of viniculture, as he is also not only a grower of grapes but he makes his own wine as well. He is the real deal. At 10:30–as he promised–the fog lifted. Among his many talents is weather prognostication, or so it seemed.
From the fields we drove to a small Champagne producer in Verzenay. The proprietor/owner Madame Mouzon gave us a complete tour; the entire operation from pressing to ageing to bottling to cellaring takes place in this location which is also the family's home. We were able to sample a great variety of bubbly and there was no pressure to buy, although we were pleased to secure a magnum of Champagne at a very reasonable price for our Thanksgiving celebration a few days hence.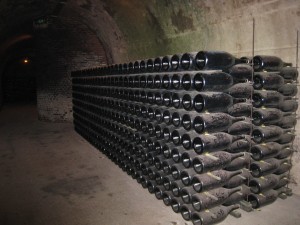 For lunch, Trong took us to the lovely old Brassiere du Boulingrin in Reims. For us, the generous multi-course meal sufficed for dinner. The place was busy, mostly with business people enjoying their midday break. The service was friendly and prompt, and the food was delicious, capped off by a dessert that included a specialty of the area, Biscuits Rose de Reims, crunchy pink meringue-like cookies. Later I brought packages of this local sweet at a little shop near the Cathedral de Notre Dame, our next stop. This 13th century French Gothic edifice is massive—and breathtaking. Trong's comprehensive knowledge (including the statuary and their symbolism, the carvings, the restored 13th century stained glass windows depicting the wine making process juxtaposed with modern windows designed by Marc Chagall) greatly enhanced our experience. Trong brought the Cathedral to life for us!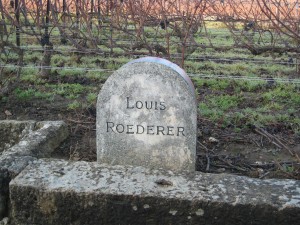 Our tour ended at Taittinger, a very commercial but yet very interesting operation where we watched an informative film of the winemaking process and then toured the extensive cellars. Thousands upon thousands of Champagne bottles are stored in endless limestone caves and our knowledgeable guide let us roam the cavernous spaces, surprisingly losing no one. At their modern tasting room we enjoyed a Taittinger sampling, much less generous than the morning tasting but delicious.
Unlike our drive to Champagne, on the return to Paris the van was strangely quiet, except for the occasional snore. True to his word, Trong dropped us off at 7:30 PM.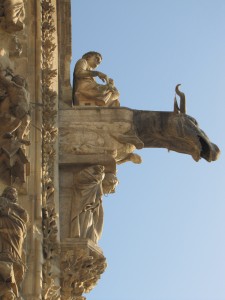 If you go: be sure that Trong will be your guide. Note that it's chilly in the cellars and in the fields, at least in November. (Paris seemed downright tropical by comparison.) To visit caves and cellars, notwithstanding the gorgeous 3 inch heels our stylish guide at Taittinger wore, sturdy shoes are a must; the caves are deep underground and the stone floors and stairs are uneven.
Margo is an Independent Publishing Professional based out of Newport, Rhode Island. She is an avid traveler, foodie and lover of all things French.
All photos property of Margo Waite. Must obtain permission before use.