While some may consider it cliché to take French cooking classes in Paris, I beg to differ. There is nothing commonplace about the Discover Walks "Ooh La La Fun Cooking Class" where hands-on learning is the key to its success. Our education began with a culinary shopping spree at the widespread St Mandé farmers market, and ended with a sophisticated meal prepared by yours truly and fellow guests under the instruction of the popular native Parisian and local celebrity chef Philippe Cazenave.
Our petit group of four (space is limited to eight) met Philippe outside the St Mandé Market on a chilly winter day. Our education began with a brief discussion about what was available fresh at the market on that day. Philippe gave us two options each to choose from for the three courses we were going to cook. We settled on a menu of endive salad with kiwi and crabmeat for the starter, scallops St. Jacques for the entrée and moelleux au chocolat (molten chocolate lava cake) for dessert. Of course no French meal would be considered complete without a cheese course and a baguette so we added those items to our market-shopping list.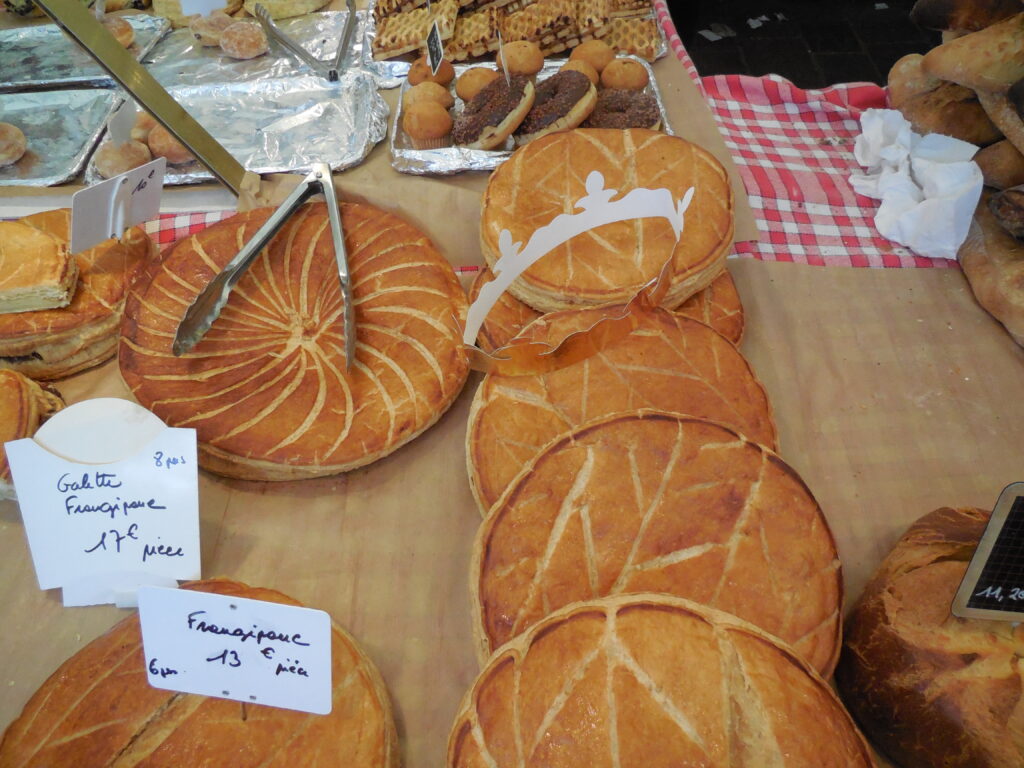 Once we settled on the courses, we ventured into the market stalls to watch the chef in action negotiating with seafood, fruit and vegetable vendors to procure the freshest available ingredients for our impending feast. We were encouraged to ask questions as we observed the exceptional meat, produce, baked goods and dairy items along the way. Our eyes and noses were on sensory overload, making it impossible to resist a quick pit stop to inhale a sample of the sugary and fruity beignets prominently displayed by one of Philippe's favorite bread makers.
---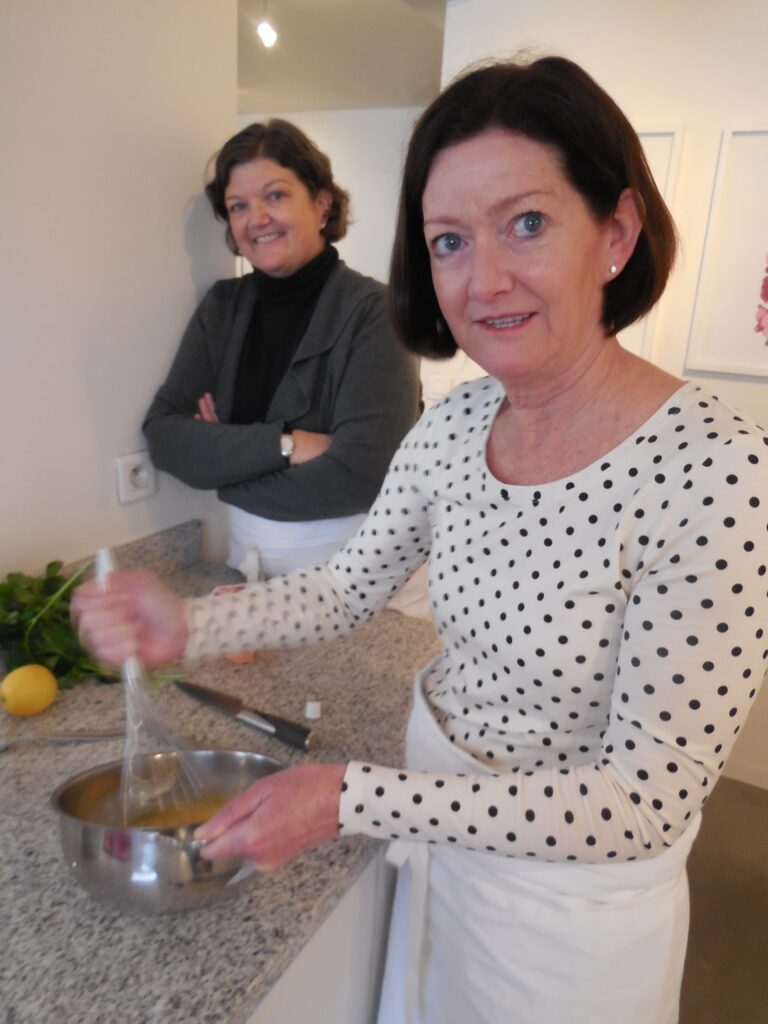 Everyone chipped in and helped to carry the grocery sacks back to Philippe's charming apartment that was strategically located very close to the market. We washed our hands, donned crisp white chef's aprons and began the class in earnest. All hands were on deck to tackle the menu du jour. After a brief kitchen protocol lesson we began to peel, chop and assemble the dishes under the careful watch of our executive chef for the day. Precise cutting techniques were demonstrated while Philippe explained the importance of choosing the best ingredients. He also recited helpful suggestions for substitutions for items we do not stock in US grocery stores. We appreciated knowing we would receive the recipes later, eliminating the distraction of having to write them down, leaving us free to observe carefree.
To chef Philippe, cooking should include laughter and what better way to incorporate some humor into the situation than to introduce us to his favorite "food porn" gadgets. Before my more mature audiences (read awesome mother-in-law and her amazing friends) freak out with the terminology, here is what food porn is defined as, "Close-up images of juicy, delicious food."We were regaled with Philippe's fascination with unique culinary devices and fixings, of which he possesses many. Some of our favorites included: pot steam vent (Lid Sid hangs out of steaming pots keeping lids ajar for cooling), Hawaiian black lava salt andspray olive oil and vinegar bottles.
While leeks simmered on the stove, we settled down to the task at hand, slicing ever-so-thin matchsticks of green apple while Philippe tackled the gigantic crab claws to extract the meat as delicately as possible. Once the appetizer and main dish were nearly finished, we fit in a quick lesson about the importance of choosing the best chocolate for our lava cake. The secret is to use quality chocolate with a high cocoa content.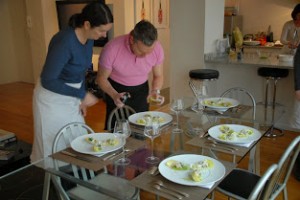 Philippe plated one dish for us as an example and we finished the rest to complete the setting of the elegant table. Wines were paired and poured into the crystal goblets as we settled down for a beautiful gourmet lunch that we had, indeed, helped to prepare. We marveled at how effortless the entire process seemed to be to create – many hands makes light work, they say and, in this case it was proven quite true.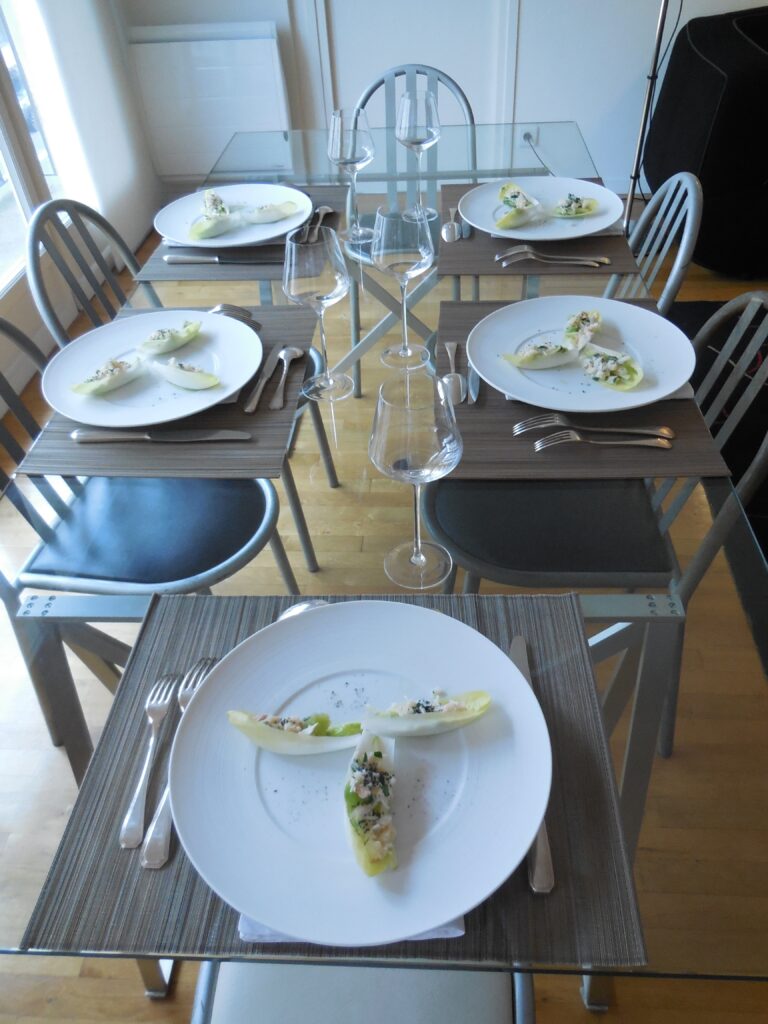 A quick toast to the chef and then we dug into what we all considered the best meal we ate in Paris on this trip. Oh, and it was also some of the most delightfully easy conversation as well. Philippe is not just an incredible chef; he is also a wonderful person with an infectious personality. Our three plus hours flew by and we hated to leave, but Philippe had dishes to do and who were we to stand in his way?
Want to make everything on the menu listed in this article? Click on this link to The Daily Basics online magazine where at the end of my article you will find all the recipes with instructions.
Bon appétit!
---
How to book
Contact Discover Walks at www.Discoverwalks.com
---
Although the class was complimentary, the opinions expressed in this article are my own.
All photographs are the property of Priscilla Pilon and Discover Walks. Must obtain permission before use.