Frequent contributor, Margo Waite shares her encounter of Whiskey Paris…
Paris is certainly a wine lovers dream.  But for my husband, who enjoys a wee dram of scotch or single malt from time to time, his dream is realized at LMDW (La Maison du Whisky).  Located in the 6th, this multi-leveled shop offers literally hundreds if not thousands of bottles, including whisky of course, as well as bourbon, rum, cognac, calvados, Armagnac and much more.
They have a blending table where you can create your own special bitters.  The staff is knowledgeable and extremely helpful.  They know their whisky and will help you find a distinctive bottle or two to amaze your friends.  Perhaps you'd like a Japanese single malt, a pot still Irish, a single barrel American or Breton whisky made from buckwheat.  Many spirits are exclusive to La Maison du Whisky.  What a great gift for that someone special.  (Take note, gal pals.)
The establishment we visited is at 6 Carrefour de l'Odeon, and it opened in 2010.  A larger sister store on 20 rue d'Anjou in the 8th has been in business since 1956.
As an aside, "Whiskey Live" is holding its 10th Paris anniversary event from September 28 through Sept. 30, 2013.  Alas we won't be there then, but it sounds interesting for sure.  The theme this year is "Beyond Tasting" which will explore new ways to enjoy whisky.  The show will occupy three floors of Maison de la Mutualite at 24, rue St. Victor in the 5th.  Find more information about Whiskey in Paris at www.whiskylive.fr.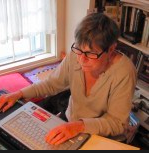 Margo is a popular guest blogger for Weekend In Paris. Besides being a knowledgable Francophile, she is an Independent Publishing Professional based out of Newport, Rhode Island. She is an avid traveler, foodie and lover of all things French.
All photos property of Margo Waite. Must obtain permission before use.