In my post from yesterday, or is it still today? I was headed to bed at 6pm local Paris time when a second wind overcame me. Maybe it was that I finally digested (literally and figuratively) my gourmet lunch complete with wine pairings. Time for cocktails Le Bristol style…After such a fulfilling lunch, I was not in the mood for a dinner per se, but I was a bit peckish so I ventured downstairs to Le Bar for a quick glass of dry Sancerre and a smoked salmon tapas appetizer, but wound up staying longer than intended because of the cocktail show. Simon, a student from Angers studying to be a professional barman, was on fire shaking and stirring gorgeous cocktails left and right, while the chef barman Roman ensured the nearly packed room was well taken care of.
I sat at the bar, how American of me. The French typically do not sit at hotel bars unless they are meeting someone. I think it unnerves the bartenders and encourages strangers talking, another French no-no. In any event, when I am not with Mr. Weekend In Paris this is where I feel most comfortable when dining alone. I prefer to sit facing a television or in the case of Le Bristol, a large four-screen black and white movie of Paris. This way I can choose if I want to eat and sip quietly or exchange a few pleasantries with the bartender.
Le Bristol makes their own concoctions from homemade syrups and blends of fresh fruits. Each night they serve a "welcome drink" in a dainty old fashion miniature wine goblet. The libation changes daily. Last night it was gin with orange and lemon juice and Amaretto with a simple syrup. When I asked what the name of this drink was, Roman told me to name it. So, my friends, I have dubbed it The Weekend In Paris. Ask for it the next time you are at Le Bristol!
Impressive looking cocktails kept passing me by, so I asked to photograph them before they were sent on to their lucky customers. Candy Crush looked completely amazing and I vow to be awake long enough tonight to order one. Last night I was just too tired for such a whimsical and lethal libation. Another beautiful cocktail was the Cinnamon Fizz topped with a dried pineapple slice and cinnamon stick.
The drinks were served in a variety of interesting vessels.The Holly Mule comes in a copper tumbler inside a silver caddy with a handle. It's made with VSOP Cognac, lime juice, brown sugar, 10 year old red Port and ginger beer. The garnishes include dried fruit, a cinnamon stick and fresh mint leaves – very impressive!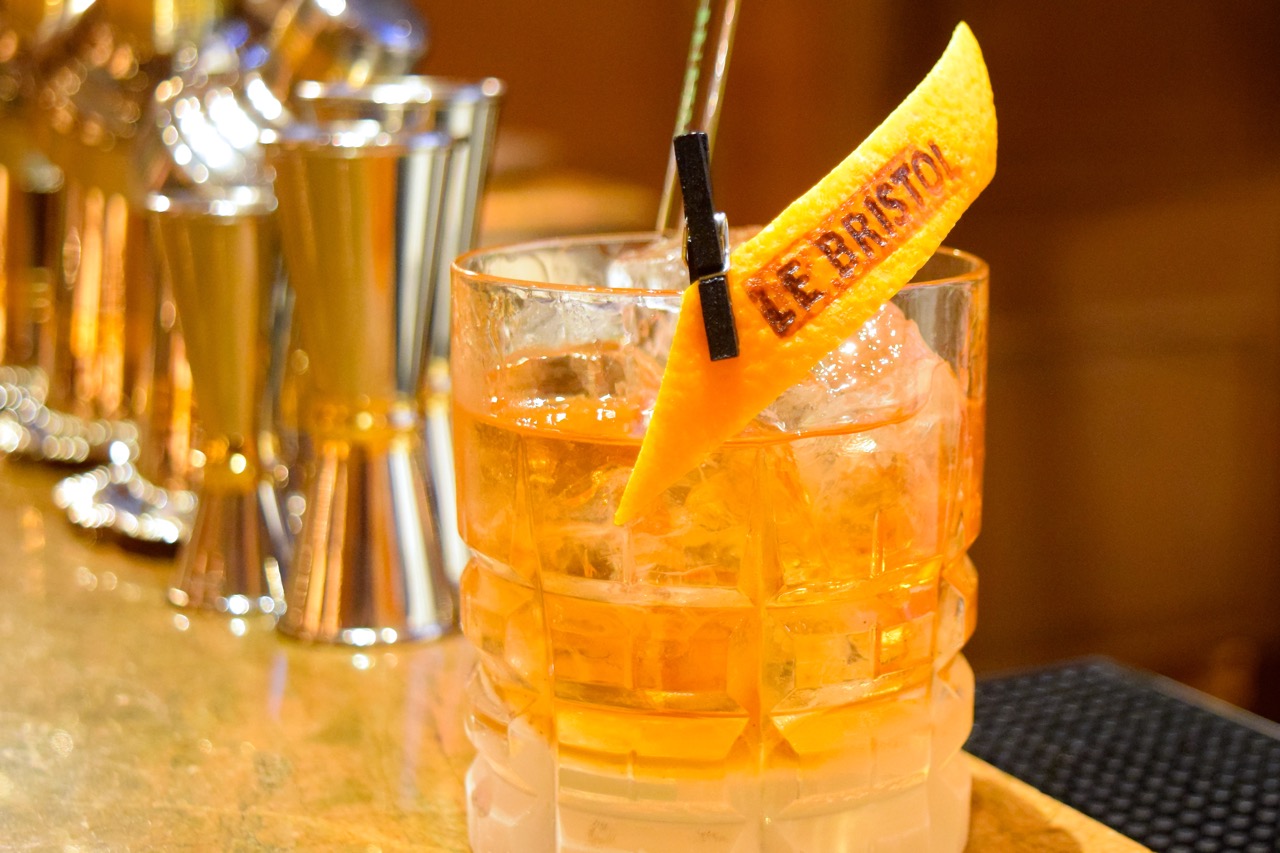 The coolest glass to pass by me, however, was Le Bristol's Official #7. The garnish was an orange peel embossed with LE BRISTOL on it and attached to the rim via a tiny close pin. Wow!
Enough evil temptation, I opted out of serious cocktail tasting and headed to my spacious suite for what I planned to be a good night's sleep. The bed is très comfortable, sweet dreams of tomorrow's tasting awaits me.
---
All the photos are the property of The Weekend In Paris. Must obtain permission before use.