The 4th Annual Paris Tweet Up is now history! Last month we gathered at the adorable cheese shop at 38 Saint Louis at 38 rue Saint-Louis-en-l'Isle. Entrepeneurs Thibault Lhirondelle and Didier Grosjean are the young kings of frommage behind the innovative idea of serving fresh cheeses at the peak of their perfection. The shop also sells everything you will need to complete your evening meal or make a picnic out of their goods to take to a local park. Wine cheese pairings were a huge hit, a great time was had by all!
Thibault shared with me we would be tasting wine and cheese, but he also had a surprise guest for us. Pierre-André Rouard of Origine Gourmet presented fresh wild salmon appetizers and shared with us why most of the smoked salmon we eat is "manufactured" and full of fat. It was like no salmon I had ever tasted – deliciously decadent.  It was served with a glass of diluted Highland Park whisky (2/3 water, 1/3 whisky), his chosen accompaniment for the salmon treats. A little whiskey goes a long way!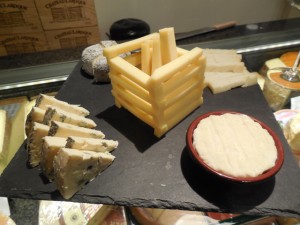 A tower of treats…cheese, glorious cheese was displayed on slate boards for us to sample along with bread from Boulangerie Martin, a bakery shop located just down the street. Fontenille Selles-sur-Cher goat cheese (left-hand corner), Comté Charles Arnaud, aged 20 months (center), Saint-Marcellin (right-hand corner), Fourme d'Ambert au lait cru (lower corner).
Wine pairings were made by wine merchant Frédéric Royan who presented several wines (white and red). We tasted Domaine Gouffier Bourgogne Aligoté 2012, a Domaine Binet Jacquet 2011, and a Côte Chalonnaise 2012.
Because the shop is petit, I had to limit the event to 15 and it was sold out in no time. It was a lovely time with expats and French locals who share a love of communicating via Twitter and other social media venues. The shop had WiFi and in between tasting the delectable salmon, wine and cheeses we were all sharing fabulous photos of our fun time together. Kathryn Reichart and her husband Richard came all the way from NYC to attend. They always win the prize for traveling the furthest to attend.
Annual attendees Tom Reeves @TomReevesParis and Monique Wells of @MoniqueinParis are always on hand to take attendance, take photos and keep me updated on what I missed when chatting with others. Tom did his own recap of the event. You can read about it here: Annual Paris Tweetup
Check out the some fun shots below from the party – see you next time! Have a suggestion of where to host the event next year? Leave a comment below.
And, for sure get yourselves over to meet Thibault and Dieder at 38 Saint Louis!