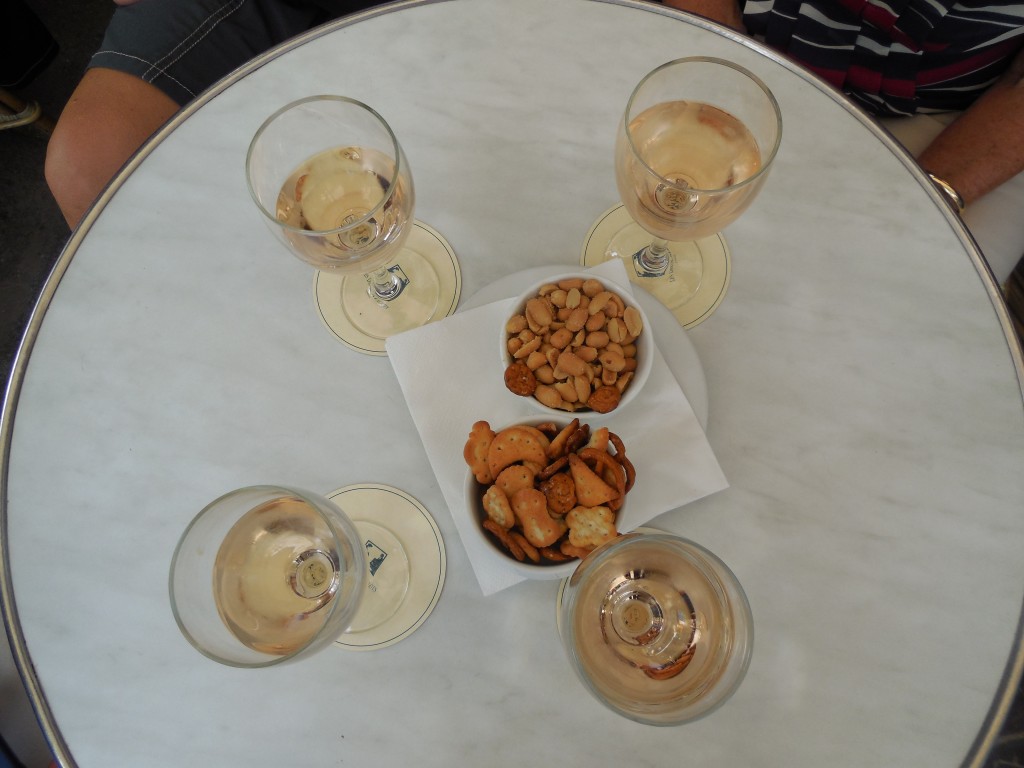 What's more cliché than sitting at Café Les Deux Magots and having a rosé all day in Paris with gal pals? Nothing, but who the heck cares?! It's summertime in Paris and the outdoor patio is just delightful to taste a bottle of Château Minuty. The location is ever so convenient, on the corner of rue de Buci and Boulevard St-Germain-des-Près, right near most of my favorite boutiques for clothes, handbags and shoes. It might be "touristy" and slightly over-priced, but it is one of the best people watching perches in town.
The Gal Pals enjoyed visiting a "bucket list" item for newbie Kate. The weather was sheer perfection, high 70's, the sun was shining and our feet were fatigued so what better time to pop into this historical café for a refreshing glass of rosé wine and some petit bar snacks. Since our wine tasting at Ô Chateau a few nights previous, we learned to embrace the Provence region as an under appreciated area for good wine. In the U.S. we fear what we don't know and tend to stick to the more well-known "biggie" wine areas of Bordeaux and Burgundy. Boy am I glad I branched out and tasted something out of my comfort zone.
Here are my tasting notes:
Château Minuty Prestige Rosé 2012 is a light and slightly citrus tasting wine with very little legs. It is fruity, yet not too sweet and would be perfect with a summer salad or light fish for dinner. Not too expensive, you should be able to order a bottle in Paris for 30 € or less.
After we shared the bottle of wine and nibbled on some snacks, we were ready once again to hit the pavement and support the local economy some more by shopping – the hunt continued for clothes for the teenage girls back home. It's all in a day's work my friends…