You've dreamed of Paris your whole life – walking along the River Seine, the views from the Eiffel Tower, or having a picnic in the Jardins du Luxembourg. You didn't imagine Paris in the rain.
What is there to do in Paris in the rain?
Plenty! Do not be discouraged; a rainy day in Paris is better than a dry day in most of the rest of the world. Button up your overcoat, throw on a scarf, muster up a positive attitude and you very well just might have one of the best days of your life, rain and all. Here are a few suggestions of what to do when faced with less than stellar weather: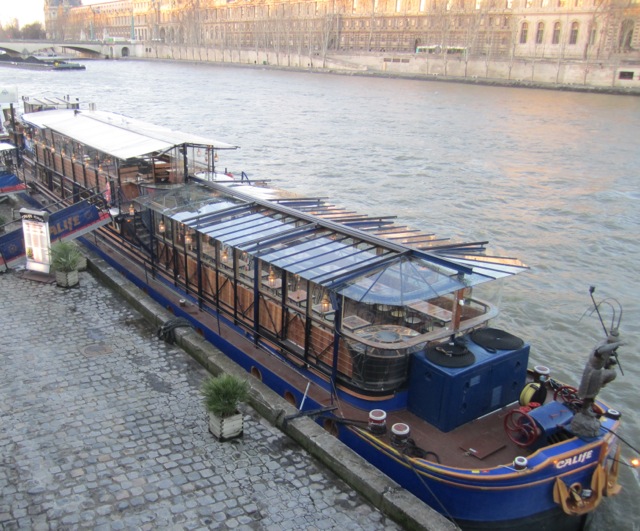 Take a Wet/Dry Cruise
Enjoy a glass of bubbly while you stay perfectly dry under the shelter of one of the many glass enclosed boats that will take you on a beautiful cruise along the River Seine. If it's not pouring down rain, you will still be able to see all of Paris' most iconic landmarks without getting the lens of your camera fogged up. Pick the right cruise for your taste and budget. Some cruises are on very large vessels, but others offer a more intimate experience. They range from a free hour cruise with the purchase of a Paris Pass to an amazing luxury dinner experience with Yachts de Paris for 200€+ alcohol.
Go to Church
You heard me, go to church – any church. Who cares what faith (or no faith) that you are, no one asks and the admission is free! Much of Paris' history is outlined in the churches of Paris. Even the smallest of churches usually have a write-up of their history of the building, architecture and some information about the people of the times when the structures were erected. The stained glass windows, paintings and sculptures contained inside are some of the most precious, yet under-viewed works of art in all of Europe. If you are lucky, mass will be going on and you could be treated to a free concert. The choirs sound incredible as the acoustics were well thought-out in the design process by early architects. Bonus – music when the organist is practicing will give you a thrill of a lifetime! Please respect the well posted signs in the sanctuaries. Some churches do not allow photography inside and local parishioners will appreciate your silence as well as your respect by not taking their photos as they pray.
---
Try Café Hopping and Afternoon Tea
Don't feel trapped inside during inclement weather, plan your day to stop at outdoor cafés along the way. Most offer covered outdoor terraces with heating elements so you can still enjoy the people watching views without giving you a bad hair day. If it's particularly cold, try some of Paris' famous chocolat chaud (hot chocolate) that melts in your mouth and warms you up quickly. If it is more than droplets and the heavy stuff starts to pour down, perch yourself on a stool for an afternoon aperitif or glass of wine and wait for the harsh moments to pass. You will soon forget the poor weather and enjoy instead a nice Parisian experience. All dressed up and no place to go? Give yourself a treat, skip the Métro and opt for a taxi or private car and go to afternoon tea at one of the posh places like the George V or Mandarin Oriental. You can be there for hours enjoying the lovely spaces and gorgeous foods put before you. A word of caution, most of these places require reservations in advance and some do not allow outside hotel guests to book in advance – first come, first serve.
Check out an Unusual Museum
Although it may be tempting to "do the Louvre" on a rainy day, it may be prohibitively crowded. Try a smaller, less popular museum with tourists. The Cité des sciences et de l'industrie, Musée Marmottan Monet, Musée Carnavalet and the Cité de la Musique are great options to engage your mind and stay warm at the same time. These are also particularly great options with children because they offer intimate art experiences (Marmottan and Carnavalet) or hands-on opportunities where the kids can interact with some of the exhibits (Musique and Sciences). Happy kids make for a much more enjoyable vacation time for all, so let them get the wiggles out at places like these where they are encouraged to touch what they are looking at.
Do Some Shopping or Take a Cooking Class
The Bon Marché is Paris' largest "shopping mall" but don't feel forced to have to go there in the rain. One of the benefits of Paris is that there are mini-shopping areas all over the city where you can nip in and out of boutiques that are only steps away from one another. I love rue Buci and rue du Bac for this reason. Each have an incredible array of clothing, home decor and foodie spots to enjoy along the way. Skip the umbrella because you won't need one in between shops. Simply don a cute hat or throw a scarf over your head and enjoy.
If you are staying in an apartment, take advantage of the rain and do your grocery shopping on the rainy day and get meals prepared for the rest of your stay completed which will give you more time to enjoy the city when the weather improves. Or better yet, take a cooking class first and then go home and make what you learned in class. Your day will be productive and you will have learned some new recipes that you can take home and impress the folks back home with.
Throw Caution to the Wind (Rain)
Get over the fact that you will look like a drowned rat and go for it! Wear rain boots (or take this opportunity to purchase some new hip and trendy ones in a local shop) and take that foodie tour you always wanted to because the outdoor food markets will be less crowded. Look at the bright side, competition for front row photos will be all yours! Head to the Puces – antiques, collectibles, and one-of-a-kind objets d'art vendors will also like to make deals on rainy days so they are not stuck with too much inventory at the end of the day.
Paris in the rain isn't so bad after all!
---
All photos property of The Weekend In Paris. Must obtain permission before use.