Staying at Le Bristol Hotel Paris is like staying in a country estate on the outskirts of Paris, but with modern conveniences in place. Each space has been decorated beautifully in a traditional French style, but there is nothing typical about this charming boutique hotel in the heart of Paris.
Outdoor space in the lovely courtyard made me feel sunny even though the weather was quite gloomy. Raining and a bit cold, but the covered seats on the terrace is a great vantage point to enjoy the light and bright spaces without getting wet. I know they planned an amazing garden party for Easter and I can imagine it was spectacular.
Entertaining Spaces
The piano man plays at night in the upper lobby lounge and adds a wonderful vibe to the area when you walk through on your way to dinner or for artisan cocktails.
The indoor pool on the roof is an oasis on a dismal day. The light coming in from the large windows gave me the feeling that I was outdoors and the nautical teak flooring and decor certainly made me feel like I was on the deck of a luxury yacht.
Quintessentially French, the large dining room is perfect for special events, but I must admit I found the smaller salons for entertaining more personal and comfy.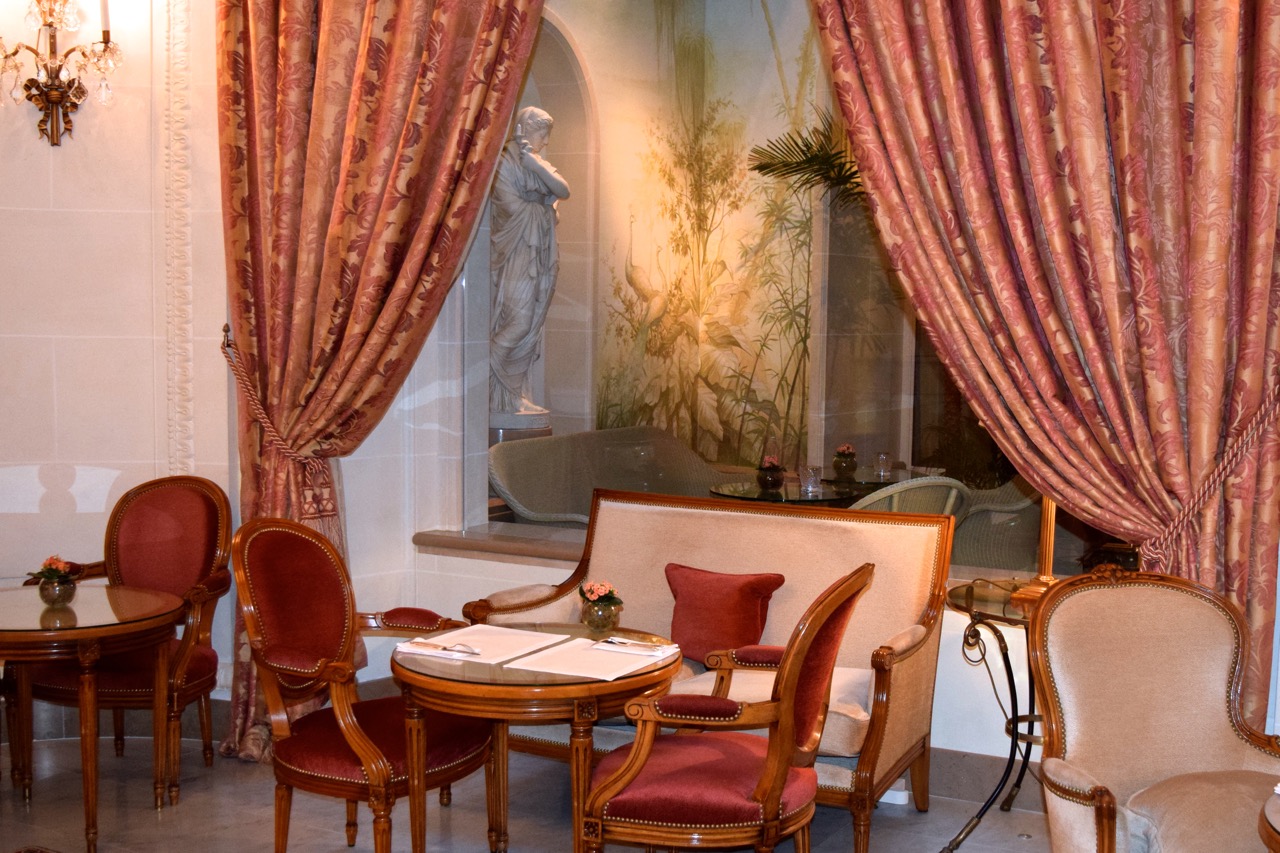 This was my favorite spot to have breakfast. The garden feel inside was casual yet sophisticated and the seating made it so each guest feels like they have their own private dining area. This was especially nice since I was traveling solo and wanted to be part of the scene without feeling alone.
Splendid Accommodations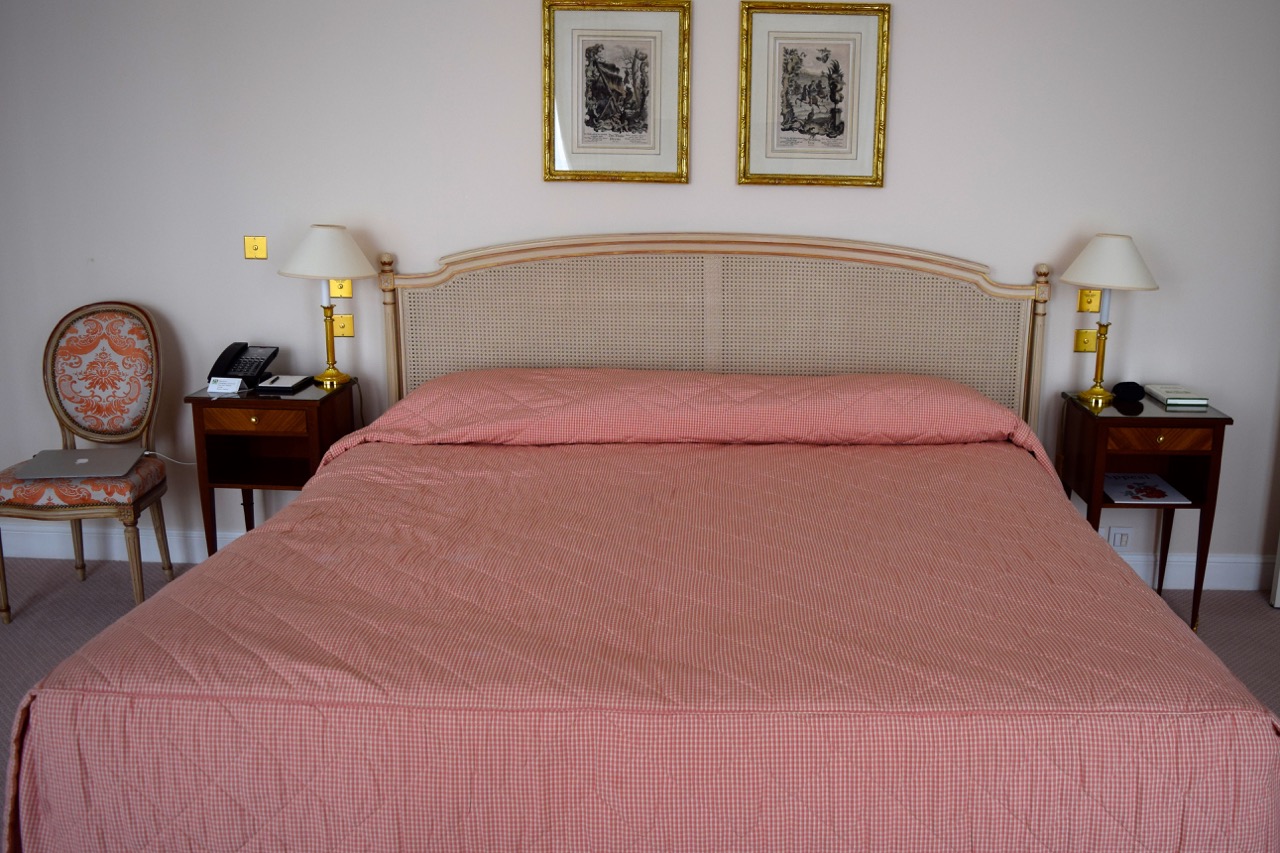 I loved the simplicity of my room, not too fussy and yet it had everything I needed to work and rest. Mr. Weekend In Paris would love the wireless headphones for the television. I like to fall asleep watching tv and use headphones at home to avoid disturbing him.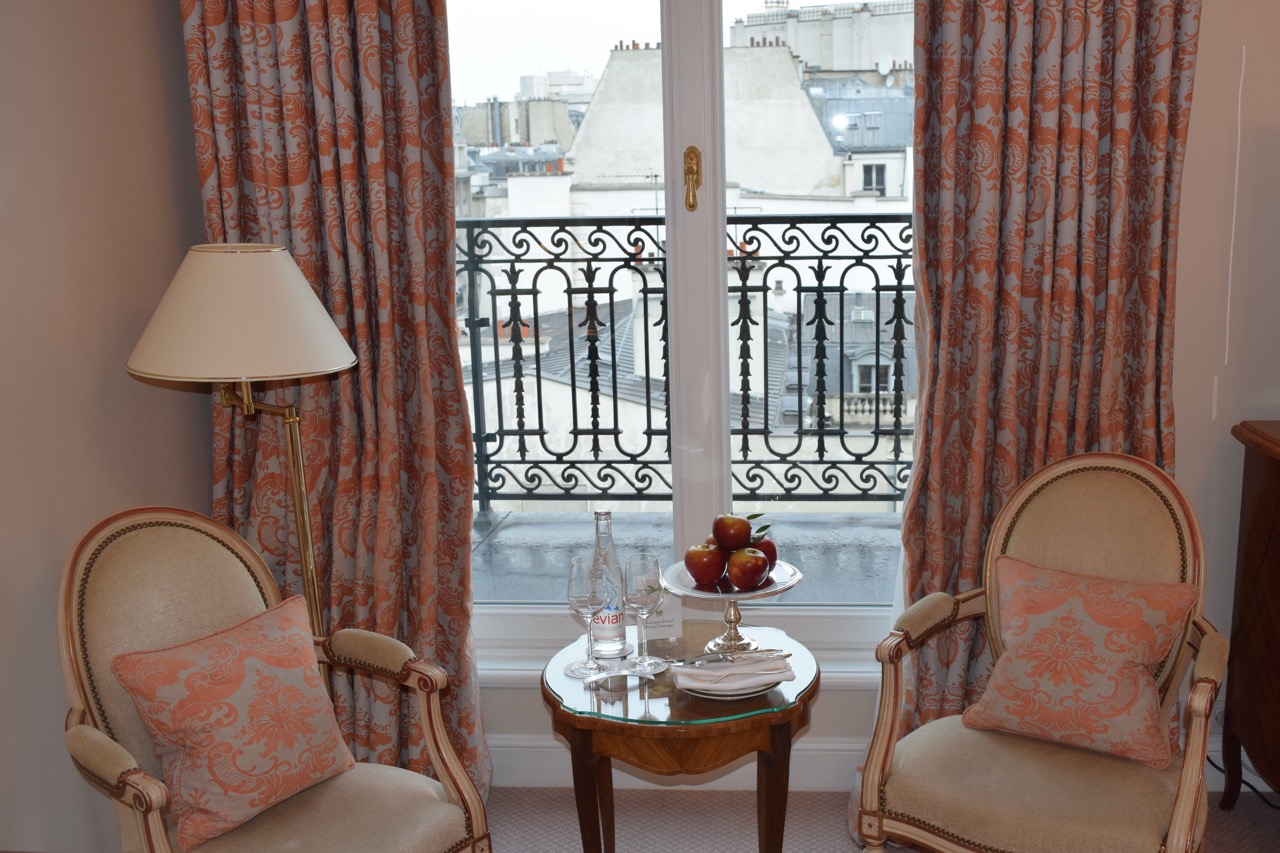 The fabrics were divine and my lovely seating area was filled with light from the large French doors that opened up to a small balcony. I had two sets of French doors in my room and my bathroom was filled with natural light from a large window as well. The large bathroom was well-equipped with a marble double sink vanity and a sunk in bathtub with separate oversized shower closet. There was enough counter space for my multiple toiletries pouches and the amenities had all the supplies I needed.
Eiffel Tower View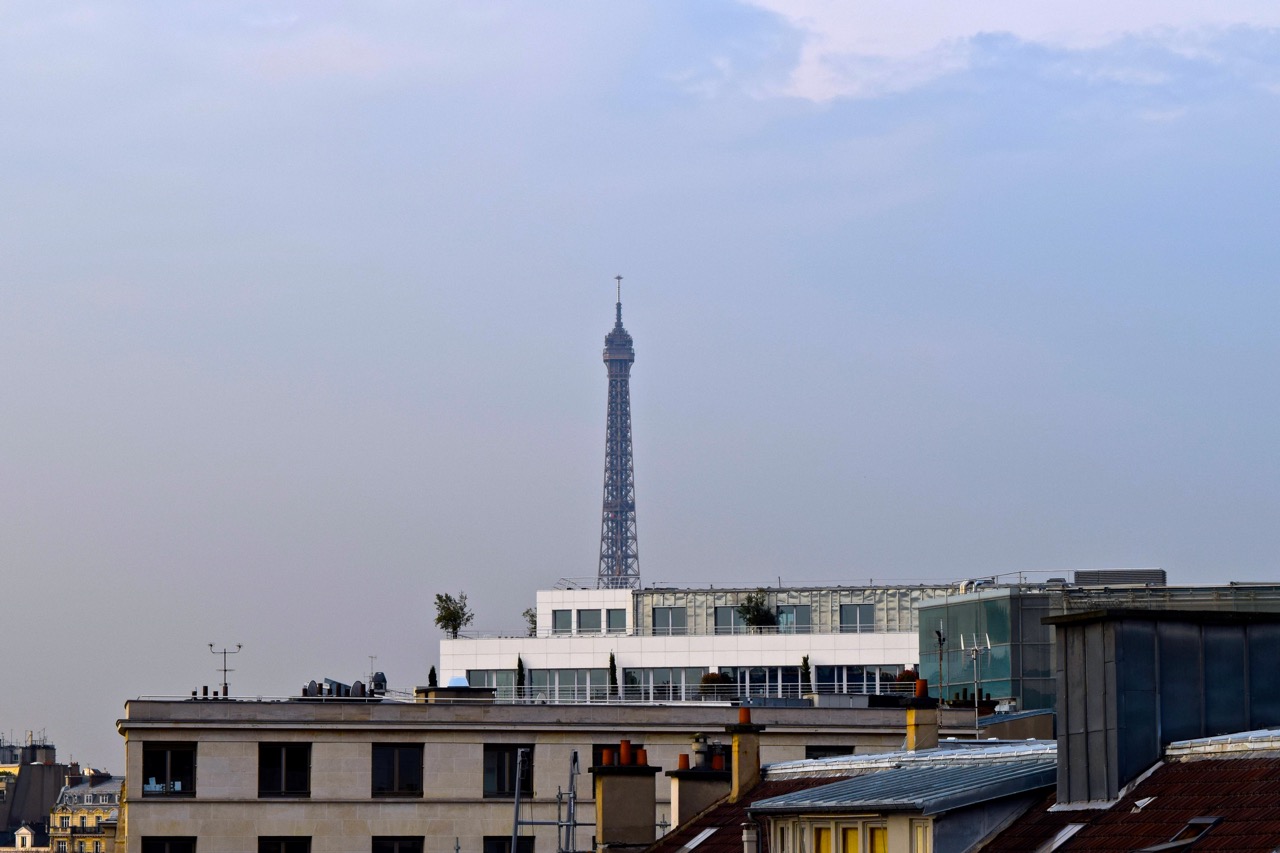 The view from my balcony gave me a peek at her majesty, The Eiffel Tower!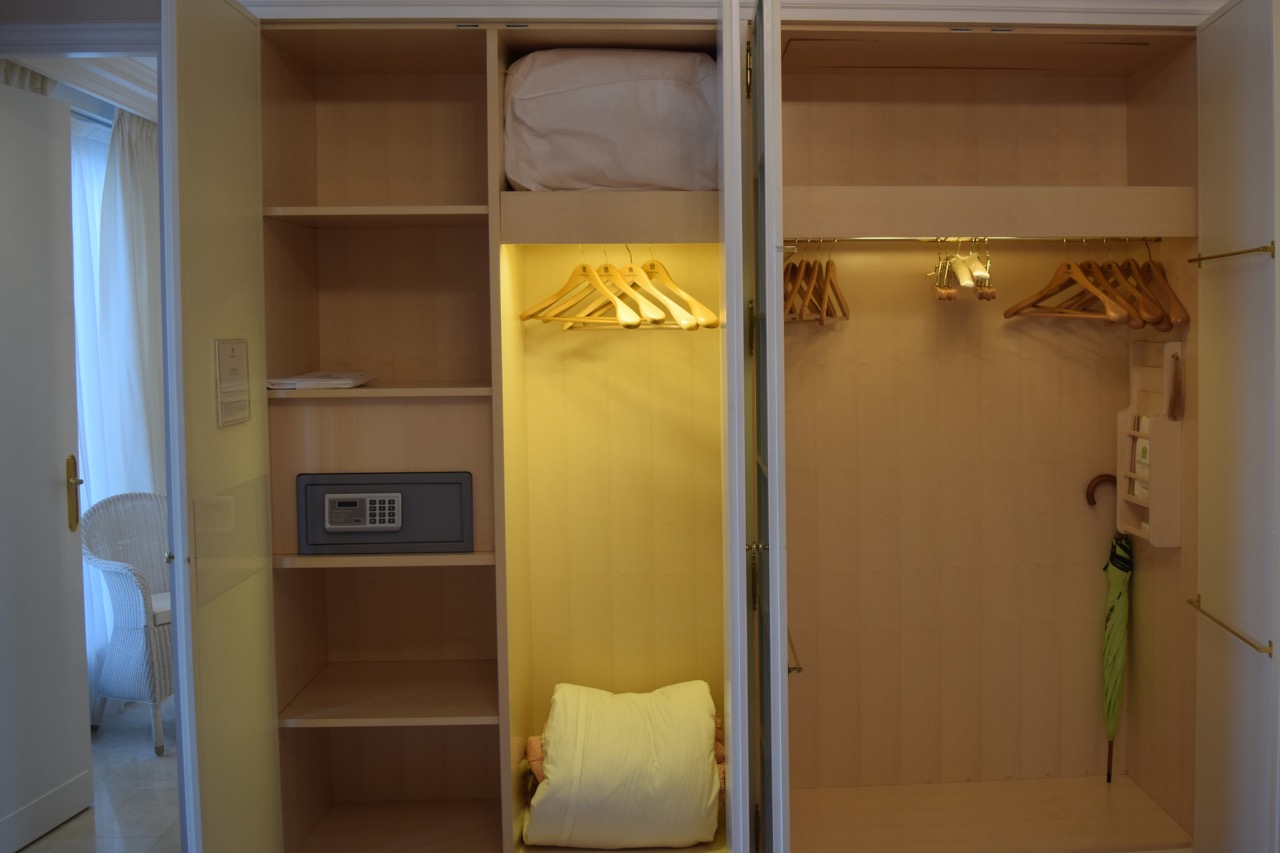 Who doesn't love a lighted closet with all the essentials to make for a wonderful stay?
The Michelin-star Cuisine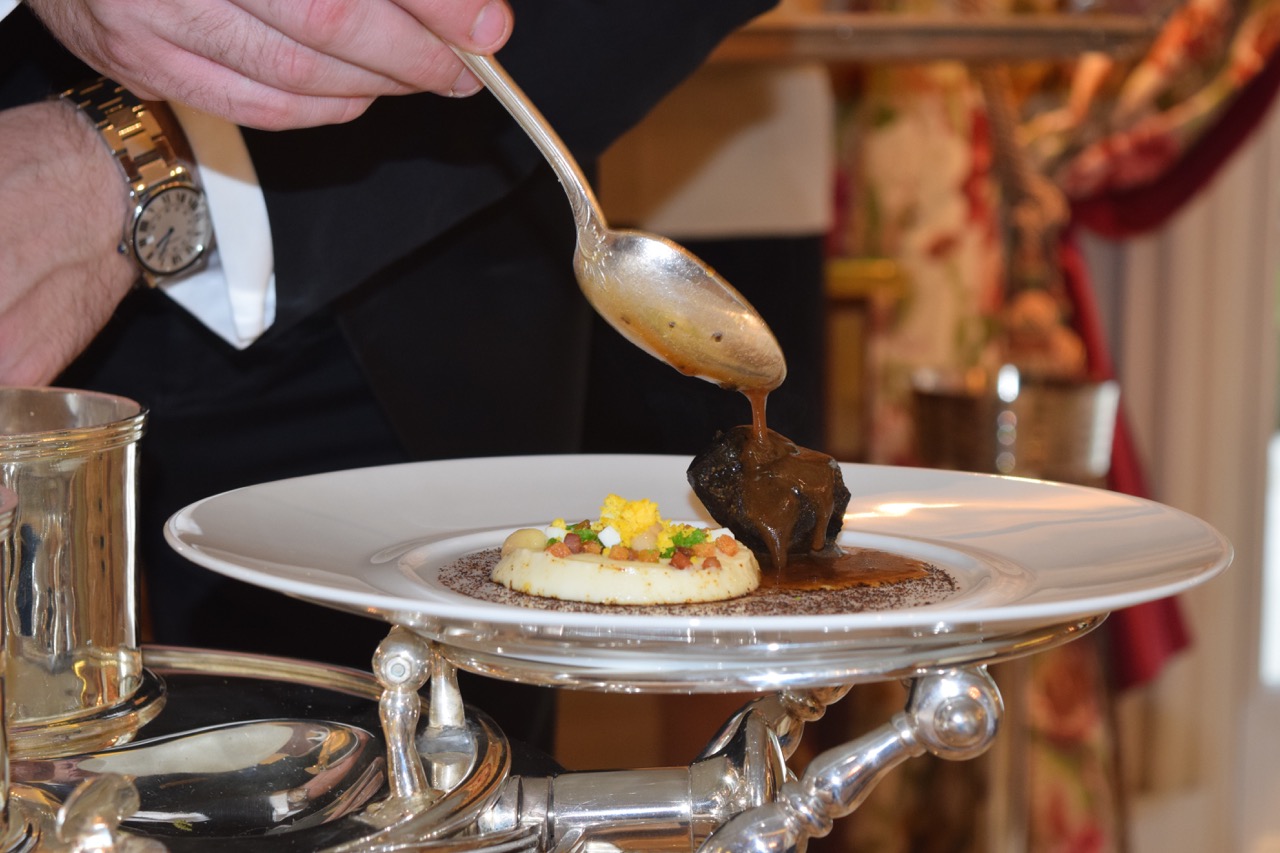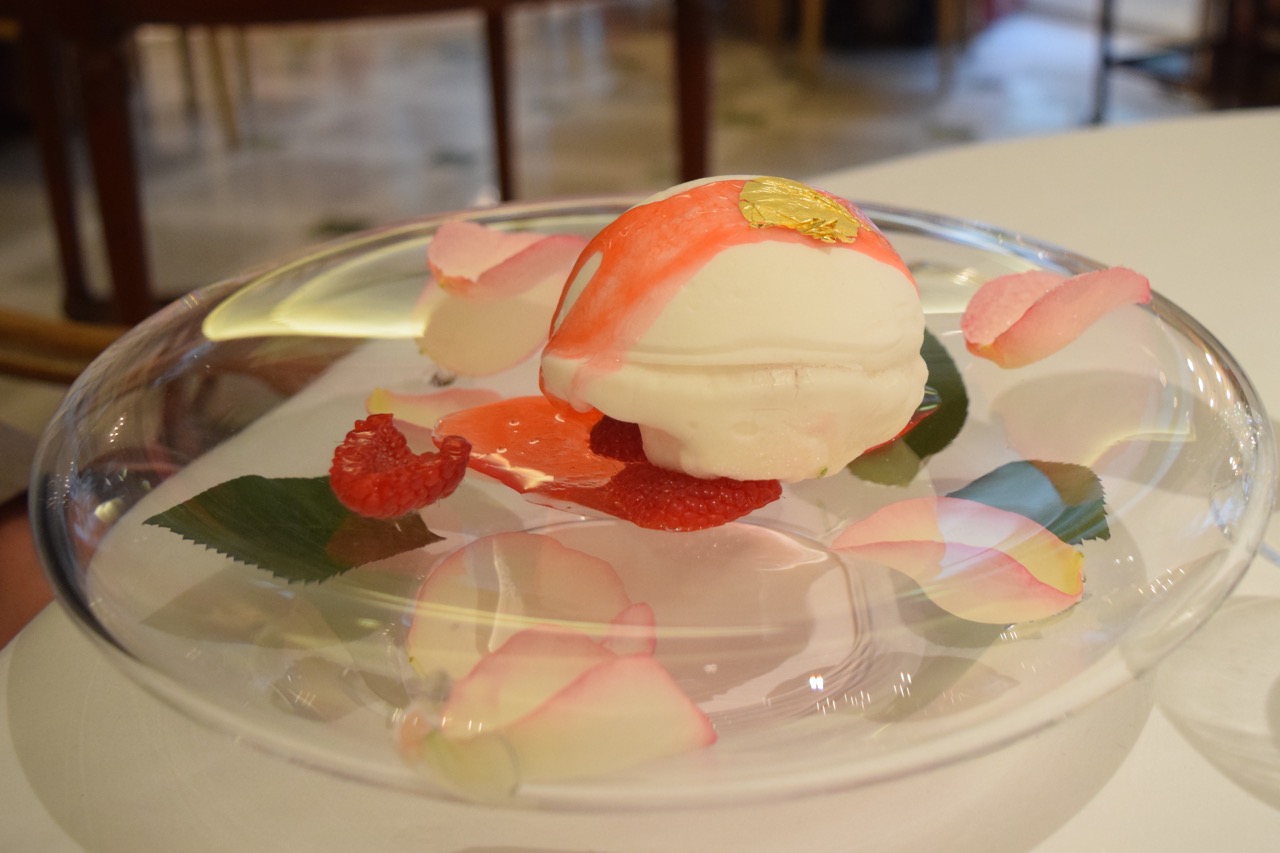 Of course one of the highlights of staying at Le Bristol is the cuisine. I was delighted to be a guest for lunch to taste the exquisite dishes prepared by rock star triple Michelin-star chef Eric Freschon. The meal was so incredible I will have to write a separate post devoted to it!
Wine Cellar Tour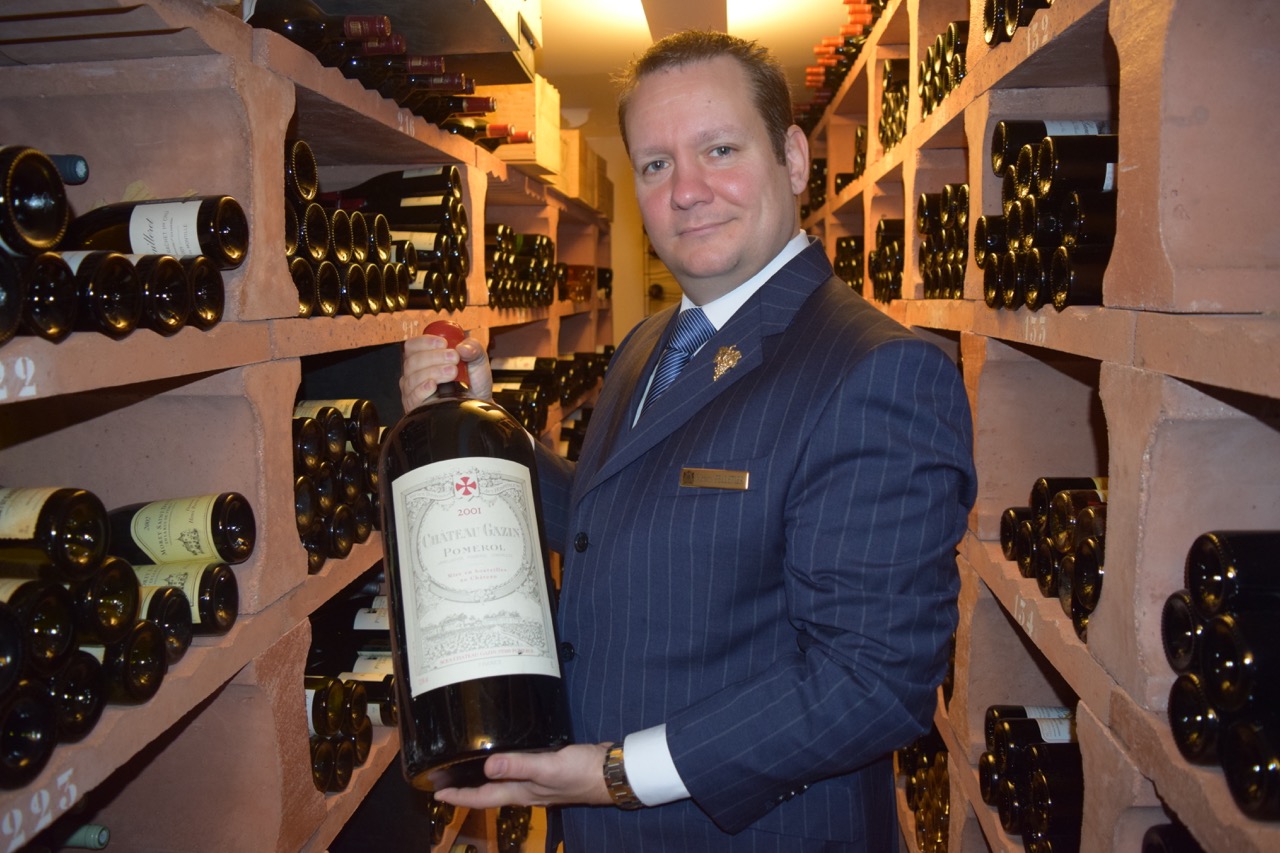 The wines and cocktail lists are out of this world! It was a treat to have a private wine tasting in the cellar with Chef Sommelier Marco Pelletier where I tasted new and old wines of distinction. Magnums are the better way to go if you have hosting a large party at the hotel. Not only do they carry some of the finest, but some of the rarest as well. The oldest bottle in the cave is a Puig-Parahy bottle from 1875! All of their wines are bought directly from suppliers or vintners. They guard their reputation fiercely! More on the wines at Le Bristol in a future post.
Diving Cocktails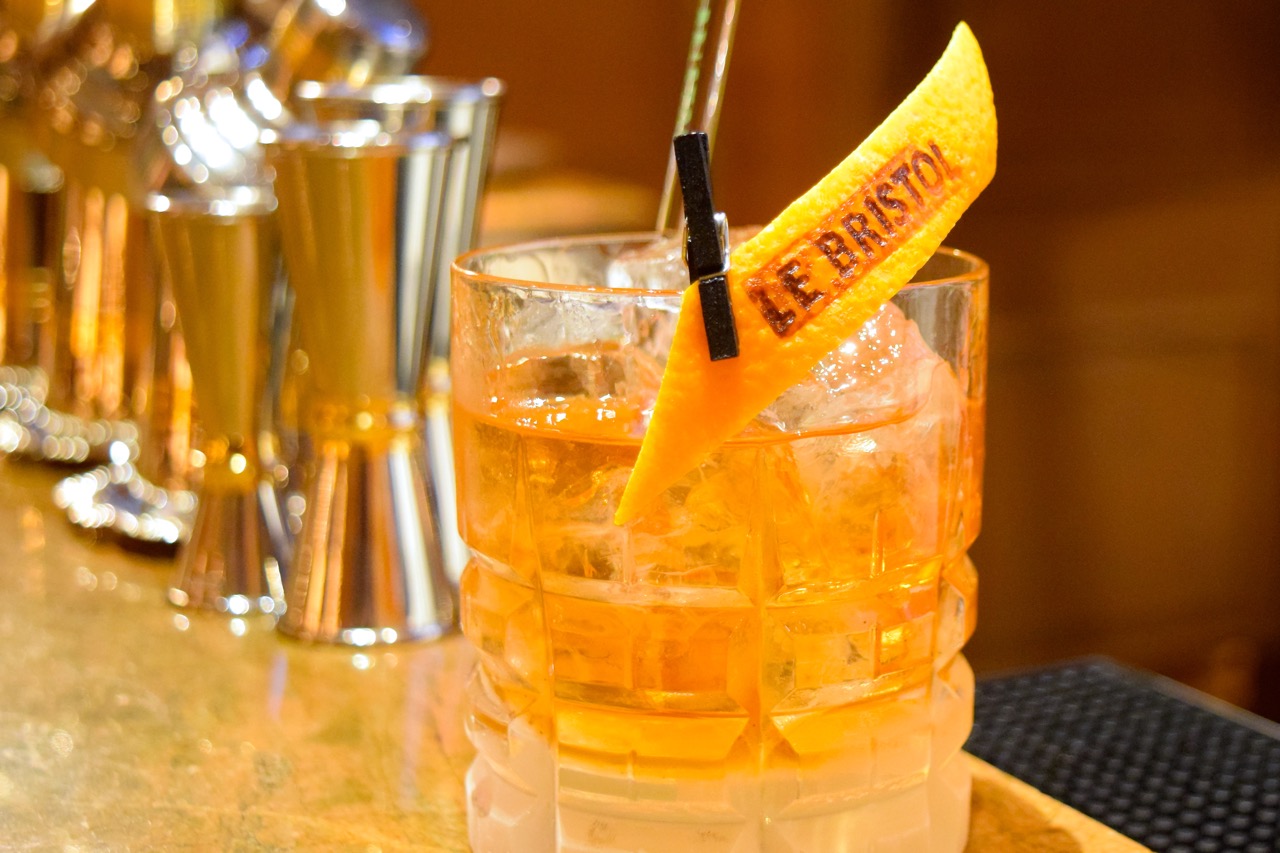 Le Bristol's signature cocktail is the Official #7 garnished with an orange peel embellished with the name of the hotel and fashioned to the glass with a miniature clothes pin.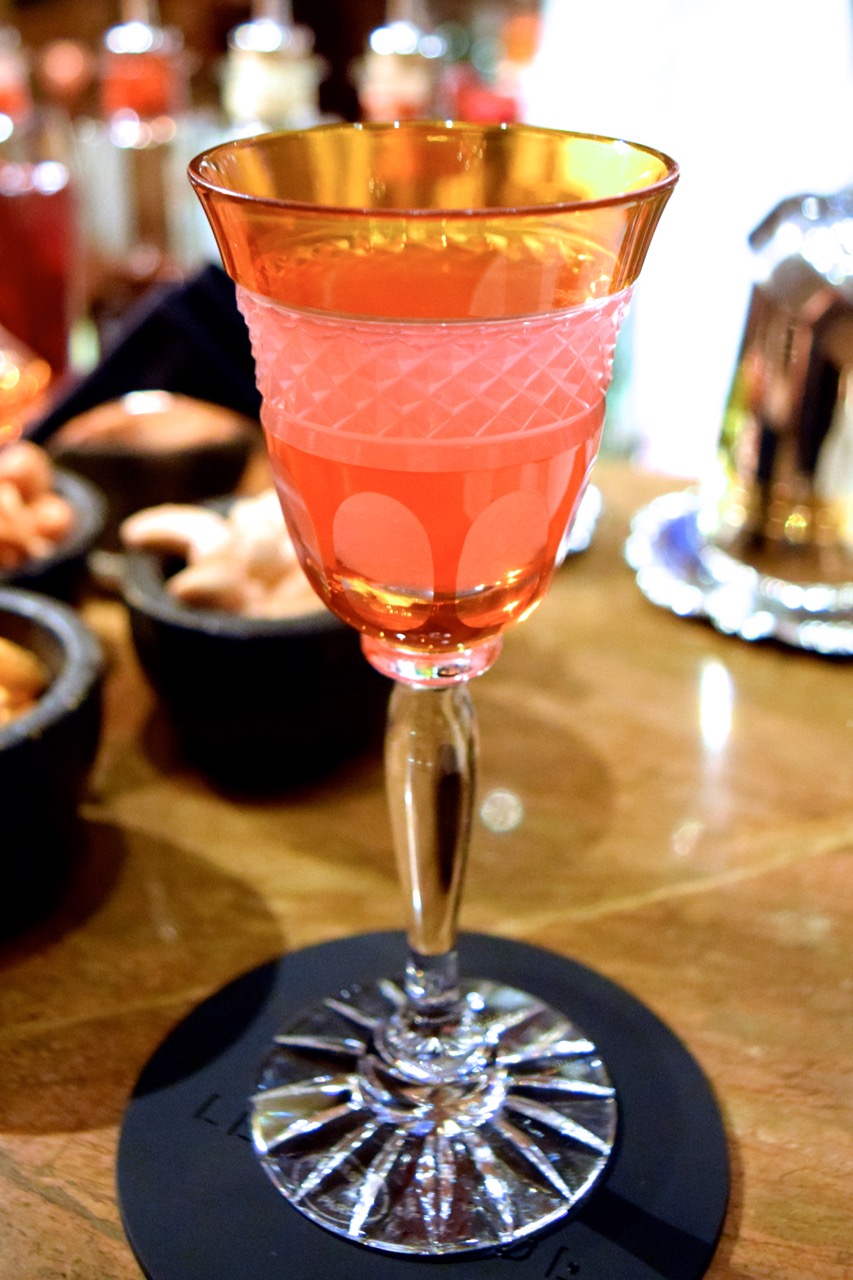 The coolest thing about Le Bristol's bar is that on the wall behind the bar is a series of screens  showing black and white films from different scenes in Paris. I was mesmerized by the early morning shots of the Tuileries, Notre Dame, Sacre Coeur, and the Locks of Loves on the various bridges. Most of the scenes were absent people which is difficult to do in such a 24/7 city.
Each guest at the bar is welcomed with a cocktail. The night I sat in the cosy bar it was an unnamed, as yet, spin off of a Cosmo concoction made with peach liquor. Chef barman Roman told me to name it, so from now on it's called The Weekend In Paris as far as I am concerned. When you go, ask for it and let me know how you like it.
Les Chats Rule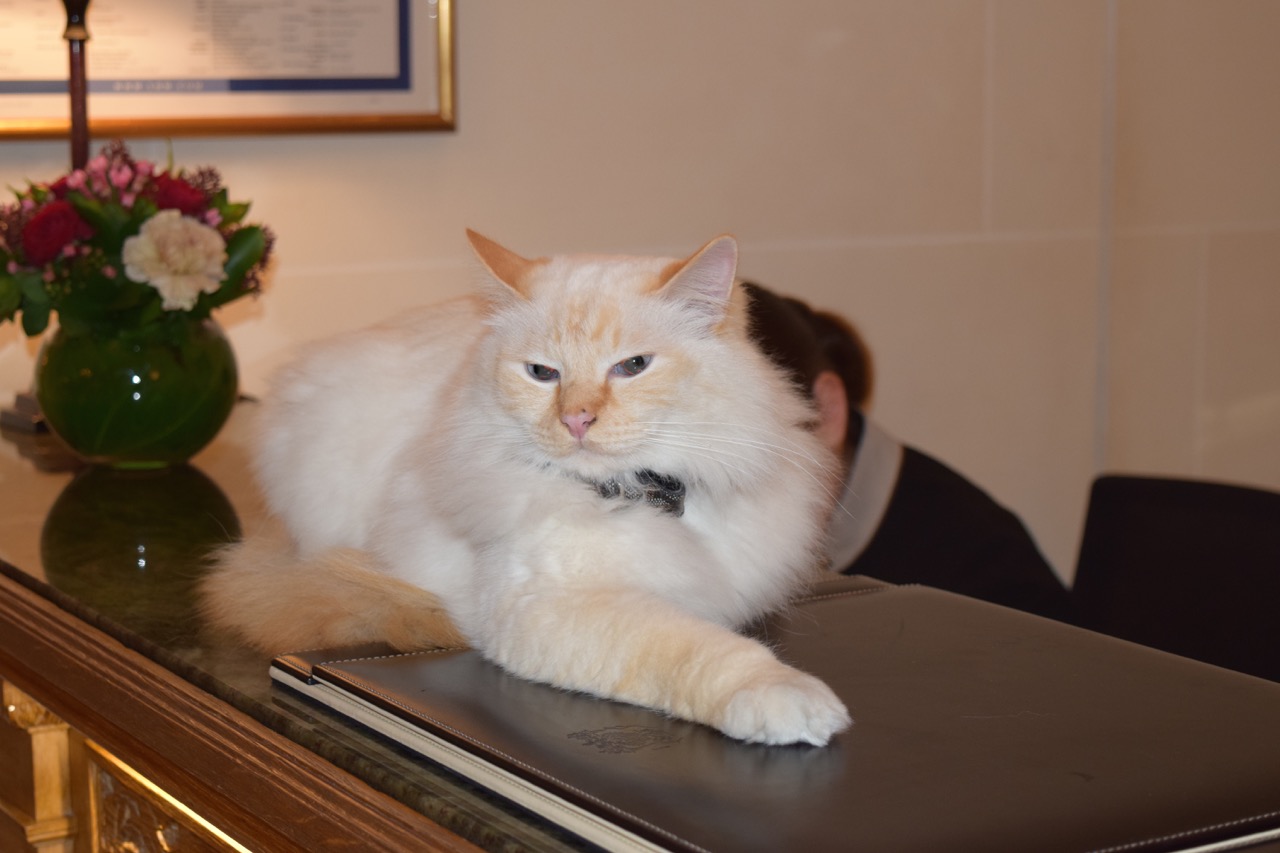 The hotel has two cats that act as mascots, Kleopatre and Faraon. The spoiled but super friendly felines come and go as they please, both inside the public spaces and out on the terrace. At the end of the day when they have had enough of hobnobbing with strangers, they head for the hotel special services desk, make themselves known and are let into their private quarters to bed down for the night in their specially decorated room, complete with a mural, custom beds and toys. Call me crazy, but I do not like cats. I did, however, love these special fur balls. They were charming, well-behaved and made me feel like I was at someone's home verses a hotel. I also adored how the staff seemed to cheer up every time they sauntered past.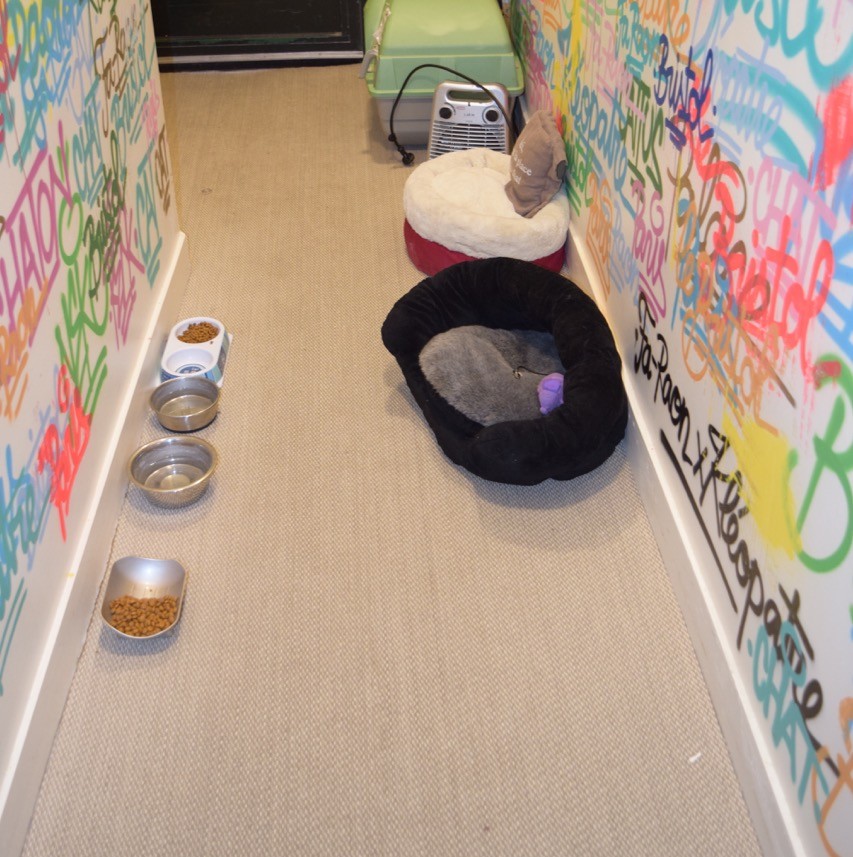 Everything about my visit was stellar, but if I had to change one thing about the hotel it would be to add plugs next to the bed so I could be lazy and work from bed while charging my cell phone. If that's my only critique then you know it was a home run.
Location
Le Bristol Paris, 112, rue du Faubourg Saint-Honoré, 75008 Paris France
My stay was compliments of the hotel, but the favorable comments on their behalf are all my own.
All photos are the property of The Weekend In Paris. Must obtain permission before use.