Impressive Hotel Saint James Paris is both regal and relaxed. Paris' only château hotel, this five-star Relais & Chateaux member is in a gated park-like setting. Close to Victor Hugo and the Arc de Triomphe, the peaceful estate made me feel like I was out in the country in the heart of the city.
Newly crowned Michelin-star Chef Virginie Basselot, offers a well thought out tasting menu paired with exceptional wines. We chose to eat here as our "official" 25th Wedding Anniversary dinner after our blessing in Notre Dame, Paris and our high expectations were exceeded. The dining room is a graceful venue for a romantic dinner or in our case, a warm and inviting spot for a group celebration. The service was flawless, with great timing and a genuine warmth. I would eat here again even if I was not staying at the hotel. It was truly a noble evening.
After dinner we retired to the terrace that is decorated with a hot air-balloon theme. Covered porches and comfortable sitting areas offer spaces for guests to enjoy the outside in a relaxing atmosphere.
The Library Bar is a special room where deep-rooted tradition meets practical modernism. Thousands of old books line the mahogany shelves while comfy leather club chairs make visitors comfortable. A fully stocked bar with expert barman is on hand to make a complicated martini or pour a simple but perfectly blended scotch.
Each room is impeccably decorated with sophisticated and whimsical fabrics and materials. I loved that each of our three rooms were very different from one another, but that special features not included in many five-star accommodations are standard at the Saint James Paris. Free WiFi, free valet car parking, free mineral water and free Nespresso coffee in each room are special amenities I appreciate as a frequent traveler.
I loved the large living room in our suite that also had a half bath in the hallway so visitors to our room had their own powder room.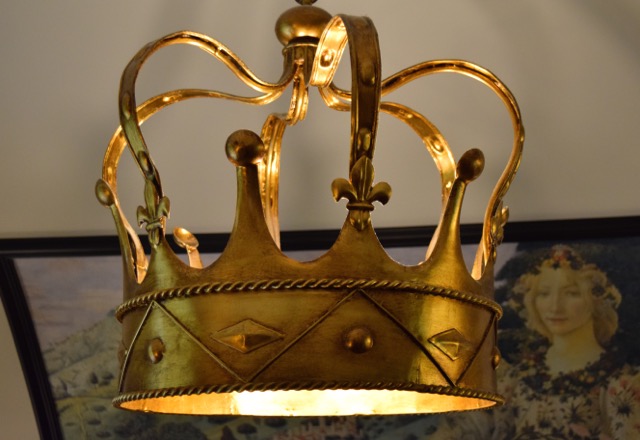 Of course the "crowning joy" was the regal chandelier over our bed. It's impossible to stand grounded when you are being treated like royalty.
Our friends' suite was equally as lovely, yet completely different. We delighted in comparing each other's decor.
One of my favorite meals at Hotel Saint James Paris was breakfast. The dining room doubles as a breakfast room, but in nice weather it's perfectly fine to dine outside on the terrace. I loved the scrambled eggs in the individual ramekins with lids and the fresh fruit in clear glass bowls. Of course the bread was amazing and hard to resist!
We hated to leave, but it was time to head to Bordeaux for some wine tasting at our next Relais & Chateaux location. Stay tuned for a review of our next destination.