As a brand, The Four Seasons is consistently excellent and the classically French, quintessentially Four Seasons George V Paris is definitely en pointe. Every visit I enjoy something different about this awesome property. Whether it is a fabric color scheme change or seasonal flowers brightening up the public spaces, George V is a leader in style and grace.
Cocktails
Each time I stay at the George V something new and exciting is added to the repertoire. For instance, they added a hands-on shaker and tasting class with acclaimed Mixologist Grégory Hazac. He let me in on trade secrets from Le Bar. My favorite concoctions throughout my visit included a ruby red Vodka based drink Sympathy for the Devil, and a refreshing but naughty sounding Rum and Ginger Beer drink called  In bed with George.
Wine
It is quite an oenophile adventure peering into the wine cellar. Over 50,000 bottles and 2,500 different labels of wine lay at the proper angle on ancient racks begging to be decanted. I toured the wine cellar and experienced a tasting like no other. I found myself sipping the finest reds, whites and blends from all over the world (and some French of course) by candlelight. Adding to the feast,  they served gourmet puff pastries, aged cheeses and charcuterie too. I left the most expensive bottle for you – a 1982 Petrus priced at 23,000 Euros.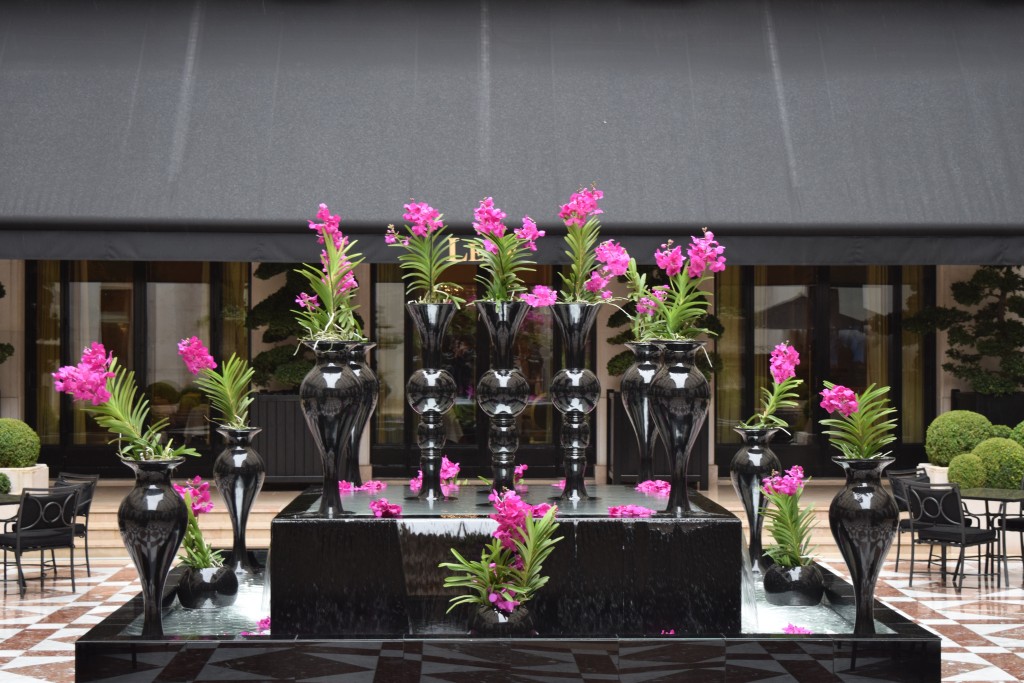 Jeff Leatham
Four Seasons, worldwide, is known for their spectacular flower arrangements but the ones in Paris are without rival. Artistic director Jeff Leatham reportedly has 12,000 blooms driven in from Amsterdam each week he uses to create his colorful and bold, but elegant floral arrangements. A true and generous artist, he periodically shares his talents with guests in small group flower arranging demonstrations.
Elegant  but Practical Decor
The rooms are vintage Louis XVI, but not frilly or stuffy. The luxurious bed fabrics were crisp clean neutrals accented with a soft palate. French doors with small balconies provide views of the black and white checkered courtyard below, consequently many have views of the La Tour Eiffel as well.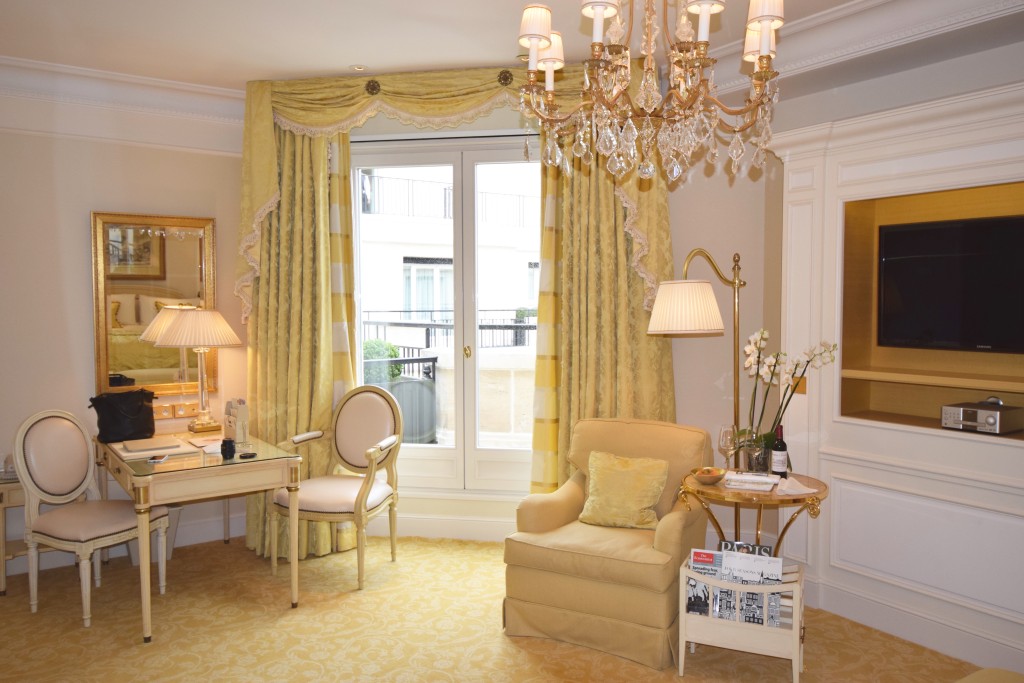 For those of us who have to work on vacation, it is a plus to have enough space to spread out a laptop and documents. The partner's desk is both beautiful and functional. It has electrical outlets that accept both European and American plugs making the use of adapters obsolete.
Other small touches that making this hotel room more of a home away from home are the generous sized lighted closets complete with linen/scarf drawers and the Nespresso coffee bar. To me, hotel artwork can make or break the ambiance of a room. The George V collections make me feel as if I am in a petite Paris museum.
Sheer elegance and the ultimate in fine dining, the two-Michelin-star Le Cinq restaurant is the ideal spot for serious business meetings, but equally so for a romantic rendezvous. The service is impeccable! If you are celebrating an important milestone, let the pastry chef know in advance and he will create a memorable dessert to mark the occasion.
Afternoon Tea
Of course you need not wait for a special occasion to taste the divine confections. Afternoon tea is served in La Galerie Lounge between 3pm and 6pm. Hotel guests are always welcome to tea; if you are not staying at the hotel you can try your luck and wait to see if there is an opening. Better idea, head to Le Bar and order a Dream Lover cocktail with a Vanilla Napoleon and relax.
Location
31, avenue George V, Paris 75008
Thank you to the Four Seasons George V for another exceptional experience. In no way did the gratis stay influence my review. Just because I was "In Bed with George" doesn't mean I would compromise my reporting for my faithful readers.
All photos are the property of The Weekend In Paris. Must obtain permission before use.