28 Jan

Confessions from an Éclair-oholic…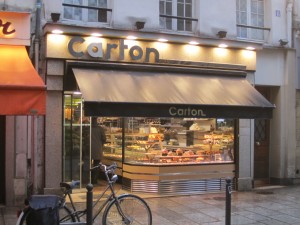 Where's Father Tucker?  I have a confession to make.  This trip to Paris was going to be éclair free.  I was finally going to stare the Carton shop right in the eye and refuse to go in for my éclair fix.  I had kicked the habit after hitting the place really hard last year on my trip to Paris.  The only great éclairs in the United States are made by my Aunt Mal who lives in Weymouth, MA.  I am a safe plane ride away from any temptation.
The Plan for Self-Control…
My strategy was simple…walk past Carton on the opposite side of the street where hopefully the shops with the SOLDES (SALE) signs would distract me enough to make sure I did not bolt across the street to order a dozen and consume at least half of those before I hit the end of the block.  The plan worked for the first few days.  Then one afternoon the Gal Pals and I were up in the hotel room putting our feet up for a few minutes before heading out to dinner and merrymaking when it hit me…Carton was just around the corner and if we left right that second I could have a tasty buttery fluffy pastry stuffed full of chocolate-filled crème in my mouth before I had time to call my Éclairs Anonymous sponsor back home (Mr. Weekend in Paris) to talk me out of it.  The Gals didn't bat an eyelash…in fact I am pretty sure that Gal Pals Andy and Christine were wrestling with the same demon I was because they had their boots back on in record time to join me.
One last chance…
Alas, it was not meant to be.  Carton was closed.  We had waited too long.  The moment was gone.  I was safe.  Unless… Did I hear someone calling my name?  Paul?  Is that you?  What did you say?  I need to come see you right now?  Well, it would be rude to ignore him calling so let's go right this second to see what's up.   Paul – such a benign name for such an evil place.  Paul (a chain patisserie) sells éclairs that looked just like the ones in Carton but they were much louder.  They called my name from down the street and lured me in to their evil pastry shop knowing that I could not just have a look; I needed a taste.  Just one little bite.  Which, of course, led to another little bite and so it went to completion.  Just like that, one éclair down the hatch.  Like a sailor at sea who hits the port, this Gal Pal ate with reckless abandon.
So my readers, you now know the painful ugly truth…I fell off the éclair wagon and don't even regret it one bit…well, maybe I regret that I only had just the one éclair and not a whole box!  The penance, whatever Father Tucker decides, is well worth it!