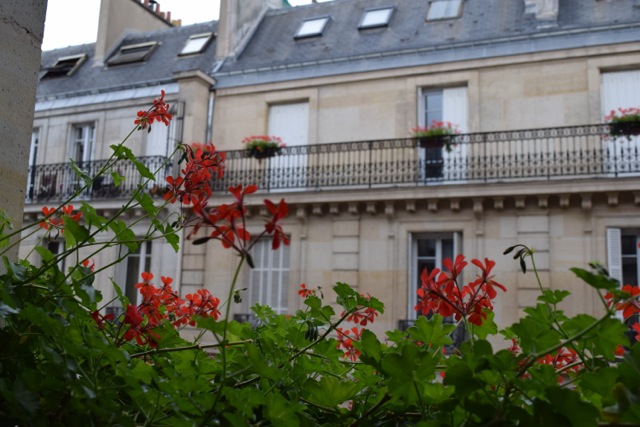 The view from my lovely suite at Hotel Daniel
From sunrise to sunset, a perfect day in Paris was had by our group. Father Tucker, Terry and Nancy Sheffield and myself landed in the City of Light after viewing a glorious sunset from the cabin windows of our respective flights. As fate would have it, there was a security scare at Charles de Gaulle which kept the Sheffields on one side of security and the rest of us on the other, awaiting the police to sort out the abandoned baggage and allow our group to reunite and depart for the City of Light.
The first order of business was to check into Hotel Daniel, a Relais & Chateaux property in the 8th arrondissement near the Arc de Triomphe. We were delighted to be greeted by a welcoming staff who helped us settle into our rooms with dispatch. Each room in this boutique hotel has a different color scheme and Asian accents that compliment the charming decor.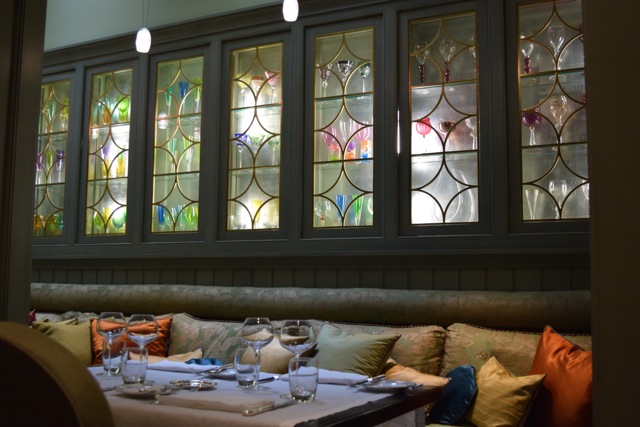 I particularly adore the dining room with the bright colored crystal glasses on display above the banquets with cheery fabrics. The stark white tablecloths contrast with the vibrant pillow accents, giving the room a contemporary boost without overwhelming it.
After freshening up a bit, it was out the door to Café de Flore for a bite to eat, a peek at Paris' oldest church Saint Germain-des-Pres and then back to the hotel for the crew sans moi who wanted to stay in the 6th to catch up with local merchants that I have come to know after so many years. Of course, a coffee at Café de Paris was in order to say hello to the friendly staff that I look forward to seeing each time I stroll rue Buci.
You never know what you might find when wandering the ancient streets of the Left Bank. New art pieces are always popping up, but never outshine the historical architecture or traditional landscape.
Shopping is alway high on my list and I spent quite a few minutes perusing one of my favorite stores in the area. Faïencerie de Gien (13 rue Jacob, 75006) sells accessories and dishes of distinction. If they would fit into my suitcase, you bet I would snatch up the French multi-colored set of Paris-themed commemorative dishes to take home.
I also made my first purchase, a white collared, long sleeve polo shirt with French cuffs at my Italian "go to" blouse shop Nara Camicie at 142, Boulevard Saint Germain des Prés.
Dinner was at a casual bistro that we happened upon after taking an early evening jaunt past the busy Champs Élysées and afterwards we could not resist stopping in the middle of the boulevard to take each other's photos. Dodging traffic is not exactly our style, so we waiting for the "green man" to shine his light and crossed half way in order to capture these photos. Safety first!
The only one missing is Mr. Weekend In Paris who is busy working in Scotland. Have no fear, for he shows up tomorrow to join our merry band of friends to begin the 25th wedding anniversary celebrations!
A nightcap down the hatch and now it's a late sunset for us and bedtime for all. Tomorrow promises to be another spectacular day in paradise.
Special thanks to the Hotel Daniel for their hospitality. It's always nice to have a complimentary suite upgrade and in no way did it influence my opinion that this is one of Paris' gems in the hotel arena. I would stay here again in a heart beat. The staff is among the friendliest and most helpful I have encountered in all my years in Paris.
All photos are the property of The Weekend In Paris. Must obtain permission before use.