07 Jan

Mission #2 Paris 2012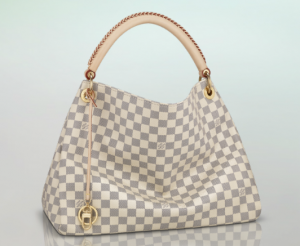 Mission #2 is dangerous.  How dangerous you ask?   "Off the charts dangerous!" I answer with a slight lump in my throat. I almost didn't accept this mission it was so daunting, but then I figured that I would only be given this opportunity once, so I better take advantage of it before the offer was gone forever.
Armed with only a credit card in hand, I  will be stalking my prey in Paris the week after next.  Right after I head to the Louvre (see previous post for Mission #1) I am going to sprint for Boulevard Saint Germain and get myself a "forever" bag at the mecca for fashionistas – Louis Vuitton.  What's so dangerous about going to LV?  Have you ever read the children's book If you give a Moose a Muffin?  Well, as the story goes, if you give a moose a muffin, he's going to want some jam to go with it.  I definitely won't drink any water at Louis Vuitton if offered, in case they drug you with some sort of concoction that turns you into a "Bagzilla."  The plan is to go in, locate the adorable Artsy Damier Azur shoulder purse I scoped out online, pay for it and get out as soon as humanly possible to avoid any impulse shopping.  Get this, if I stick to the plan, I will actually SAVE money by shopping in Paris because I won't have to pay the European VAT (value added tax) and the exchange rates are the best in quite some time.  Now how do you like that for justification?
What's a "forever" bag?  A forever bag is a piece of history that you can wear on your shoulder or carry in your hand that is high quality, durable, always in fashion, and is beyond classic – it's timeless.  You can accessorize any outfit with a forever bag and travel to any climate in any season with it on your arm and manage to look fresh.  It neither bucks trends nor does it lack character – it get's noticed because it's the perfect bag for all-time.  Once you own a forever bag in the primary accent colors – black, brown and white you are good to go.  In my opinion, I have saved a fortune by passing up trendy colors and fabrics for timeless bags that I will use my entire life because they will never go out of style due to its flawless design or show age because of the quality of the construction.  I believe that it's okay to splurge on an item if it's a "forever" item that you will use until death and be buried with in case Mary hosts formal luncheons in heaven. 😉
Life is good, life shopping in Paris is better.  Being married to Mr. Weekend in Paris for 22 years is the BEST!