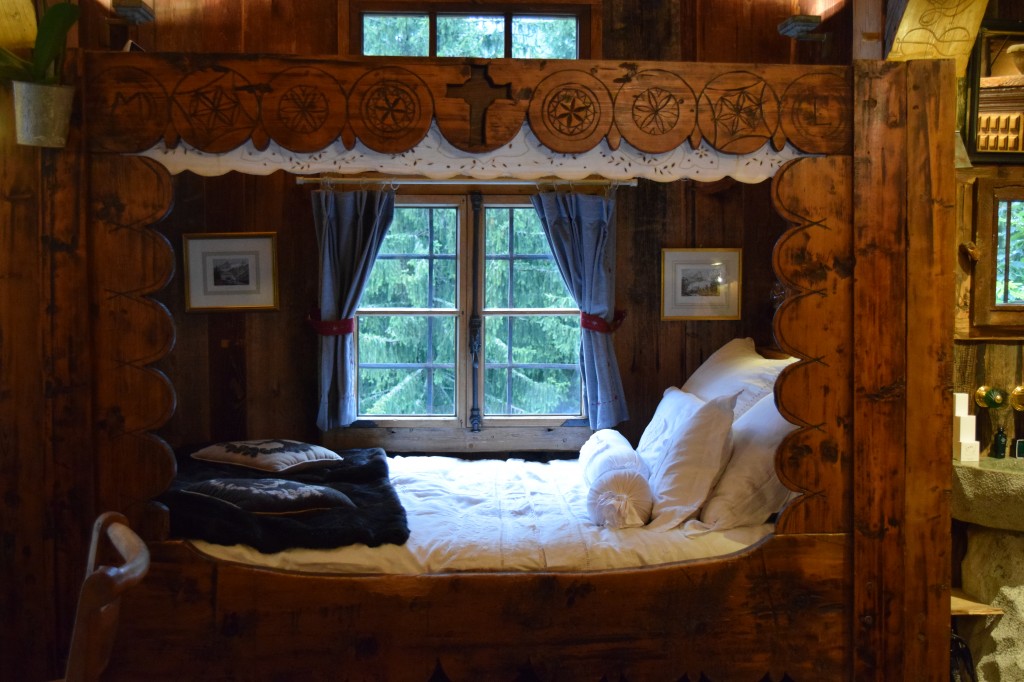 What do Kylie Minogue and I have in common? We both slept in this cozy bed at Hotel Les Chalets de Philippe in Chamonix, France. It is a fairytale nook in the woods in a luxury chalet in Chamonix overlooking Mont-Blanc. Charm oozes out of every beam and antique in this 17th century abode.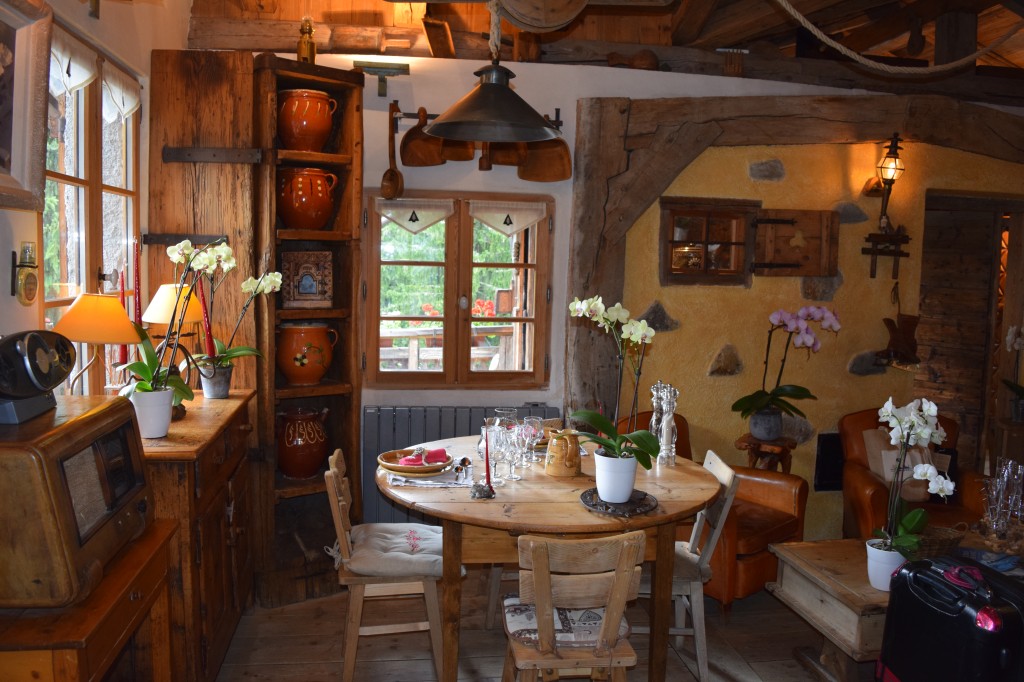 Complete with a gourmet kitchen, amply living room and dining room fit for a queen, this mountain oasis has outdoor living spaces and views to die for of the indomitable Mont-Blanc.
The hotel is a rare mix of old world and new world that truly works harmoniously to give guests a rustic luxury like no other. The owner, Philippe has lovingly chosen every accessory. He hunts for antique linens, furniture and wall decorations in the peaks and valleys of the area surrounding Chamonix.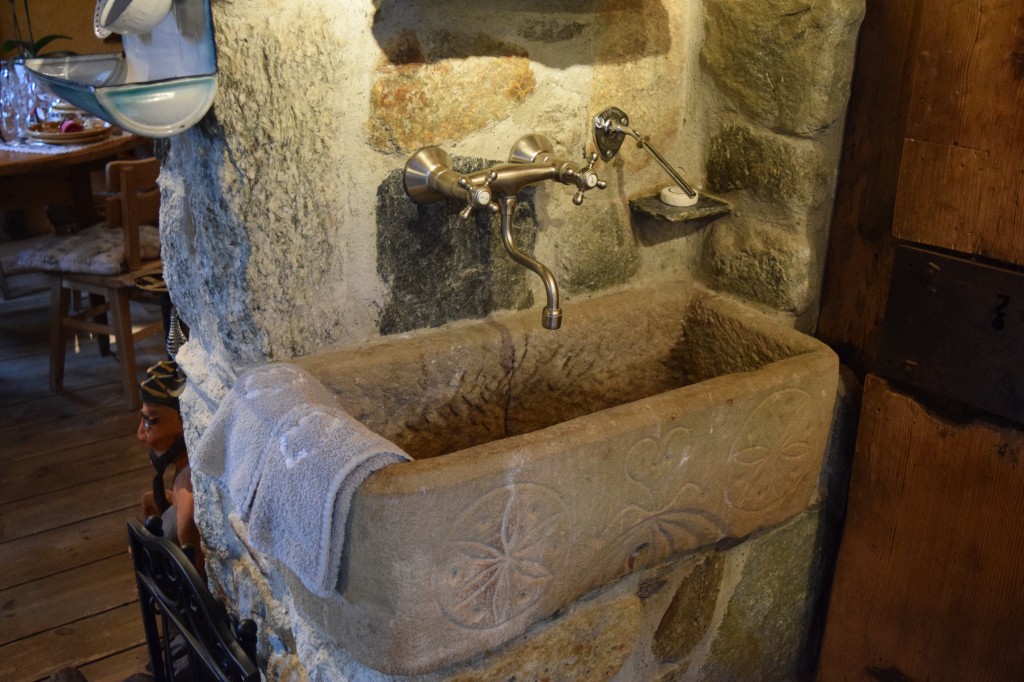 The modern amenities of WiFi and Nespresso machines make life quite comfortable in the chalet while vintage appliances, sinks and cookery remind guests of the history of the ski and hiking Mecca of the French Alps.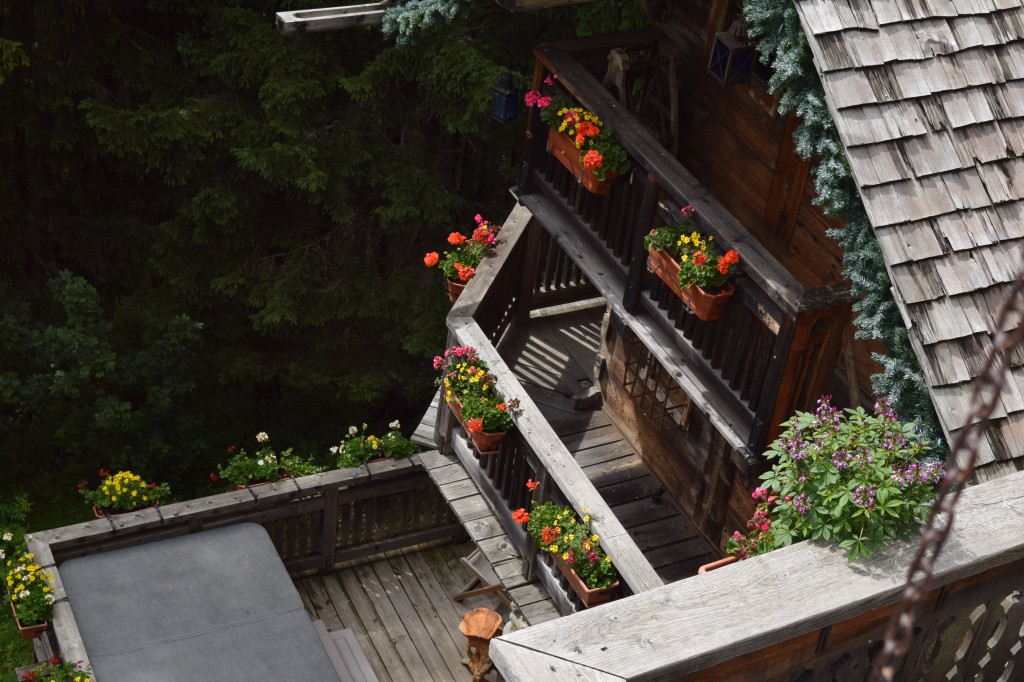 Philippe believes that this mountain retreat should make visitors feel at home and provides customized personal service to his clients. Breakfast and dinner orders are taken ahead of time and gourmet meals are either delivered to your room or served in one of the 16th century dining rooms. He hires only the best staff whom he considers family and demands excellence from them, and from himself as well. He rarely takes vacations as he says, "When you wake up here each day it's like being on holiday all the time."
I hated to leave this gorgeous retreat, but now it's time to jump on a train and head to the third of my Best of the Alps destinations – Zermatt!
Thanks to the folks at Chamonix Tourism, Hotel Les Chalets de Philippe and the Best of the Alps for hosting me on this trip to mountain paradise.