Guide to Bordeaux: How to Plan the Perfect Weekend
By now my regular readers know that Bordeaux is the preferred wine of the Gal Pals and when in Paris we drink it almost exclusively. That is, when we are not drinking Champagne, Burgundy or Sancerre. My recent trip to visit the chic and unique city left me wondering what took me so long make the short trip from Paris to this fabulous wine country. Now that I have been, there's no turning back. I loved every minute of it!
The Guide to Bordeaux: How to Plan the Perfect Weekend first appeared in Upscale Living Magazine and was meant to be a launching point for a stay, not a complete guide. After my next trip in a couple of weeks, I hope to bring you more tips and tastes! 
Excerpt from Upscale Living Magzine: First time visitors to France often plant themselves in Paris for the entire length of their vacation, overlooking important cities with rich histories and amazing opportunities to explore what makes France so unique. Because of the wonderful high-speed trains and readily available flights, side trips from Paris can be accomplished easily.
How to get there
Travelers can be in the vibrant, unique city of  Bordeaux, the world's wine industry capital, in less than four hours from Paris' Montparnasse train station.  Another option is to arrive via Air France from Paris' Orly Airport to the Bordeaux Airport on a one hour and five minute flight. Taxicabs are plentiful and private sedans are available for hire through hotel concierges.  While wine tasting is the best part about Bordeaux, history lovers will become enamored with the evolution of the villages surrounding the vineyards and lineage of the winemakers. Each Chateau is a study in architecture, interior design and botany. And, as in most of France, gastronomy is also a high priority for the Bordelais people…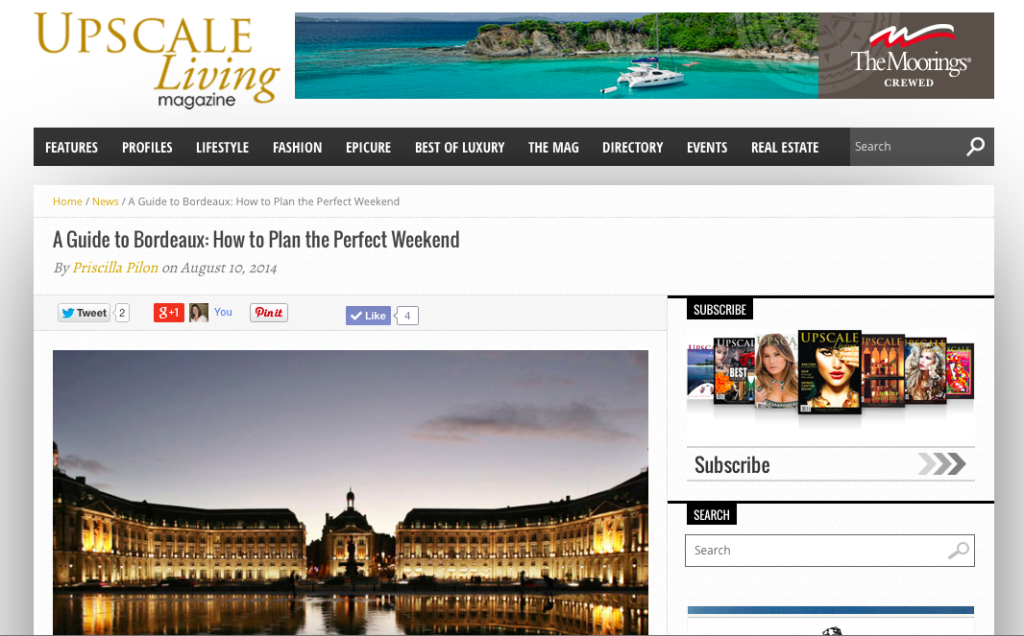 To read the rest of the article in Upscale Living Magazine, click here.
Planning your trip to Bordeaux
Questions to ask before you plan a trip include:
Are you a city or country person?
What do you want to do in Bordeaux, only taste wine or see some culture?
How much time can you spend in the city or out in the country? This will determine your mode of transportation.
Are you looking to just taste wine or collect as well?
Where do you want to eat, upscale or casual? Make reservations when in doubt!
What type of accommodations do you need? One in town with a spa or a charming boutique hotel near the Chateaux?
Once you answer these questions you are ready to begin your planning. I suggest you check out the Official website of the France Tourism Development Agency. Here's the link: France Tourism
---
All photos are the property of The Weekend In Paris. Must obtain permission before use.