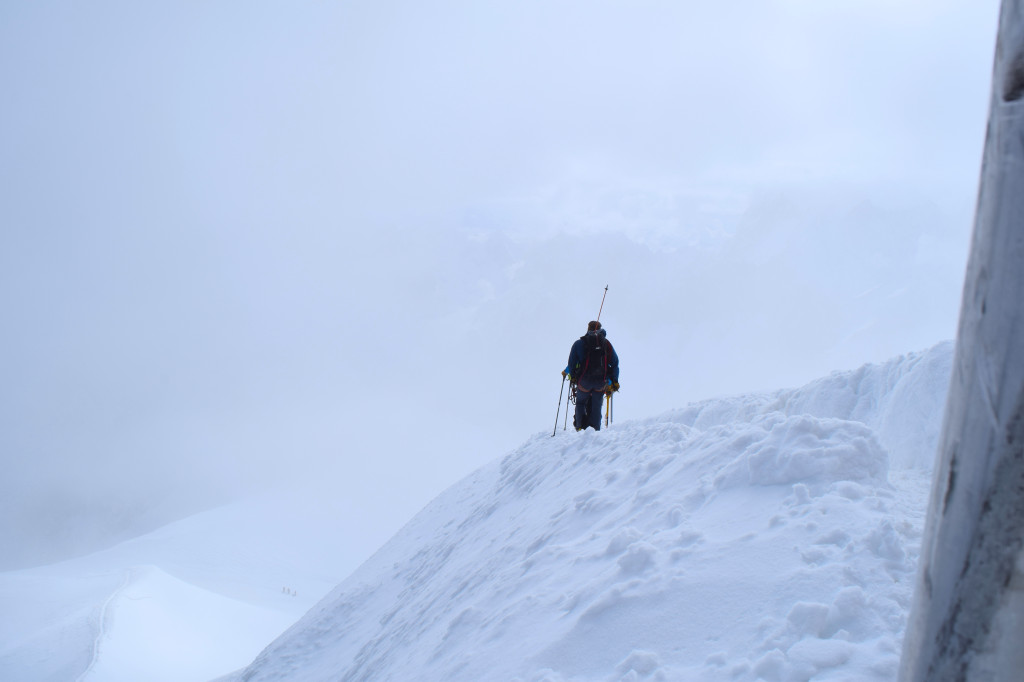 Last in a group of hikers about to descend from the Aiguille du Midi
On my recent trip I learned of the dangers that hikers experience when trying to conquer one of the many summits on and surrounding Mont Blanc. Just last week tragedy struck again on Mont Blanc in Chamonix, France when six climbers fell 250 metres to their death on another peak, the Aiguille d'Argentiere. Our guide from the local tourism office explained that there are on average 60 deaths on Mont Blanc per year and many occur in the summer time when the snow melts and avalanches occur and crevices swell open. 
Known for their expertise, the mountain guides of Chamonix go through rigorous training and must earn their way towards being a guide by proving that they respect the mountain and its dangerous nature. Only fools attempt summit climbs without local knowledge and even so, risk certain death if they push the weather envelope or do not follow instructions from the guides without question.
I know this philosophy from my husband who attempted a climb, along with our daring French friend Pascal who loves risk-taking, below the Mont Blanc summit some summers ago when it was snowing at the Aiguille du Midi. The guide said to these two adventuresome men, "You think three things. Your feet, your mind and the guide. NOTHING ELSE!" It was white-out conditions up top and they could not see any landscape so they had to rely on the guide to show them each step of the way – literally. One false move and it would mean certain death from falling off the razor thin edge they were attempting to cross.
The tragic deaths of five experienced climbers and their expert guide remind us that no amount of preparation is a match for the unpredictable weather that can blanket climbers, unexpectedly leaving them blind to a path to safety. Sadly, the six fell to their deaths during a two week mountaineering course. Having just been there and viewed climbers successfully making the treks, it makes me sad to hear such an ending for these folks. Mont Blanc is gorgeous, beautiful, majestical and dangerous.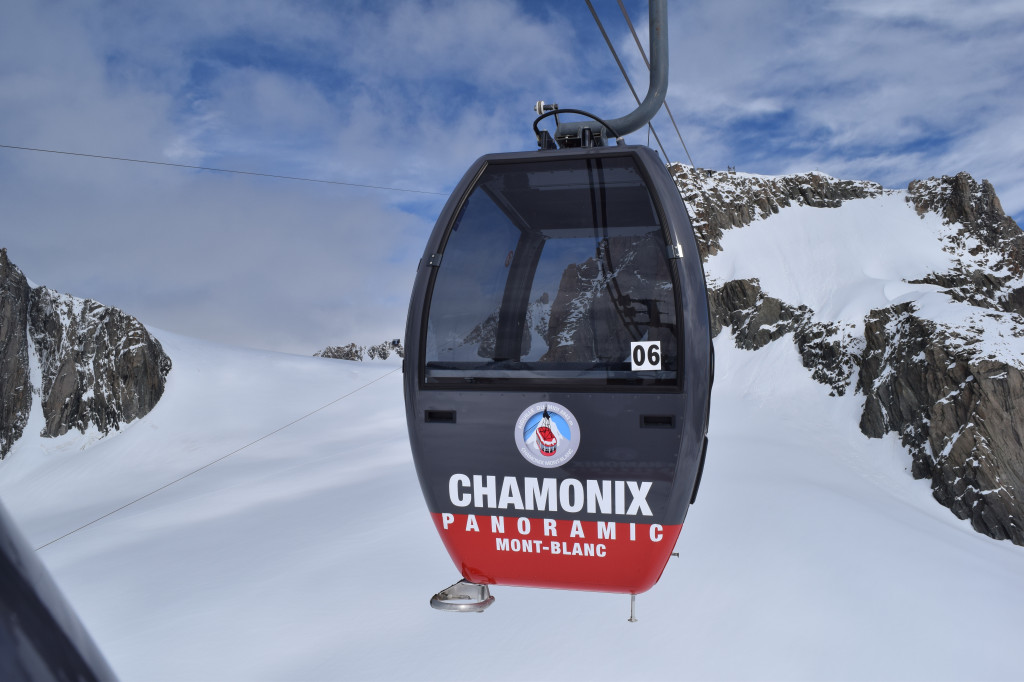 Formerly feeling guilty about my decision to take the gondola and photograph the climbers verses attempting a hike myself, I now feel perfectly fine with my choice. The biggest danger I was in was from hunger and thirst when I was stuck in the gondola over to Italy. I was deeply saddened to hear about the accident and I pray for all the victims involved and their families. Please enjoy Chamonix responsibly and hire local guides who can give the best (not full proof) advise about what routes are the safest and when the timing is the least perilous.
For more information, contact the Office of Tourism for Chamonix.
All photos are the property of The Weekend In Paris. Must obtain permission before use.