If you want to dine like royalty in Paris, there is no better option than Le Meurice Alain Ducasse. The iconic restaurant is located inside Hotel Le Meurice. The following article originally appeared in The Daily Meal.
Located close to the former playgrounds of the French Monarchy, the Hotel Le Meurice in Paris first opened its doors some 200 plus years ago to receive the visiting British Royals. Within the hotel is Restaurant le Meurice Alain Ducasse. Pleasant, refined and deliciously decadent, lunch was fit for a queen and, as it turns out, my non-royal palette as well.
I heard it said that Monsieur Ducasse feels that gastronomic restaurants are one of the last places to be spoiled and so it is his job to make sure that people feel welcomed by the food and the atmosphere. The majestic décor is elegant, but minimalist. Marrying Old World and contemporary elements, the eclectic table holds only the essential dining pieces needed for each course. Belgian goblets, ruby-red Puiforcat plates and a simple lacquer bowl come and go from the table effortlessly as each course is presented.
I was welcomed with a rosé Champagne by Bruno Paillard and served an amuse- bouche, Sorrel — a light crunchy purse folded over a green leaf container of an egg and shallot purée. A hint of vinegar mixed with the sweet outer edge awakened my taste buds for the appetizer of fruits and root vegetables served fondue style, complete with fondue fork and a dipping sauce of carrot and celery dressing.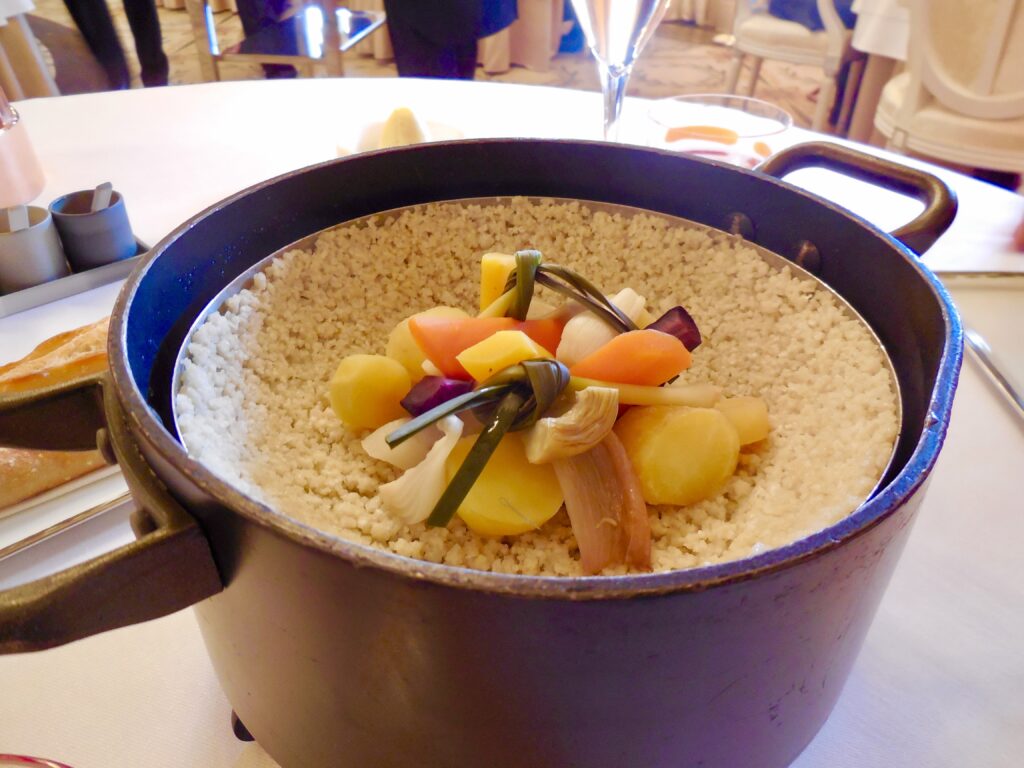 Following along on the regal gastronomic journey, next came a pastry tower of treats filled with generous layers of hot pâté with mushrooms, cabbage, and truffles. It was the best presentation of pâté I have ever seen and tasted. I almost hated to move on to the entrée it was so delicious. Gorgeous poached lobster claws plated over a citrus bonito vinegar juice and hearts of palm dotting the plate was as pleasing to the eye as it was to my palette. A wonderful Montrachet Grand Cur Domaine Thénard 2009 accompanied this dish and rounded out the taste with its big flavor.
Dessert comes many ways at Alain Ducasse: light, bold, beautiful, or all three together. I sampled the roasted pear with almond cream and pear sorbet for the light while the bold came from Brittany in the form of a coffee ice cream-based dish with crispy bits, pecans, and pine nuts dressed in a delectable chocolate sauce. The house specialty, the St. Honoré, came all three ways. It had folds (resembling an Elizabethan collar) of light or "air cream" as they call it atop the spectacular and flaky choux pastry. Regal, beautiful and yet not overwhelming, it ended my fairytale lunch on a perfect note.
---
Location
Le Meurice Alain Ducasse
228 Rue de Rivoli, 75001
Paris, France
---
All photos, unless noted otherwise, are the property of The Weekend In Paris. Must obtain permission before use.