Ladies lunching and business folks populate the quintessentially French three Michelin-star restaurant Le Cinq in the Four Seasons George V in Paris. Fantastic rain or shine, the restaurant is bathed in light from the wall of windows overlooking the beautiful courtyard. Gorgeous tapestries and antiques decorate the room with traditional flair, but the soothing grey and gold color palette and freshly cut flowers by Jeff Leatham give the room a modern touch. We were a table of four Gal Pals at the acclaimed two-Michelin-star Le Cinq for one of the best lunches of our trips.
We were greeted with a warm and hearty smile by Eric Beaumard, the restaurant director and seated promptly at one of their elegantly simple tables by the window. All of us ladies were a bit under the weather having stayed up way too late at the Le Bar and opted for small appetizers and salad for lunch. Trying to stay light and healthy was not a problem for most of us. Some of us, okay it was me, also wanted to try some less healthy options. Executive Chef Eric Briffard "had me" at the seaweed butter served with the crusty French rolls and wowed me with the fried olives – YUMM!
The presentation of the food was creative, colorful and whimsical. Beehive butter in a glass dome and lollipop cake pops on a stick were among my favorite presentations of the meal. Of course the cheese course was served from a traditional cheese cart with over a dozen artisan cheeses to choose from. We each sampled different types from the sublime to the ridiculously pungent. I LOVED them all! We ended our meal with a fresh fruit sorbet and delicious French roasted coffee. A for the food and an A+ for the plating and presentation of the food.
The waiters are gracious and extremely attentive without hovering. Hovering is almost as bad as when a waiter ignores you all together. It's all about the timing so we gal pals appreciate that the waiters achieve a perfect balance. I observed the waiters attending to other tables and noticed another great quality about the waiters at Le Cinq; they were serious with the "suits" but light and playful with us gals. A+ for the wait staff!
We left completely and utterly satisfied – all of our senses were pleasantly engaged. Our eyes had seen one of Paris' best rooms to dine in, our taste buds were treated to interesting tasty fresh local ingredients, our ears were filled with loads of laughter and everything we touched was lovely. I can't wait to be back for a visit to the George V soon. In July I will be trying their afternoon tea with my mother-in-law and two sisters-in-law and I can't wait!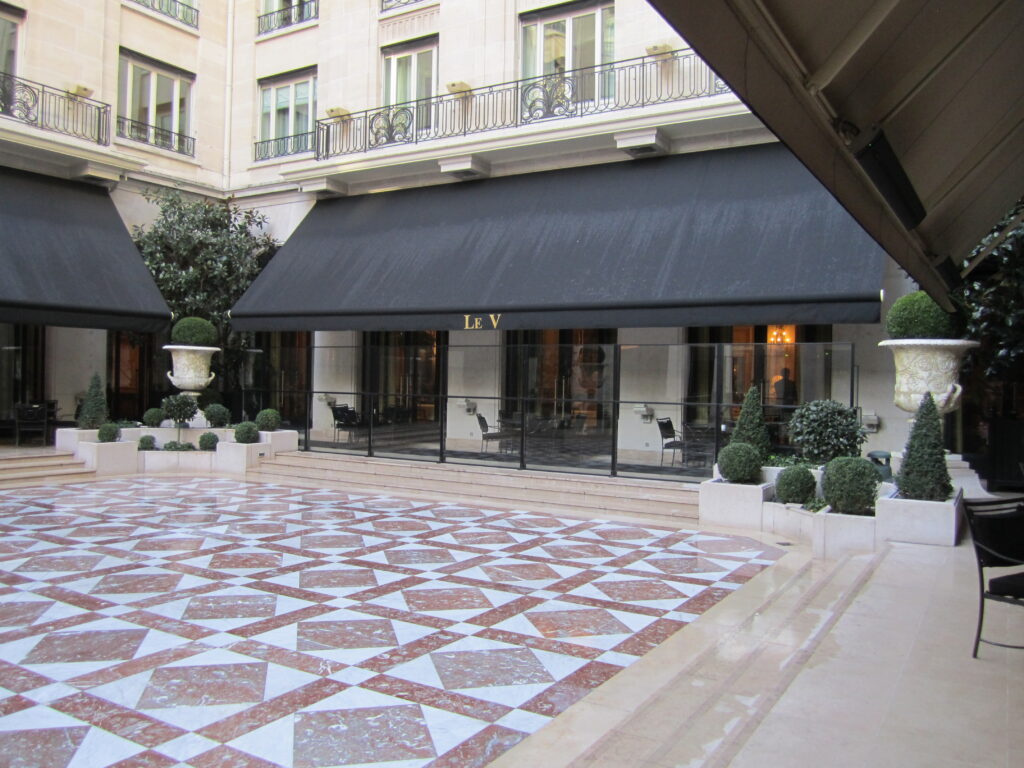 ---
Location
Inside the Four Seasons Hotel George V
31 Avenue George V, 75008 Paris, France
---
Disclosure: We made our reservation full-well expecting to pay for our lunch. When I asked for the bill, the hotel had picked up the tab for the entire table of four, however, this in no way affected my review as I took notes during the entire meal, not knowing and used them to write this review.
---
All photos are property of Weekend In Paris. Must obtain permission before use.