09 Jul

It's "Take Your Flight Attendant Out To Dinner in Paris" Day

It's a new made-up Hallmark holiday: Take Your Flight Attendant Out To Dinner in Paris Day. Ok, Hallmark did not exactly make this one up. I did. But Sharon Conrad of United Airlines deserves such a holiday. She is the air hostess (politically incorrect term I realize but I need that word to complete my rhyme) with the most-est. She is professional, courteous and happy! Usually Sharon only has one night in Paris and dines with her co-workers at a place close to the hotel that United books for them. This trip, however, Sharon had no plans for her first evening and I was awaiting the late arrival of Gal Pal Lisa from London so I asked Sharon to join me for dinner.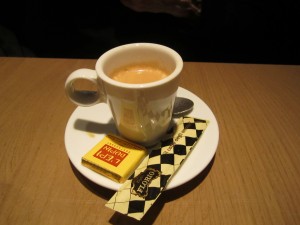 After a grueling day of sight-seeing and shopping (violins playing here) I met up with Sharon at my favorite "go to" spot L'Epi Dupin. Chef François Pasteau rocked Sharon's world. She arrived first to the restaurant and was treated like the VIP that she should be until I joined her. The maître d' was fawning all over her and kept her quite entertained as she had arrived early. Chef François Pasteau cooked us a fab meal, as usual, and came out to greet us. Sharon felt like a Rock Star with all the special treatment. I was thrilled for her because that's how she makes her passengers feel when she is working in their cabin on those long overseas flights.
Sharon, it is confirmed. I am headed to Paris again in January so forget bidding on Berlin that month, you are headed to Paris with me and the gang again. Where we will end up for dinner is anyone's guess…but for sure it will be someplace special just because you are there.
L'Epi Dupin: 11 Rue Dupin – 75006 PARIS – Tel. : +33 (0)1 42 22 64 56 – contact@epidupin.com
All photos property of Weekend In Paris. Must obtain permission before use.