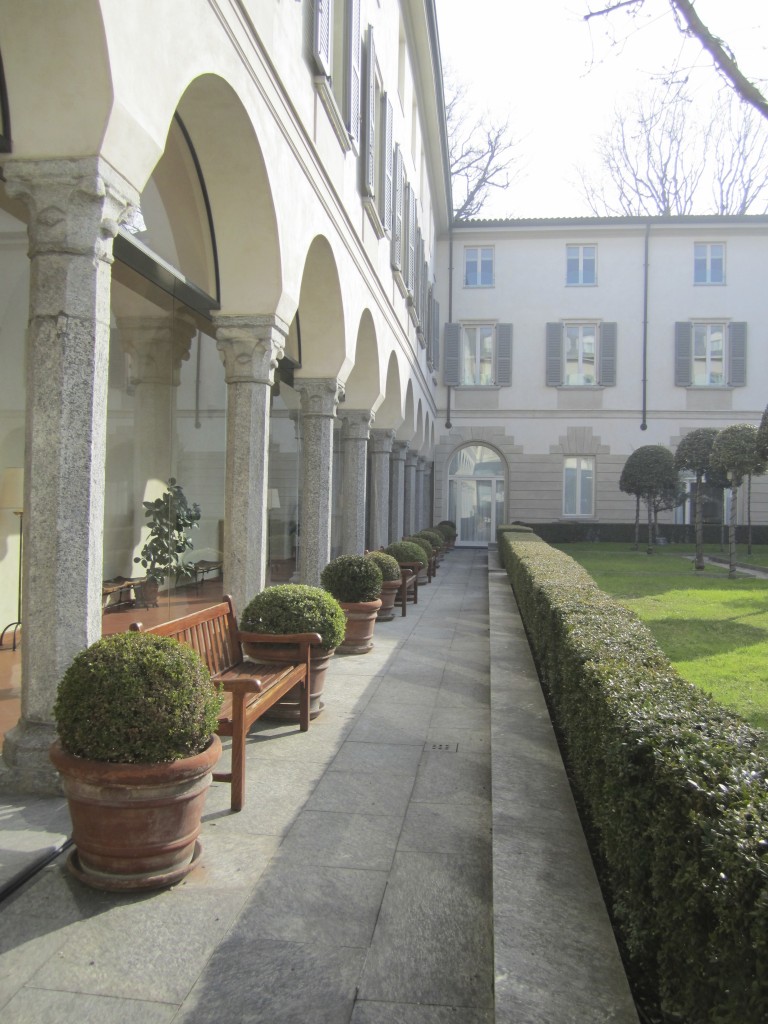 The goal for all my travel blogging is to have an authentic local experience that includes great accommodations, delicious food and great shopping. I adore staying at a place with a bit of history and I enjoy feasting on local cuisine from every price-point and window shopping (occasionally braving the sticker shock and purchasing an item or two) at the famous designer's stores from each country. If you are a like-minded traveler  you might enjoy reading about the contrasts and comparisons between my back to back visits to the Four Seasons Paris, France and Four Seasons Milan, Italy last year.
Milan Restaurant Fresco & Cimmino verses Paris' Relais Odéon
Some nights you just want to skip the fuss, stay in your casual clothes and order comfort food. On these occasions, I head to where the young people eat. If you follow them you will discover where the locals congregate to discuss life, and yes, watch a football (soccer) match. Common ground for the French and Italians would be the love of sport. At Il Cimmino the dining room was dominated by a large screen television with the game on and everybody, including the wait staff were checking in on the game while scurrying around serving delicious fried mozzarella, pizza, pasta, tiramisu and Chianti and Peroni. At the Relais, it was equally as busy and folks wanted to check in on the game, but politely excused themselves from the tables to run over to the bar section to check out the game as waiters would jump from table to table giving updates to patrons while serving tuna tartar, foie gras and creme brûlée along with newly embraced American favorites French fries and chicken sandwiches. Of course Bordeaux, Burgundy and Bière d'Or were also served at the Relais. Both restaurants were classically French or Milanese, but very similar in food style, energy and casual fun atmosphere.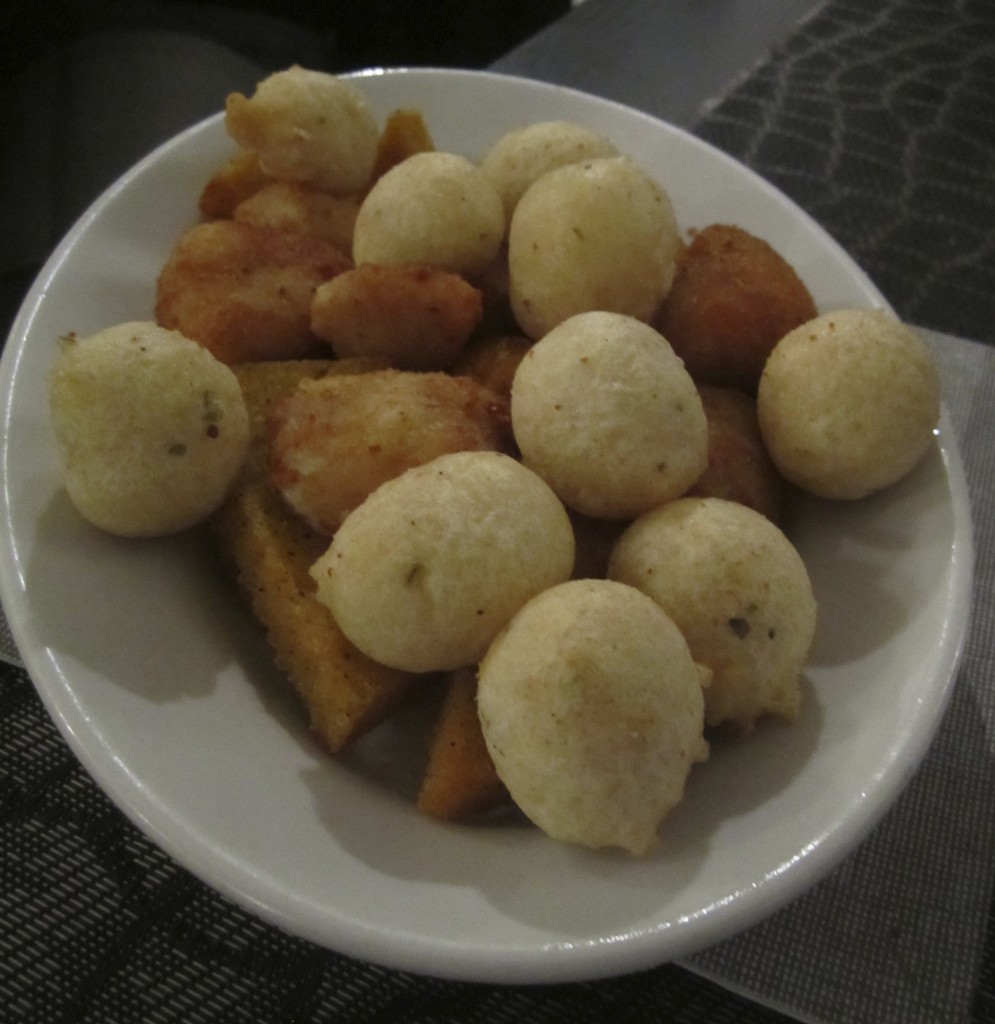 With heavy globalization these days, it can be difficult to find unique shopping experiences, but not true in both of these cities. They each still design and manufacture labels in their own countries that are unmistakably French or Italian. I suspect that each thinks their own fashion is best, but really I cannot pick a winner. Chanel will always be my favorite classically French icon and Giorgio Armani for my Italian counterpart, but fashion doesn't always have to cost and arm and a leg. There are many stylish looks for less money to be had in both cities too.
Milan's Armani verses Paris' Chanel
Armani dominates the fashion landscape in Italy and especially Milan.Giorgio Armani's fashion empire is located in Milan where he keeps a residence and is an avid sports supporter. Next to his private residence and fashion empire, is the Armani Hotel, where fashion and hospitality merge. He is president of the Milanese Olimpia basketball team which makes him even more loved by the locals. Known for his clean, tailored menswear in the beginning, his line now includes women's wear, accessories, and home furnishings.
Coco Chanel began her career with a mission to create feminine, beautiful clothes that would liberate women from the tight corseted silhouettes. She was the champion of women everywhere when she designed elegant but casual clothes and became an icon in the fashion industry world-wide. Her residence in Paris for the last thirty years of her life was the Ritz which benefitted greatly from her presence. Coco will forever be linked to Chanel No. 5 perfume, the Chanel bag and the concept of the "little black dress." Two fashion icons, two different cities, but both one solid mission to bring beauty to everyday life through their sense of inimitable style.
Paris' Anne Fontaine verses Milano's Nara Camicie
Both Anne Fontaine and Nara Camicie are committed to the designing beautiful blouses for work, going to the school play and greeting dignitaries. While Anne Fontaine dabbles in color, her commitment to the classic black and white is seen throughout her collections and her signature frilly lapels and removable collars are legendary. Nara Camicie is all about color and pattern, but shares the same desire to ensure that every woman owns a classic white tailored blouse that flatters her form. While the palettes may be different, the outcome is the same for both designers, dressing women well no matter the occasion.
Milano's Four Seasons verses Paris' Four Seasons
At The Four Seasons George V in Paris you are immediately in awe of the lobby's overwhelming presence of the French Louis XVI style of decorating; its grand spaces adorned with crystal chandeliers, large tapestries and period statues. The Four Seasons Milan's lobby reflects its historic origins of being part of a cloister of nuns and thus is more understated; beautiful, but more sedate. Both display amazing flower creations that greet the guests with a sunny disposition no matter the season or temperatures outside.
Le Bar at the George V was a warm, but formal room surrounded by dark rich woods and had a refined old British pub feel to it with the chosen red color scheme. The cheerful bartender stayed open late for us and she made a mean Brandy Alexander. Il Foyer bar in Milano was open to the lobby, light and bright and gave a sense that the Milanese people want you to pop right in for a quick drink just to say Ciao. The piano player in Milan played songs by request and delighted in patrons singing with him. I can't imagine that ever happening in Paris' George V, but then again one is there for classic music tinkling away as you have a refined cup of tea so it is appropriately classic for Paris.
The guest rooms were elegant, spacious and gorgeously decorated with their particular country's palettes and furniture appropriate for the areas they are located. I would say that the room in Paris had a little more panache, but the Milano room was a bit more relaxing – put your feet up and stay a while kind of relaxing. Perfection all around – I am ready to move into which ever one wants me around forever!
Which city wins the title for best dressed?
It's funny how the hotel rooms reflect the people of each of the city. Stereotypes I know, but generally speaking, the French are elegantly dressed, buttoned up and like a bit of splash like the George V and the Italians are fashionably comfortable, warm and friendly and enjoy having everything around them reflecting beauty like the Four Seasons Milano. This attitude carries on into the food where French food is more complex and concerned with the presentation on the plate whereas Milanese food is a simple fusion of good fresh ingredients presented well. Both cities are full of fashion conscious men and women – The French known for their chic but sedate black and white palette and the Milanese for their classic lines and comfortable ready to wear fabrics. All this adds up to two cities which are uniquely qualified to claim they are the fashion capitals of the world, despite their differences and are actually more alike than they seem. After all, if everyday life is filled with beauty who could say whether the French version or Milanese one is more beautiful? I call it a draw!
---
All photos are property of Weekend In Paris. Must obtain permission before use.