02 Jul

Photos of the Eiffel Tower Never Get Old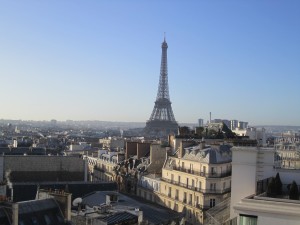 This photo is from my last trip to Paris in January. The photo was taken from the balcony of one of the amazing suites at the Four Seasons George V. Imagine waking up to this view and having coffee looking at the most iconic piece of art in the world? How about sipping some bubbly perched from this vantage point while seeing the sunset glow cast over the buildings in the City of Light? Fab!
I am headed to Paris is less than a week and am looking forward to being up in the Eiffel Tower for a visit. It's been a few years since I've been up in the tower so I'm hoping the weather cooperates and it is sunny. It's been raining a lot in Paris so let's hope I bring some of the sunshine from the states with me.
Photo property of The Weekend In Paris. Must obtain permission before use.