Simple dishes with simple flavors like La Socca Niçoise are what turns the locals on in Nice, France. No fussy sauces dare grace the plates at tables of ordinary restaurants. In Nice you must consciously seek out fancy, expensive meals. There are a plethora of tiny "mom and pop" type restaurants that serve uncomplicated, yet delicious food made from ingredients found at the outdoor markets early each morning and La Socca Niçoise (Socca from Nice) spots are plentiful. An entire meal of Socca and some fizzy water costs a wapping five Euros at most establishments. How's that for cheap eats in Nice?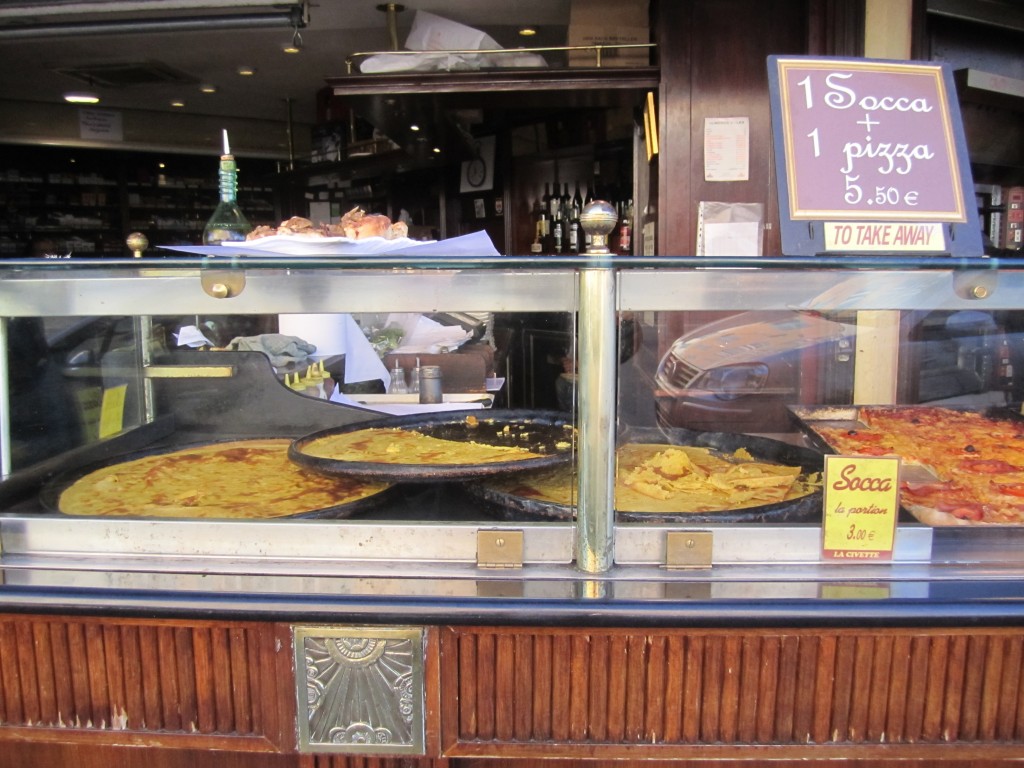 What does Socca taste like? It's somewhere in-between a pancake and a crêpe. It's not as dry as a pancake, nor as smooth as a crêpe. It is somewhat crunchy on the outside and cake like on the inside. Seasoned with salt and pepper, it is more savory like a pancake, but a touch sweet like a crêpe depending upon the olive oil used.
The culinary roots of Nice (Italian) called for creating a dish that could be made quickly and feed many from items that were plentiful in the mid-1500's in times of war. Still today, the people of southern France, and in Nice in particular, love to eat their favorite dish Socca. Traditionalists eat it with their fingers, waiting just a tad before digging in when served so they don't burn their fingers. A few dashes of salt and pepper and it's down the hatch with dispatch.
Made from naturally gluten-free chick-pea flour, this dish is fantastically easy to prep, but undeniably difficult to execute. It must be the magic in the local pans (optimum – copper pans) or the wood used in the fire that makes a difference in the taste, for many foreigners have tried to recreate this dish outside of Nice and have failed miserably. From what I observed and from what I have read online, here are the only ingredients necessary to make Socca at home:
chick-pea flour
water [eau]
olive oil [huile d'olive]
salt [sel]
pepper [poivre]
Maybe it's just me, but something was lost in the translation of how great Socca was supposed to taste, or perhaps it was the recipe used at the spot where we ate it, but I found the dish to be interesting, but not something I am anxious to repeat. I thought it was worth trying, especially knowing how attached to this dish the locals are to it. I believe in going native whenever possible and being open to taste outside one's comfort zone. Sometimes it's a hit and other times it's a miss, but the adventure of getting there and learning about it is always worth the ride.
---
Location
Civette Garibaldi
1 Boulevard Jean Jaures 06300, Nice
---
All photos are property of Weekend In Paris. Must obtain permission before use.