14 Dec

Christmas Markets in France: Cannes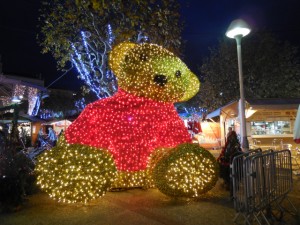 The second in my series of Christmas Markets in France, Cannes has an impressive amount of stalls despite the small year round population. The booths remind me of little log cabins, rustic and charming. The decorations around the market were traditional pieces – greenery with ribbons and bows all lit up with elegant bright white lights. My favorite decoration was the adorable larger than life topiary teddy bear dressed in a red sweater which was at the entrance to the market along the Boulevard de la Croisette.
Cake
Artisans from the Provence area the Côte d'Azur display many of their local creations and food vendors provide Christmas goodies for consumption now or to fill Christmas stockings.
Mini vertical Christmas cakes covered in dark or light chocolate and filled with various flavored ganache are a popular item in the market. The night I was there the line queued up five deep.
Clothing
One of my favorite booths was the one with tall the Christmas themed clothing. A Santa hat could be yours for a mere 1€ but they also had higher quality Christmas outfits and costumes as well.
How I was wishing I had a wee little girl to buy for because they had the most splendid holiday outfits for les jeune filles. They also sold Christmas pi's for les garçons and gorgeous Santa suits for those playing the part. Mrs. Claus could definitely get into the act as well with one of the many festive costumes on offer. Everyone entering the booth had huge grins on their faces where the Christmas spirit was alive with wonder and awe.
Sausage and Cheese
From the time I was a child, I remember the big deal it was when the first Christmas packages came in the mail. Far away friends, relatives or colleagues of my father would send Hickory Farm gift baskets. The individually wrapped in red wax cheeses from Wisconsin and sausages from the midwest were delicacies that appeared once a year. It was a really big deal and when I visit markets in France where they are selling meats and local cheeses, it always evokes that memory in me. The Cannes Market saucisson was particularly delicious; I loved that the vendor put out samples for us to try. Sadly, saucisson is one of the prohibited items coming into the United States via commercial flights or else I would have brought a whole carryon bag-full home with me.
Spiced Wine
Just as in America, shopping can be a bit overwhelming and stressful and the French avoid this at all costs, so a large part of going to the markets is about taking a break from it all and relaxing with a drink. Chocolat chaud stands were around, but so were some places that sold traditional Christmas cheer in the form of hot wines with spices and fruits.
The vendor I stopped to chat with was selling wine with add in ingredients: sugar (sucre), orange, lemon (citron), cinnamon (cannelle), cloves (clous de girofle), vanilla (vanille) and a special secret. I am sorry to say I never figured out what the secret was. My French was not good enough to understand what they tried to tell me it was. But, I suspect the magic ingredient was LOVE because they spoke so much about how they love the tradition and making the wine.
The Reason for the Season
Lest you think the markets in France are free from commercialization, I found that many of the booths selling Christmas figures were obsessed with Walt Disney World characters or American Cartoon figures. They sold versions of them in Christmas costumes and they flew off the shelves in the same way French Christmas themed items would in the US Christmas markets. There's something truly sad about Mickey Mouse dominating over a Christmas Creche.
However, the bulk of the booths selling Nativity scenes with figurines, were of particular interest to me.  The German and Russian made Creches were fantastic. They were very high quality, hand crafted, intricate pieces which had the most incredible details. The faces on the figures were so realistic that it must have taken the artisans weeks to finish a single piece.
It was too short a visit to the Christmas Markets in France, but I enjoyed them all. Cannes was petit, but magical and I shall visit them again next year. Maybe then I will get the real secret behind the mulled wine. Next up, Menton's Christmas Markets. Stay tuned and Joyeux Nöel to you and yours.
For more about Cannes and where to go and what to see click on this link: Cannes
All photos are the property of The Weekend In Paris. Must obtain permission before use.