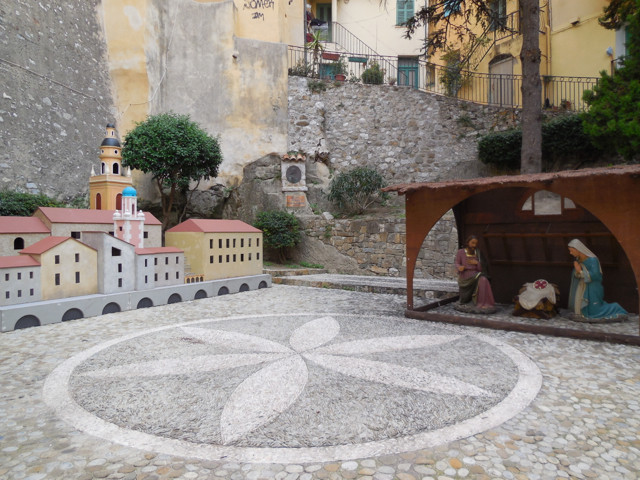 Christmas Markets in Menton
It's wonderful to shop at various Christmas markets throughout France during the holiday season. Next on my list was Menton. I had never heard of until my Parisian friends Michael and Marlys announced they were moving there. I was in Monte Carlo and could not pass up the chance to visit this adorable couple in nearby Menton. They met me in Monaco and we traveled together by an astonishingly cheap bus (1.50€) for an afternoon of Christmas market shopping and local sight-seeing.
Best Christmas Nativity Scene
The best, most wonderful Christmas Creche on display was in Menton, close to the markets. Its simplicity, combined with the gorgeous colorful architecture surrounding it, made this peaceful corner in Menton one of my favorite stops in the Côte d'Azur. I loved that the Creche was placed next to a replica of the village of Menton and that the entire scene was modest and beautiful like the locals themselves.
Best French Nougatine
The best French nougatine was sold in the Menton Christmas Market where all an all natural version from Montségur-Sur-Lauzon in the Rhone-Alpes was made. The area of Montségur dates back to the stone ages. I suspect that they have had many, many years to perfect the art of turning egg whites and cream into something this delicious.
The booth pictured to the right sold traditional pistachio flavored nougat as well as modern children's favorites like Nutella. This gentleman serving the nougatine took the time to tell us what goes into this southern French traditional candy as he was cutting off huge slabs for customers. Who says men can't multitask?
Best French Lavender
There was a lovely Provence brand being sold at the Menton markets by a fellow named Pierre Jean Mateudi. No one was manning the booth at the time we were walking past, but I did check out the lavender soaps and essential oils on display and thought they would have made fantastic Christmas gifts if only the booth organizers had been finished setting up and available for me me to purchase some. I was in too big a rush to see all of Menton to wait for them to complete their preparations for selling. Of course now I have total shoppers remorse for my lack of patience.
Best Backdrop for a Market
The markets are close to the seaside and thus at the foot of the rising hills of Menton. So, although the Christmas decorations caught my eye, they pale in comparison to the backdrop against which the entire market is set – the colorful architecture and rocky hills. Menton has one of the world's prettiest harbors and they definitely have the most picturesque buildings and landscape.
I cannot wait to show you more of Menton and its beauty in future posts. But for now, this photo of the church steeple rising above the markets will have to suffice.
The Worst Theme for US Visitors
I was laughing that the one time I am in a new city with locals who want to show off their quintessentially French town and its chosen Christmas theme is "Christmas in New York" – the horror of it all! American Christmas carols were on loud speakers throughout town and the lights were shaped in the city skyscraper silhouette. A central stage with a bridge overpass was piped in lights that were in the shape of the Brooklyn Bridge. I love New York apples were incorporated into displays which both sickened me and made me laugh at the same time for I am a Bostonian and we must hate all things New York.
I craved French charm and the people of Menton wanted something new and exciting. To the locals' credit, it was an impressive undertaking and executed very well. A lot of hard work and advanced planning was involved and it was all done in good taste. So, Bravo Menton for your cheerful theme and holiday spirit! And, for the record, I do love many things about New York but it is mandatory that I hate the Yankees and the Giants. :)
The Best Family Fun
The Christmas market was a lovely place for families to shop in Menton because it was not overly crowded and there were several activities for the kids to enjoy. I love French carousels. Almost every little village or city has one and seeing the children enjoy a ride on one never gets old.
The Christmas Village had a spot to visit Santa and magical scenes to walk through and discover. The winter wonderland was in the local square and filled with dozens of adorable popular Christmas figures that small children would love seeing and having their photographs taken with.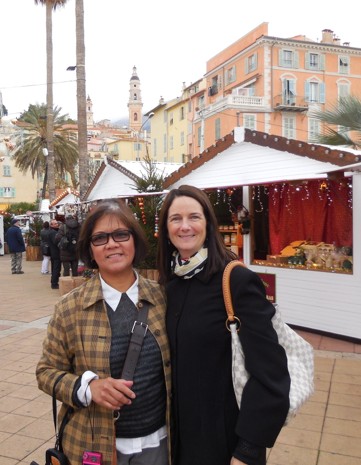 My visit to the Christmas Markets in Menton was a great one, most particularly because I enjoyed it with friends. It was their premiere Christmas living in Menton so we enjoyed the "firsts" together as we strolled side by side in their gorgeous new village by the sea.
If you are ever in southern France and want to take an easy hike or local sightseeing trip, make sure you check out their website: Easy Hiker.
All photographs are the property of The Weekend In Paris. Must obtain permission before use.