A close family friend and avid Weekend In Paris reader, Doris Marr, sent me word from her sister Christine Whoriskey that I should definitely go to the Chapel of Our Lady of the Miraculous Medal while in Paris.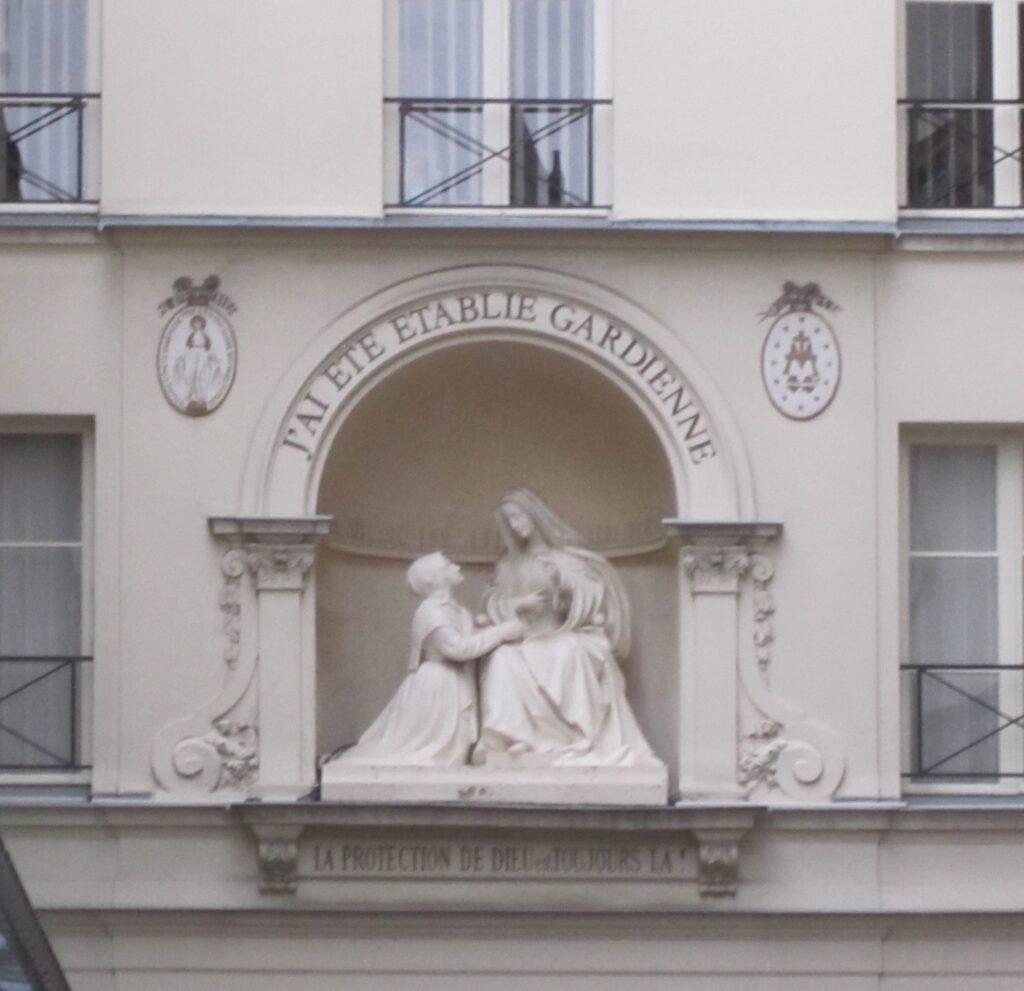 Both know from reading my posts that I love to stop in churches along the way not only in Paris, but all over the world. So much about a country can be learned by peeking into the sacred spaces. They tell a tale of history through its architecture, art, music and stained glass windows. Since I was staying nearby at the Hotel Montalembert in the 7th and had an errand to run at the Le Bon Marché I thought it would be the perfect time to check it out.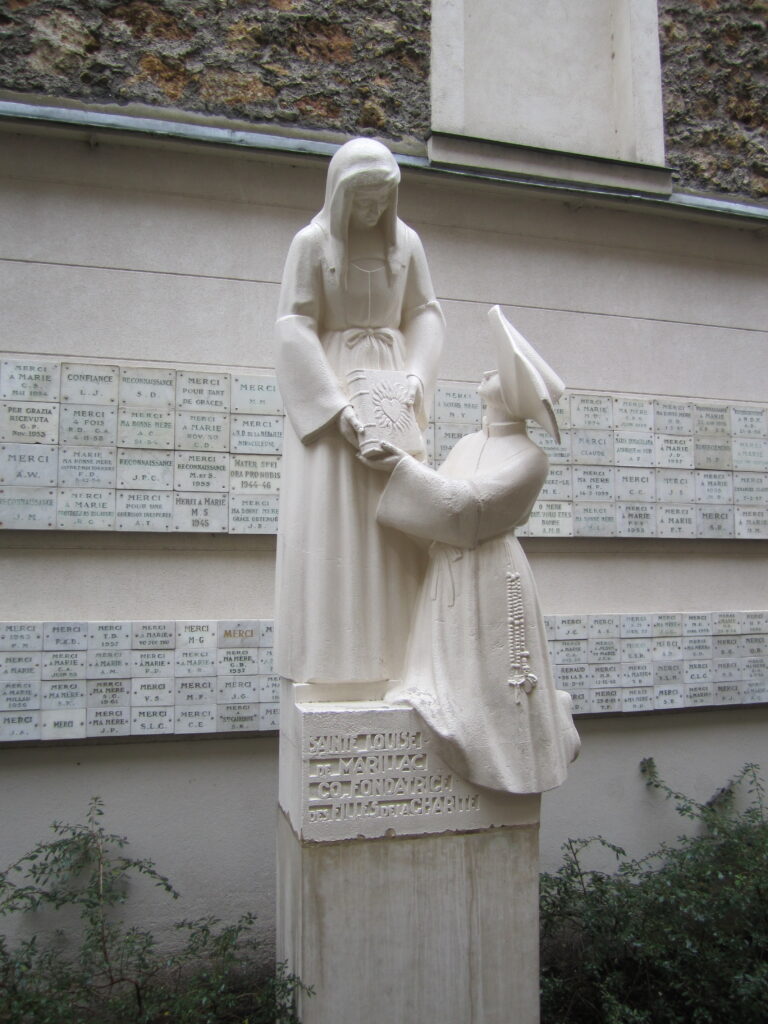 Here is the advice Christine gave me before the trip, " It's a beautiful place to go – you enter a courtyard and feel like you've stepped back in time. It's the spot where Our Lady appeared to Catherine Laboure and asked her to strike the Miraculous Medal. It is said that more miracles have occurred through devotion to the Blessed Mother while praying with this medal than have occurred at Lourdes! Mass is said each day at noon . . . It was awe-inspiring being at Mass in that lovely chapel! There's a little shop that has some lovely things. That's where we got the medals and then the Sisters who are in the courtyard will bless them. It's closed from 1:00-2:30 every day."
What Christine did not tell me was that the chapel inside is a happy little place that would be packed to the gills at mass time. We four friends arrived in time for mass and the two Catholics in the group – me and Christine Underwood, received Communion in what can only be described as an oasis in the heart of the shopping frenzy that takes place across the street at the Bon Marché. Calm and tranquil, colorful and yet modest are words that come to mind when I think about this little chapel. From the street you would have no way of knowing what you are missing when you walk past. I have literally walked past this entrance dozens of times without noticing. Thank God Christine Whoriskey wrote to me! Divine inspiration indeed!
After mass, we all went into the little gift shop where the proceeds go to helping the poor. We each purchased medals (incredibly inexpensive but there is an option to donate more to the poor when purchasing so we did) and wandered out into the courtyard where we were greeted by sisters in habits who blessed each of us in turn. I was first and began to cry when mine was blessed. I have no idea why. My head tingled and then the tears came. Christine Underwood was still inside making her purchase while Elizabeth and Karen were with me getting their medals blessed. We made ourselves busy reading the history of the chapel while we waited for Christine to come out where I took a photo of her medal being blessed from very far away and when we finally hooked up with her she came to us with fresh tears in her eyes and said that she felt something when the nun blessed her and when I told her I had also had a similar experience we were all awestruck.
Each one of us has a special plan for their medal. I would share with you mine, but I have not given the recipient theirs and I hate to ruin the surprise. If you remember to ask me later by sending me a note via the comments here, I will post what happened to the precious medal that was blessed with the Holy Spirit. You can bet this once anonymous place to me is now a "must visit" any time I am in the 7th. Thank you, thank you, thank you Christine Whoriskey for the recommendation. Keep 'em coming!
---
Location
Chapel of the Miraculous Medal
140 rue du Bac
Paris 75007
---
All photos are the property of The Weekend In Paris. Must obtain permission before use.