Stay in the heart of Saint-Germain-des-Prés. Paris four-star Hotel Belloy fulfills the desire to be near boutique shopping, dining and entertainment. The hotel is ideally located on the Left Bank within walking distance to Notre Dame, Luxembourg Gardens and La Sorbonne. It's a comfortable, hospitable hotel that won't break the bank.
Fantastic location
For gal pals or families that desire to be near all the action but in a safe and quiet neighborhood, Hotel Belloy is a great choice. One of the best things is they have options for connecting rooms so parents can have their own space while still remaining close to the kids. Additionally, they have double and triple room combos featuring twin beds for friends on holiday who want to fall asleep chatting about their days' adventures.
The Rooms
Although a couple of the rooms are a bit small for two people (the one shown above is good for one, not so much for two), the majority are spacious and are well-appointed. All rooms have updated the bathrooms. The decor is a mixture of contemporary fabrics and traditional French toile in soft, soothing color palettes.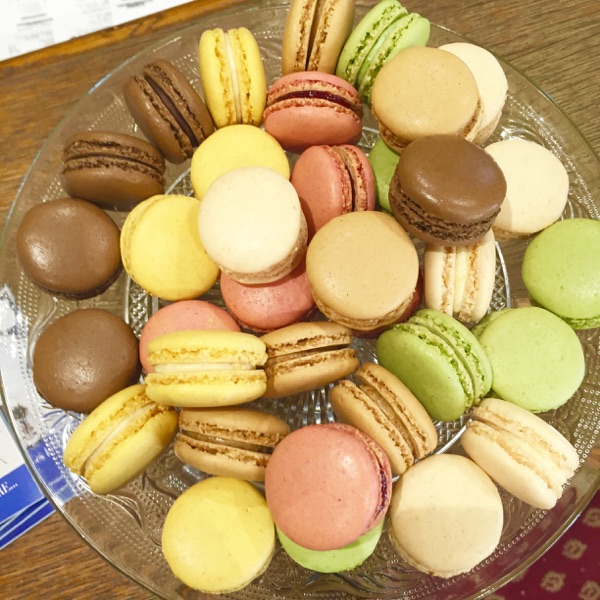 Happy Staff  & Hour
The lobby area is reminiscent of a traditional French parlor. It is a warm and inviting place to spend time while waiting for travel mates getting ready for a day out on the town. And, it is perfect for an afternoon aperitif after a successful time sightseeing.
Part of the hotel's charm is the friendly staff who love to put smiles on guests' faces each evening during Happy Hour.  From five o'clock until eight o'clock everyone is invited for a complimentary tipsy tea-time. Bubbles come in the form of brut, rosé and white champagne. In addition, they serve tasty and colorful macarons are served and savory canapés. It is a unique and personal touch, especially for a small hotel.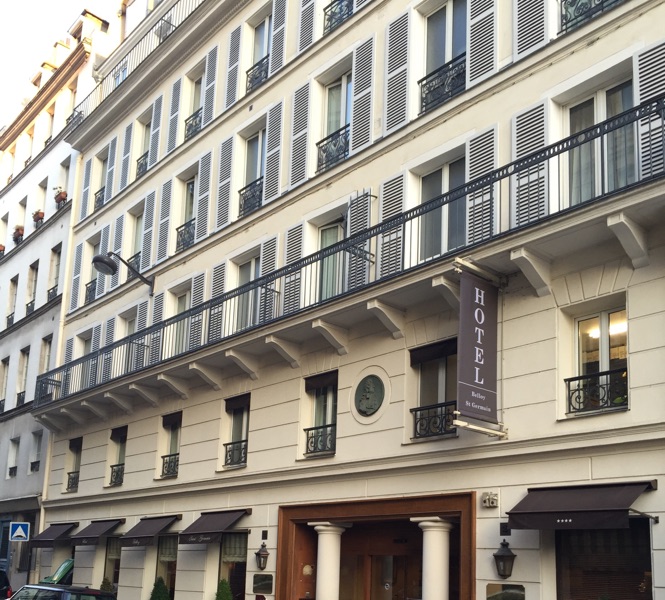 Breakfast is served in the stone-walled cellar or you can request room service and relax a few more minutes. If you prefer to grab a cup of coffee or tea and hit the road, they have both in the lobby on demand. Tempting treats like macarons and chocolate provide a quick pick me up in the middle of the day.
Of Note
I first stumbled upon the hotel many years ago while visiting a great jewelry shop down the street and went back several times because of the five-star attitude of the staff. Once traveling with a pal who became ill, the front desk clerk was a HUGE help! He guided us on where to go to get her help, brought endless cups of tea and bottled waters to the room. His genuine care and concern kept us coming back, well, that and the Happy Hour. Just kidding…
For an easy, breezy couple, family, or gal pal trip the Paris four-star Hotel Belloy is a perfect place to book.
---
Location
2 rue Racine
75006 Paris