A Taste of Lyon in Paris…The distinctive dishes created in the traditional kitchens of the world's gastronomy capital Lyon, France have featured prominently in the past eight decades of culinary history. In Paris, restaurant Aux Lyonnais by Alain Ducasse celebrates the best of Lyon cuisine in a lively Art Deco bistro.
The beauty of small bistros is the intimate dining atmosphere where other diners' reverie is contagious. Aux Lyonnais was filled with treasures for my eyes to feast upon in-between courses. My gaze darted from the fabulous vintage French poster art to the top of a column with an amusing collection of wine and champagne corks. Because every inch of the room is mesmerizing, it was reassuringly calm to have simple red and white check linens on the tables and home-style cookery as vessels for the courses.
Newly diagnosed with a wheat allergy, I was worried that perhaps I would miss out on the quintessentially French experience, however my fears were soon laid to rest when a piping hot plate of gluten-free bread appeared with creamy salted butter. Not only was the waiter nonplussed about my situation, he assured me that chef Francis Fauvel embraced the challenge.
While sipping on a glass of bubbly Duval-Leroy Rosé Champagne, the "brain" appetizer was served. This traditional plate is a favorite for people of Lyon in the morning. It is composed of cheese with shallots and oil of nuts. It was named as such by the poorer class working in the fabric factories because it looked like brains. I am not sure what I expected it to taste like, but it was delectably tart.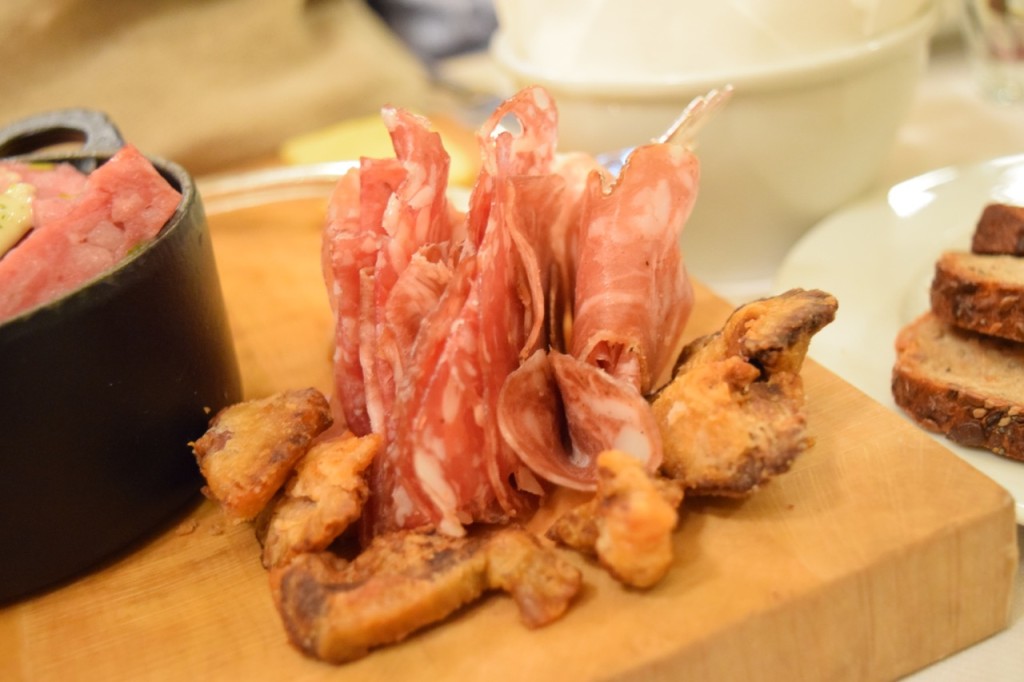 The Lyonnais charcuterie meats were served on a mini wooden cutting board with room for a simple black stone crock filled with a delicious mixture of sausage, cream sauce and warm potatoes. Golden brown pan-seared frogs' legs with fresh watercress came inside a cozy linen crown package.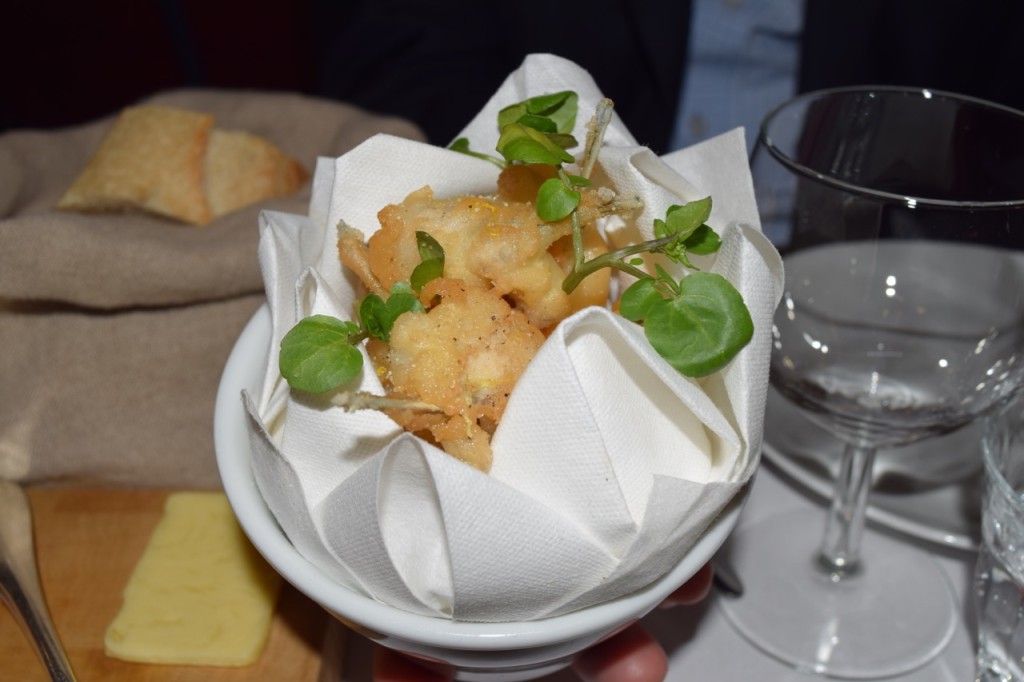 A dry and fruity Côte du Rhône balanced well with my sumptuous pot of free-range chicken with tiny champignons de Paris, spinach and crawfish in an ever so light sauce, sans flour. It was the type of dish that makes you feel at home.
I took a quick peek between courses inside the kitchen to meet the chefs responsible for the well-orchestrated meal. It was nearly 7:30pm, towards the beginning of their dinner service, and found an organized but bustling galley and saw that dessert was in the works. I scurried out for fear of ruining the timing for them.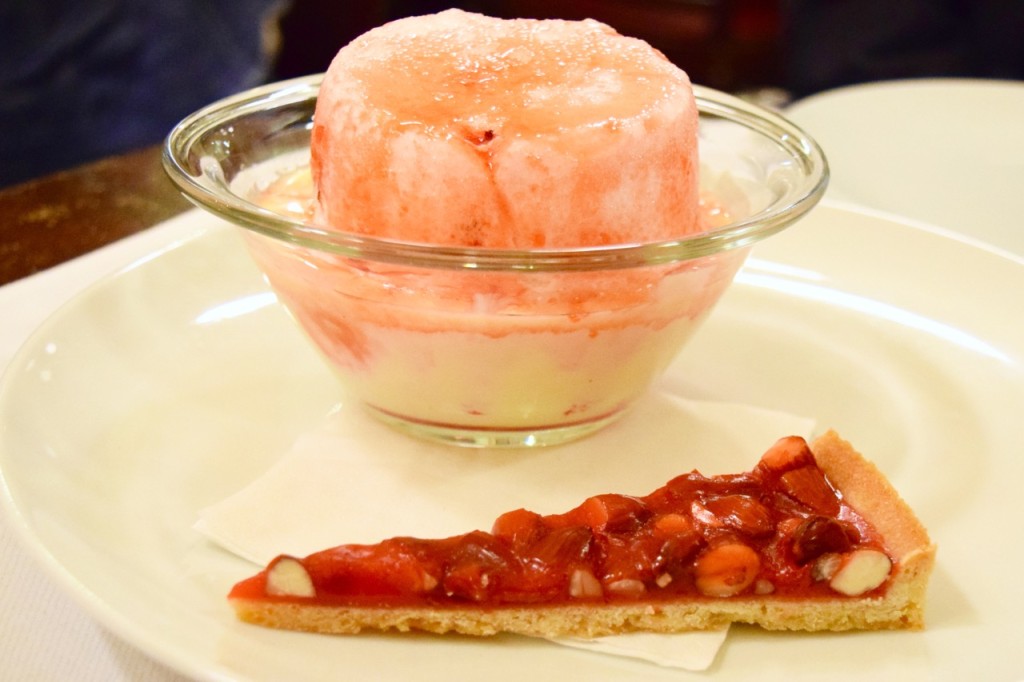 There was a pause in the action for a bitter, but rich and fruity aperitif by Byrrh, nicely paired with Brie and excellent pungent cheeses from 'la mère Richard'. The finale featured two unexpected desserts, a crockpot of cherries with pistachio ice cream (I found the cherries a bit dull but the ice cream heavenly) and I adored the light floating meringue with the simple almond raspberry tart.
I am not quite sure how I was able to get up from the table because I was so full, but I distinctly remember walking back to my hotel from the Right Bank over to the Left Bank feeling wonderfully satisfied to have experienced an authentically Lyonnais French meal (with dietary adaptations) in Paris. Kudos to Mr. Ducasse for respecting the Lyonnais' way of cooking, keeping another Parisian local spot's spirit and for making sure that international diners feel at home.
Tip: Reservations in advance, a must. Closed Sunday and Monday
32, rue Saint-Marc, 75002, Paris, France
All photos are the property of The Weekend In Paris. Must obtain permission before use.
Although my meal was gratis, the fine opinions, as always, are my own.