19 Jul

Impromptu Photo Shoot at the Mandarin Oriental Paris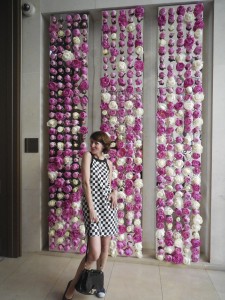 I had the pleasure of having a cool glass of wine in Paris with one of my favorite gals in Paris, Kim Petyt and one of her besties Peggy Robinson at the Mandarin Oriental. We sat outside in amidst the lush gardens on the comfy patio furniture and chatted about life and our mutual love of Paris.
Although Kim is usually the one behind the camera for photo shoots to promote her fab book The Paris Wedding, today I shot Peggy at the entrance to the MO. Peggy's black and white herringbone-like dress photographed amazingly against the mirrored wall covered with individual pink and white peonies. Peggy is not a professional model, but after this shot I think she should consider it an option!