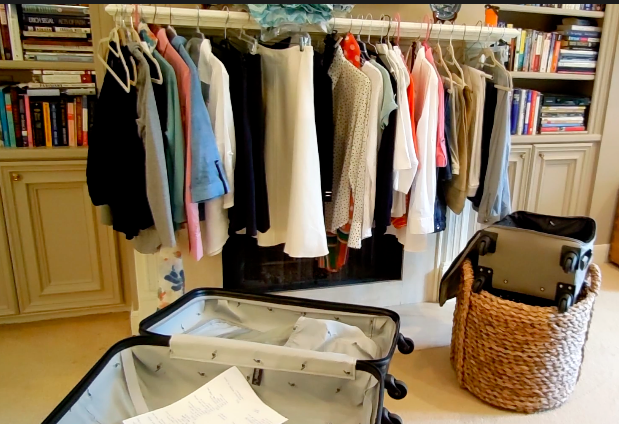 Summer Paris Packing List
Guess what? I am arriving in Paris wrinkle-free! Well, at least my clothes are, due to my "package packing" method. Check out my summer Paris packing list below for helpful tips.
Add spice to the standard black and white Paris attire
Finally an excuse to break out the color. For whatever reason, women freak at the thought of packing for Paris. Figuring out what to wear can be the most stressful part of the trip, non? Make it easy on yourselves ladies and stick to basics. Follow my basic rules and pack like a champ! Your clothes come out wrinkle-free and you will fit everything into one suitcase plus a carry-on bag. Packing for Paris has never been easier!
Priscilla's Summer Time Paris Packing List:
Capri pants – (1) white, (1) black, (1) khaki
Dress pants – one pair of black long trousers
Jeans – (1) skinny pair jeans, (1) pair straight leg jean
White blouses – (1) long casual, (1) tailored short sleeve, (1) peplum long sleeve, (1) eyelet long sleeve
Tanks – (3) white, (1) black
Short sleeve fitted shirts – (1) coral, (1) pink, (1) bright blue
Cashmere sweaters – (1) Blue, (1) Black
Skirts – (1) black,  (1) Navy, (1) white linen
Shoes – (1) red (or current season pop of color option), (3) black – sandal, flat, heel (2) neutral – sandal, flat
Scarves – (3)  one long, one short, one Hermès "twilly"
Lightweight Jacket – (1) rain repellent, (1) nighttime dinner
Belts – black, brown – various sizes
Foldable duffel bag – to pack dirty clothes in so new purchases can be placed in regular luggage
Pickpocket proof purse – for use during the day mostly when in crowded tourist areas
Skeptical that all this can fit in a small piece of luggage and a carry-on? Watch the video below to see how easily this can be accomplished.
Happy packing!
Priscilla's Paris Packing Tips for Summer