21 Nov

Italian Food in Paris? Priscilla's Pick: Il Suppli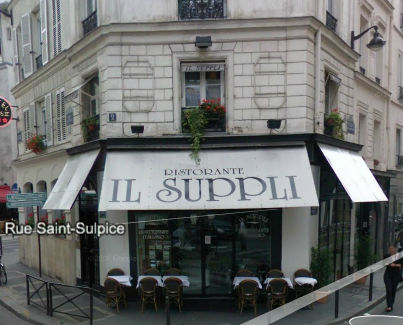 OMD (Oh Mon Dieu) Italian food in Paris?  Well, yes there is and sometimes it's justified to eat "other than French" food while in Paris.  For starters, French food can be expensive while Italian food is universally less expensive since pasta requires only flour, water and eggs.  And there's the comfort factor – ordering a plate of pasta will usually be a "sure thing" on the tummy.  After a few days and nights of eating the local cuisine, it can be a delightful treat to eat something you recognize and enjoy regularly.  Lastly, Italian food goes great with Bordeaux – remember it's all about the Bordeaux while in France pour moi!
While out stalking some shoe prey, the gals found a nice little Italian place in the 6th with a prix fixe menu that was divine.  Il Suppli Restorante fit the bill for the four of us who were dog tired and wanted to put our feet up.  This yummy meal lasted us until our late dinner that was planned for the evening.  We dined on ravioli, lasagna and chicken entrees with soup or salad to start and finished with chocolate mousse that was killer!  The fresh bread was hard to resist and served warm with oil and spices that were terrific.  We were seated upstairs in a small private attic-like room as the downstairs was filled to the brim with locals who obviously thought ahead to make reservations for lunch.  The downstairs decor was fresh and modern.  There was one drawback; the service was less than stellar in the beginning.  Fortunately, the waitress picked up the pace and did a decent job of recovering by being cheerful and prompt with our food.  The house Bordeaux was decent, but not worth a second glass.  Because of its great value, excellent cuisine and fab location I would recommend this as a great spot for a casual lunch.
Il Suppli
2 Rue Condé, 75006 Paris, France
+33 1 40 46 99 74 ‎