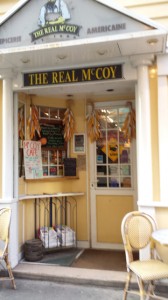 Margo is in Paris spending three weeks with her husband, Rob, in an apartment. She is enjoying the festivals and the gastronomy in Paris. Grocery shopping in Paris is one of the best parts of renting an apartment and Margo and Rob are certainly making the most of the culinary offerings close by. Below are some foodie musings from Paris via Margo.
Foodie Musings from Paris
Readers who travel to Paris and miss their peanut butter need fret no more. It's available at La Grande Epicerie at Bon Marche and some supermarkets. Brands vary. We found jars of creamy and crunchy from Arkansas and the UK. Alas, all have sugar added—a taboo for those concerned about such things. And almost any American product you might want can be found on 194 Rue de Grenelle at The Real McCoy which carries, they say, the largest selection of products from the US in Europe. No need to use up your airline weight allowance bringing these items from home, although you will pay more for them here.