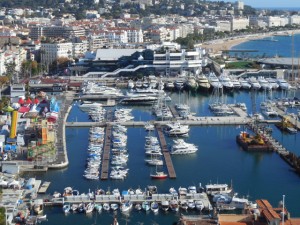 The
International Luxury Travel Market
has kept me very busy with press briefings and breaking news from the world of luxury travel, however, I did take some time during the lunch break Tuesday to visit a few nearby landmarks and take in the local beauty while sightseeing in Cannes. Centuries old food recipes, charming pedestrian streets, spectacular views of the yachts in the harbor and iconic Cannes Film Festival murals were among the highlights of the walking tour from professional guide Karin Osmuk who works at the 
Palais des Festivals et des Congrès
- Cannes Visitor's Bureau.
Ode to the Cannes Film Festival
The city of Cannes owes its notoriety around the world to the ingenious idea to host a unique film festival once a year which brings the best of the best from around the world in the film industry to this tiny little town in southern France. Artists pay homage to the festival with several large murals throughout the city. At the foot of Old Town, the entire front of the Gare des Autobus (bus station) is one such mural dedicated to the history of the festival itself. Actors, both real and animated, are depicted on the facade of the station from the early days of black and white film to more recent animated cartoons and feature films.