27 Mar

When Markets Trump Museums in Paris – Le Marche Couvert Passy

Please enjoy this guest post from frequent contributor Margo Waite:

When I'm in Paris, markets sometimes trump museums, and so it was when we went to the Musee Marmottan in the 16th.  Certainly we enjoyed seeing Monet's personal art collection, the impressionist paintings, medieval illuminated manuscripts, and the 19th century building (formerly a personal residence) which houses these treasures.  

But as we returned to the La Muette metro stop we discovered the brilliant food market at Passy (le Marche Couvert Passy).  This bright and busy covered market is filled with vendors proffering gorgeous fresh fish; some of the crispest, brightest frisee I've ever tasted; homemade pastas of every description; dried legumes, spices and herbs and so much more.  This market has everything you could want to produce an amazing picnic or complete dinner, including flowers of course.  Hours for the market are Tuesday to Saturday from 8:00 am to 1pm and from 4pm to 7pm; Sunday from 8:00 am to 1pm. 

Just around the corner on rue de l'Annonciation you will find Aux Merveilleux de Fred at No. 29 where they make glorious meringues—great fun to watch through their large glass windows.  Also on that pedestrian street you'll find the biggest bank of rotisserie chicken I've ever seen, in various levels of readiness.  And if that's not enough, there are lots of chic shops purveying shoes and women's fashions (and shops for men too my husband adds).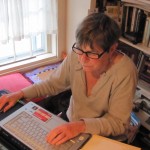 Margo is a popular guest blogger for Weekend In Paris. Besides being a knowledgable Francophile, she is an Independent Publishing Professional based out of Newport, Rhode Island. She is an avid traveler, foodie and lover of all things French.
All photos property of Margo Waite. Must obtain permission before use.