29 Oct

What My Kids Liked About Paris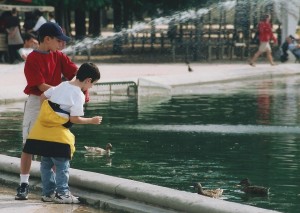 What my kids loved about Paris…
Riding on the Métro and TGV trains – they saw the countryside from Paris to Chamonix while riding on the high speed trains and got a great feel for France in general. It was a terrific way for them to view another country's architecture and small village living. Since we live in a large American city it was an opportunity for them to marvel at the lush green rolling hills dotted with fluffy white sheep and the slow-paced lives of locals popping in and out of quaint shops.
While in Paris, riding the Métro gave them a sense of how busy the City of Light is, but how easy navigating around the arrondissements can be. The Métro is very similar to Boston's T subway system in both the way the lines run and the color-coded mapping. So while we were in a different country, it was neat to feel comfortable with something familiar at the same time.
The River Seine was a source of facination for the boys. As we crossed over it and walked along the Quay's, they loved watching the Bateaux-Mouche boats taking tourists for rides. The bridges are works of art in and of themselves which offered opportunities to show them some fantastic pieces of art and history while walking on them.
Sometimes the journey is the most interesting part of the trip!