05 Jan

Weekend In Paris Celebrates its Third Anniversary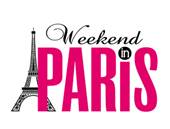 Three years ago I began this blog as a labor of love – sharing my 20+ years of love of traveling to Paris. I created it just for family and friends. Then before I knew it, strangers were following it and asked me to write about everything from where I stay to where I like to shop. Needless to say, I love Paris and writing about it and sharing my tips with all of you. WordPress has been a great tool for me to get my message out and I am grateful for their easy to use platform! Thanks guys to the developer of the Fruit Shake theme which is beautiful and functional!
There is something for everyone because I have experienced it personally. From fleabag rooms to Five Star suites and no name hole in the wall crêperies to Michelin rated fine dining; I've done it all. There were lean years where Mr. Weekend In Paris and I stayed in a hotel where you had to pick up the toilet seat in order to be able to close the bathroom door because the space was so small. We enjoyed buying a loaf of French bread, some ham and cheese, and a bottle of cheap champagne. We made a picnic in our room for meals. Since our room had no refrigerator we kept everything outside on the widow sill. It was winter so that made it easy. My only souvenir was a Christmas tree ornament that I love putting on my tree each year. It was as much fun then as it is today where I am able to whip out the debit card to pay for a "forever bag." This year the trip is focused on luxury, sprinkled in with some more economical options. Life is short, experience what you can and enjoy it all!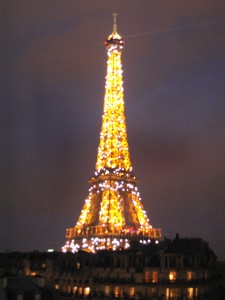 Sharing Paris with the gals who travel with me – some repeat offenders (ha, ha) is the BEST! We laugh, we shop, we tour, we drink, and then we do it all over again. It never gets old…sitting outside at a café and people watching is so much more fun when you have your "besties" there to do it with you. For heaven's sake, someone has to keep watch and fill me in about what I missed when I've gone to the ladies room.
Writing became more than a hobby for me, it's now my profession. I am lucky to be a contributor to the seriously awesome online magazine The Daily Basics where I get to talk about the other travel I do with Mr. Weekend In Paris and/or our kids. Mr. Weekend In Paris gets to go to many interesting spots for work and I love to tag along! Last year's highlights included trips to Mumbai, Telluride, the BVI, Boston, NYC, New Orleans and many more I can't think of right now.
The coolest thing about writing? I have met and continue to meet fascinating people all over the world. Through the power of Twitter we keep in touch and I have friends in every city in the world. I love seeing what they do for a living and where they live. They give me great advice and I try to pass it along to all of you. If there is something specific you want me to write about, let me know. Just chime in on the comments section and I will do my best to cover it.
2013 marks a milestone for me as I am now receiving offers for freebies from some hotels and products to try them out. I will not compromise one bit just because I got this or that. If I don't like it, you will be the first to know about it. How will you know if I have received any compensation? If you see at the bottom of the post, "Compensated, but not compromised" then that means I have been, but if that phrase is not there, then it's 100% on my dime and time. Of note, no restaurant has offered me anything ever and I imagine never will. If it seems like I am obsessed with L'Epi Dupin, it's probably because I am for the following reasons. One, I love the casual atmosphere and the consistently outstanding food. Second, I now consider the Chef a friend. François Pasteau has been very kind to me and my friends from day one – before he knew I had a blog. Lastly, I believe that the menu offers a great value for people on a budget but who want to splurge just a little. Paris is expensive and we all need to know a "sure thing" place to eat. If I dislike a restaurant, you usually won't read anything about it. I hate to judge a restaurant by one dining experience alone, but there are exceptions. Truly bad food and/or bad service will get my wrath and you will read about it here.
I am headed back to the City of Light and some other fabulous destinations like Monaco, Nice, Milan and Venice in a couple of weeks. I can't wait to share it all over again with you. Many, many thanks for being the most supportive readers a gal could ask for. You make it all worthwhile. 2013 is going to be a fantastic year!
Cheers,
Priscilla
All photos property of the Weekend in Paris. Must obtain permission before use.