25 Aug

Our 25th Wedding Anniversary in Paris and Bordeaux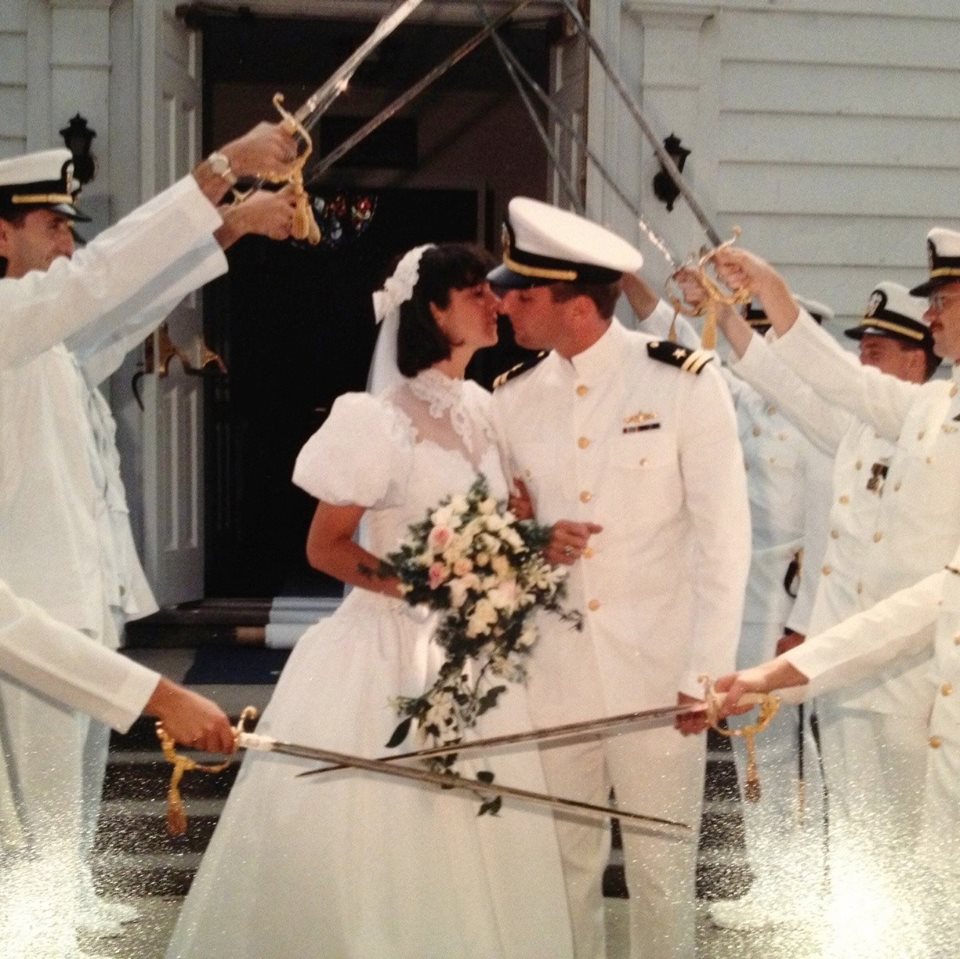 Our sword ceremony outside the chapel after our wedding
The first time I visited the City of Light, I was with Mr. Weekend In Paris for a little romance and now I am thrilled to report that we will also celebrate our 25th wedding anniversary in Paris for more romance and some prayers of thanksgiving for our amazing life together. An added bonus is that we will be wine tasting in Bordeaux for a few days too!  The ultimate best part is that our plan includes bringing some friends along. The only regret is that our boys cannot join us. They are working and studying hard back home.
The Wedding 25 Years Ago: At the time of our wedding, our mentors in the US Navy, Terry and Nancy Sheffield were unable to attend because they were stationed overseas. We would not be the successful couple we are today without their guidance and support while in the Navy so we were excited when they said they could join us for our anniversary trip. Father Robert Tucker concelebrated our marriage ceremony and has remained a close family friend. He is also one fun guy! We are thrilled he is also joining us and saying a special marriage blessing mass for us at Notre Dame and that Flytographer will be there to document the event.
The Hotels: I am delighted to report that our accommodations are first rate! We will be staying exclusively at Relais & Châteaux properties. While in Paris we will lay our heads at Hotel Daniel which boasts an Asian flair and at Hotel Saint James, famous for its outdoor terrace decorated with hot air balloons. In Bordeaux, we will slumber in a former 18th Century farmhouse converted into the Hotel Saint James-Bouliac and then out in the middle of the Pauillac region at Château Cordeillan-Bages.
The Transportation: Getting to Bordeaux from Paris will be a breeze since Rail Europe has easy point-to-point tickets from Montparnasse to Bordeaux St. Jean. It was easy to book using their online system and I was able to print out our digital tickets from the comfort of home. It's always more relaxing traveling by train where I get to skip the security lines at the airport. With the added benefit of seeing the countryside along the way, taking the train is the enjoyable way to see more of France.
The Wine: We will be tasting wine on the right bank with Bordeaux's famous sommelier Alex Morin of Le Chapon Fin arranged by Bordeaux Saveurs – a private wine guide and tour company. We will also be doing some exploring on our own on the left bank, stopping at some of my favorite sipping spots like Lynch-Bages and Pontet-Canet.
Other exciting events on the program include taking cooking classes, fine dining, visiting museums, shopping and people watching galore!
It's been a remarkable first 25 years that has flown by and I know we will want to return to Paris for our 50th wedding anniversary. Stay tuned for quick posts during our trip. I doubt I will have time for full posts, but will try to share a "photo of the day" to document the comings and goings of our happy group.
Photos are the property of The Weekend In Paris except the terrasse of Hotel Saint James which is courtesy of the hotel.