30 Jul

Travel by Train is as Easy as Pie!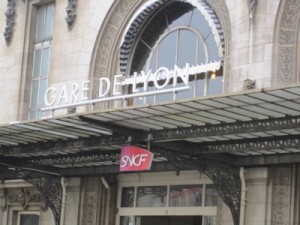 Travel by train in Europe is as easy as pie. Scratch that, making a great pie is difficult! This mode of transport is much easier! When I go to Paris, I always plan a trip "outside" to explore the country a bit more and to experience all that France has to offer besides the usual haunts in Paris. The French countryside is beautiful and the people are more relaxed. The food and wines are different in each region, giving your palette a chance to try something new in each city. Another terrific reason to get out and see more of France is the various styles of architecture which are influenced by the countries that surround France.
Mr. Weekend In Paris and I took our boys via train to Chamonix trekking one summer and the train ride was part of an amazing excursion. Moving along at fast speeds while sitting comfortably watching the life of the locals along the way was a great experience. More recently, traveling to Dijon, my friend Lisa and I jumped on a train to Dijon because we could so easily. In just over an hour we were at our destination and ready to taste the fine wines of Burgundy.
There is no better, more efficient way to travel in France than the trains. Get out of your comfort zone, buy a ticket and the world is your oyster!