Updated December, 2012 [caption id="attachment_6850" align="alignleft" width="300"]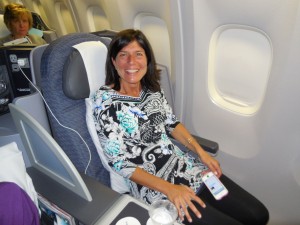 Nice new flatbed seats on United Airlines[/caption]
This is the question I am asked most often: How much does a trip to Paris cost? Here are my answers plain and simple:
Plane Tickets
Mid January to March tends to be the cheapest time to fly to Paris.  Summer and Fall are the most expensive!
First Class/Business Class:
 Roundtrip tickets can run anywhere from $4,500 to $9,000 depending upon how far in advance you purchase them.
Economy:
 Flights from the U.S. can range between $500-$1200 depending upon your city of departure.