24 Jun

Souvenir Shopping in Monaco, Monte Carlo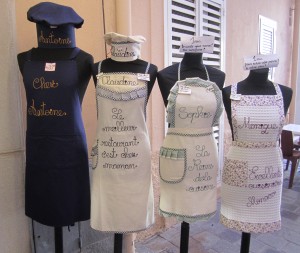 Despite popular belief, not all tourists in Monaco are billionaires.  If tacky tee shirts aren't your style, but you want something relatively inexpensive but personal, there is an adorable shop in the heart of "souvenir row" near the Prince's Palace on the pedestrian street rue Comte Felix Gastaldi. Fun aprons and chef's hats can be customized in less than three minutes with the name of your favorite cook back home.
I wish that I had the name of the store for you, and believe me I am kicking myself over it. I usually take note of every place I visit, but in this case I was in a huge rush to ensure that I procured an apron for my mother-in-law for a Mother's Day present before I headed back to the Fairmont Monte Carlo to cover the press conference announcing their first female pastry chef – Claire Verneil. Whew, I made it with apron in hand but alas I don't have the name or exact address of the shop. I have Googled it to no avail. If any of my readers have been here and know the name, please contact me!
Want proof of how quickly they sew the names on the items? Here's a short video!
[wpvideo vdaIjlaY]