07 May

Solo Travel to Paris and Beyond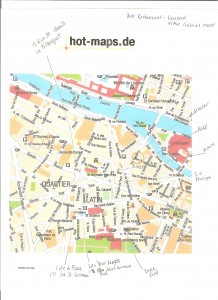 Here are my strategies for safe and successful explorations of new cities solo:
1.  Always contact someone you personally know who has been there before and ask them definite "must-sees" but also find out what they would personally not waste time doing if they had to do it again and why.  Their reasons "why" may be different from yours.  Do not ask someone whose idea of great art is Madame Tussaud's Wax Museum for recommendations for art galleries in France.  Catch my drift?
2.  Web search your destinations ahead of time, print out sections of maps where you will be walking and label your destinations on them. Have two different routes planned and know what the public transportation options are ahead of time.  Invest in online apps for your phone with the local Métro routes for Paris, Tube stops for London, etc…Carry enough cash to get you into a cab when safety is an issue, especially at night.  Nothing says you are a tourist more than a big old map on the corner of the street, making you a target for the wrong sorts of helpers so commit your route to memory and consult the map only when necessary and do it discreetly or walk into a shop and ask for help.
3.  Engage the help of the front desk at the hotel.  Be frank that you are traveling solo and would like recommendations from them as to where a great place for you to perch yourself for meals that will enable you to observe the locals without any hassles.  They are usually a wealth of information and will steer you away from places that may look great in the brochure, but are tourist traps with pickpockets waiting for you to show up.  If they are helpful to you, please remember to tip them for their kindness.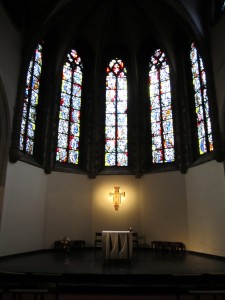 4.  Take good risks – no one knows you so if you are the type to never ride a scooter, ride a bike, take a Segway or visit a church now is your opportunity.  Think outside your own box.  When I visit foreign countries I am always drawn to their churches as they display some of the greatest examples of architecture and history.  They are free with a bonus of almost always remaining open 7 days a week, 365 days a year!
5.  Take a mini class in cooking from the region or wine tasting to be with other people and have fun learning something from the locals.  Ask those experts teaching what their favorite places and activities are to do nearby.
6.  Know the local customs! As a young woman working alone in Naples, Italy I learned that it was not a good idea to eat out alone after a certain hour.  My husband and I ate at one particular restaurant many times while living there.  When he left the country, but I had to stay longer, I returned to that same restaurant alone so the local men figured they would like to meet me.  Since we had been familiar faces for a while, the family who ran it asked me where my husband was and when I told them I was working there solo for a bit, they took me under their wing.  They told me to come earlier in the evenings;  made a special table for me where they would keep their eye on me and ran off any intruders. I became part of the family.  It was a perfect solution for solo travel in that city.
7.  If you want to meet other travellers, at the first opportunity take an organized tour like the Bateaux Mouche in Paris.  Everyone will be in the same boat, pun intended, so you are bound to meet friendly people to chat with.  Make sure you take tours that are interesting to you in case the only others who are travelling are from countries where they will be using headsets the whole time and unable to communicate with you.  At least you will enjoy what you are viewing even if there is no one to share it with right then.  Bring your own iPod in case the travel back from the tour is filled with loud people not speaking your language and you just want to chill.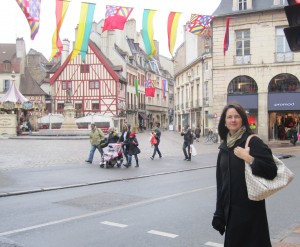 8.  Bring a notepad with you.  When you are taking a break alone at a lunch spot, jot down notes of places you were at already and make your plans for the rest of the day.  It will make the time pass quickly when you have no conversation going and your food has not arrived yet.  This is a good time to consult maps for the rest of the day's excursions.
9.  How to get photos of yourself on a trip when solo…that's a concern.  Here's my strategy – look for a family with small kids taking photos themselves.  Offer to take their family portrait, if they'll take yours.  You need not know their language as the universal holding both hands up to your eyes with the right index finger pulsing like it's snapping the camera shutter button works every time!  They are less likely to run off with your camera and more likely to be sympathetic to you wanting to document your life.
10.  The first thing I like to do when alone travelling in a city where I do not speak the language and particularly when I can't guess at the signs, is to get up early in the morning when traffic is light and fewer people are walking around to distract me; I walk out the hotel in one direction, usually to the right and go to the next block and turn right again and make my way back to the hotel.  This gets my bearings and feeling for the streets programmed into my head.  Then I head out again in a wider circle taking a few blocks at a time, noting where public transportation is and noting local landmarks.