02 Apr

Promenade Plantée & Viaduc des Arts

Guest post for Weekend in Paris by Margo Waite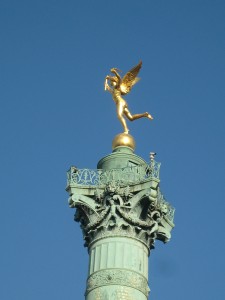 I love to explore Paris, and I'm always searching for interesting walks.  One of my favorites is the Promenade Plantée , an unusual linear park with nearly 3 elevated miles of landscaped boardwalk.
Beautifully and wildly planted with trees, bushes, grasses and vines, Promenade Plantée is built atop the viaduct that once supported the 19th century Vincennes railway line.  Replacing the tracks now is a wondrous and ever-changing path providing birds-eye views of neighborhood architecture, some very modern, some ancient.  Keep an eye out for 12 reproductions of Michelangelo's "The Dying Slave" (on the roof of the Police Station of all places), a sight not to be missed. At one point the park actually bisects a contemporary building.  The drama is the ever changing sky- and landscape.  Walkers, joggers, runners, and folks pushing strollers all take advantage of this pedestrian thoroughfare.  Strategically placed benches provide good rest stops. From time to time there are stairs to exit, should you not want to do the entire walk.  I debark at the Jardin de Reuilly, where the elevated portion of the walk ends. There's a wood and metal bridge suspended over a vast lawn, where children play, families enjoy picnics and others stretch out to nap in the sunshine, which will take you to the street.  From there it's an interesting walk back to Bastille on avenue Daumesnil, which parallels the Promenade.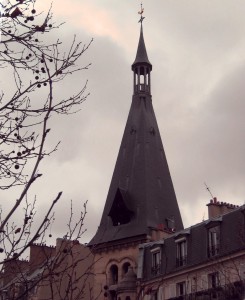 Beneath the repurposed viaduct on Daumesnil, vaulted brick arches house about fifty shops –craftsmen's workshops, artists' galleries, repair and restoration experts, and an excellent kitchen shop which is irresistible to me.   While some of the spaces are open "to the trade only," most have windows which make it possible to see the work being done inside, even if you don't have, for instance, an umbrella to be fixed,  a lamp to be rewired or a flute or viola to be repaired.  The commercial section runs from 1 to 129 avenue Daumesnil, and there is a good workmanlike website (http://www.viaducdesarts.fr/index.php?lang=en&id=208 ) which describes the shops, from Abaca, conservation and restoration of papers, textiles and pictures to Zephys, 3D laser engraving on glass.  And if you're a dedicated shopper like Priscilla, look for Malhia, creator of fabrics for international haute couture, and Cecile et Jeanne, makers of jewelry and bags.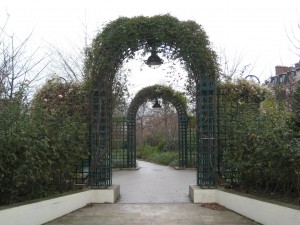 Two of the arches house café/restaurant L'Arrosoir  (http://www.restaurant-larrosoir.com/) at 75 avenue Daumesnil, across from Gare de Lyon.  Although I know I should try new places, somehow this comfortable place always draws me in.  The food at lunch is good, not pretentious and not–too-costly by Paris standards.   Try the Italianne tartine (open faced sandwich) of mozzarella, tomato, country ham, and pesto accompanied by a green salad.   When I ate there late last November, it was warm enough to sit outside and watch the Parisian world pass by.
If you go:  Take the bus or Metro to Bastille.  A soaring gold statue, Spirit of Liberty, rises from a column in the center of Place de la Bastille.   You'll also see the "tres" modern Paris Opéra Bastille, home of the National Opera of Paris.  It's a short walk from there to the stairs (or the elevator) for the western entrance to Promenade Plantée.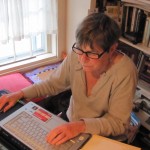 Margo is an Independent Publishing Professional based out of Newport, Rhode Island. She is an avid traveler, foodie and lover of all things French.
All photos property of Margo Waite. Must obtain permission before use.