09 May

Priscilla's Picks: Paris Métro App That Works Offline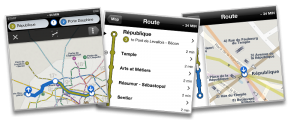 Using the Métro in Paris is now even easier with the Kemtro iPhone App! Other versions of the Métro map only work above ground where you have a cell phone or WiFi connection. What makes Kemtro superior to all others is the fact that it works offline and underground. Why is this important? Here's are a couple of scenarios that I think we can all relate to when traveling for work or pleasure.
You are jet lagged but determined to take public transportation from the airport to your boutique hotel or apartment in the City of Light because it's rush hour and the traffic will be enormously expensive in a taxi. While Paris is a very safe city, it does suffer from its lion share of pickpockets. Nothing screams, "I'm carrying wads of cash, a passport and am vulnerable" more than a big old map on your lap. Kemtro enables you to relax knowing that you can map out your route on your cell phone while chilling out listening to tunes and acting blasé like a local. If you have a big old suitcase en route from Charles de Gaulle to the very chic 6th arrondissement, and you are dressed in black and pretend you know where you are going, it makes you less of a target.
Picture this, you are running late and jump on the train just as it's about to pull out of the station headed for your designated stop when you hear over the loud-speaker that the station you need is closed for repairs, emergency or strike of some kind. What do you do? You could stand up and begin scanning the maps on the train wall or you could simply pull out your handy iPhone Kemtro map and look up your best course of action.
Another great feature of Kemtro is that it shows the configuration of the buildings exits. Got luggage? It's worth it sometimes to get off at a faraway stop with an elevator than to take the closest station with several sets of stairs. Speaking from personal experience, I stupidly took the train from CDG one year just before my shoulder surgery and got off at a stop without an elevator with beaucoup luggage. Not smart! Had I access to Kemtro to know the station right before mine did indeed have elevators, then I would have saved myself the pain caused by lugging my bags up three flights of stairs that lasted the entire trip.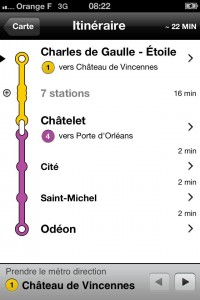 Available via iTunes, Kemtro costs a mere 99 cents. To me, it's worth so much more. Apply for that passport, hunt down that reasonable fare to Paris and then download Kemtro, my new favorite French App.
The opinions in this post are my own. No compensation was given for the review.
All photos property of Weekend In Paris or Kemtro. All rights reserved. Must obtain permission before use.