13 Nov

Priscilla's Picks for Handbags: RB Boutique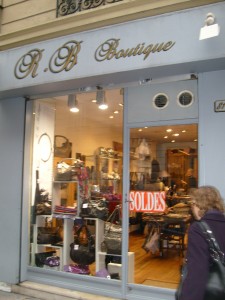 Sandwiched between Sandro and Anne Fontaine, RB Boutique is perfectly positioned for shoppers to find an incredibly chic handbag or evening bag to complete their looks. RB specializes in luxury leather goods and fashion accessories that feel great to the touch and look amazing. Luxury comes with an expected high price tag, but they also carry strong, yet affordable lines to suit most budgets. And what makes a stop into the store even better is the knowledgable sales people who help you find the perfect accessory with genuine smiles on their faces.
81, rue des Saints Pères 75006
01 42 22 27 10
Métro Sèvres Babylone
All photos property of Weekend In Paris. Must obtain permission before use.