24 Aug

Priscilla's Picks: Del Papa Ristorante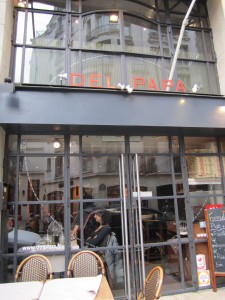 Dinner reservations are always a wise investment of your time before heading to Paris. You want to make sure that every evening you have a spot to eat at that is either charming, famous or infamous. The worst feeling is to arrive in Paris only to find that the restaurant you had your heart set on eating at is fully booked for your entire stay. I have had that happen in the past and learned quickly from that experience. However, I am a firm believer  in "winging it" for lunch.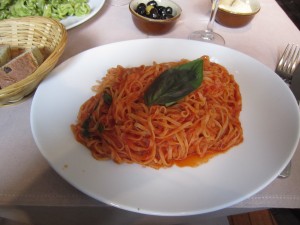 Shopping in the 6th one day until I was absolutely famished, I stumbled upon Del Papa. What attracted me to this place was the hip modern facade. It looked interesting and when I am particularly hungry Italian is my "go to" cuisine of choice. The menu is a traditional array of Italian starters like a Caprese Salad and Prosciutto to an excellent Antipasto. The main courses are uncomplicated, but very tasty. Familiar entrees like Penne Arrabbiata and Fusilli with Pesto are served with fresh warm Italian bread. I was greeted promptly with olives and an opportunity to choose from a decent selection of Italian wines at a reasonable price. Of course, it was an option for me to order the wood-fired Neopolitan pizza which looked particularly tempting given I was super hungry – the portions were large by French standards, but I resisted. Instead I opted for the simple but delightful plate of pasta with a Pomodoro sauce and basil. Gal Pal Lisa was with me for lunch and ordered the equally delicious pasta with Pesto. We were completely full and very pleased with our new find.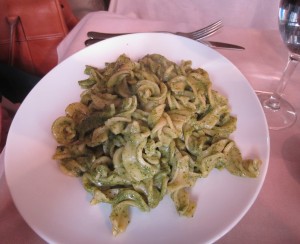 With three locations in Paris, Del Papa is a convenient restaurant to pop into for an impromptu lunch with friends or solo. There is seating outside for those wonderfully glorious opportunities to people watch while enjoying the sun. Lunch for two with a moderately priced half bottle of Chianti will run you about 45 Euros.
233, rue du Faubourg Saint Honoré – 75008 PARIS
Tel 01 47 63 30 98
135, avenue Malakoff – 75016 PARIS
Tel 01 45 00 36 73
38, rue de Buci – 75006 PARIS
Tel 01 46 33 91 15
All photos property of Weekend In Paris. Must obtain permission before use.